Recently, we launched an article series in C-U Confidential where we reprint and contextualize samples of movie writing by area authors that originally appeared elsewhere. As we extend the retrospective effort into CUZine #9, introducing our generations to the early 20th century poet Vachel Lindsay and his landmark 1915 book on "the photoplay," it seems like synchronicity to share this brand new title as it just so happens to satisfy the series concept. Back on Tuesday, September 6, specialty publisher BearManor Media of Albany, GA, released Conversations on Quentin Tarantino by Andrew J. Rausch as hardcover, softcover, and eBook editions. Primarily interviews with individuals who collaborated in some way with the prickly auteur throughout his career, Conversations opens with forewords by fellow pop culture journalist Stephen J. Spignesi (The Complete Stephen King Encyclopedia) and screenwriter C. Courtney Joyner (CLASS OF 1999) followed by an introduction from your humble editor, Jason Pankoke, who accepted the invitation as a welcome excuse to pontificate the cinema outside Champaign-Urbana confines. We encourage you to pick up Rausch's hard-won compendium if you wish to read Mr. JaPan's contribution, "Do Go 'Hateful' Into This Good Night," while Tarantino fans will glean plenty about the self-styled Hollywood maverick behind THE HATEFUL EIGHT, INGLORIOUS BASTERDS, KILL BILL VOL. 1 & 2, and JACKIE BROWN from discussions with friends and early coworkers, entertainment industry veterans, small-press editor Mike White (Cashiers du Cinemart), and genre heavyweights like Guillermo del Toro (PACIFIC RIM), Monte Hellman (TWO-LANE BLACKTOP), Robert Kurtzman (IT FOLLOWS), Tom Savini (DAWN OF THE DEAD), and Matt Wagner (Grendel). Rausch, a former contributor to MICRO-FILM, has composed numerous features for periodicals such as Screem and Shock Cinema as well as books on Orson Welles, Martin Scorsese, and Ed Wood, Jr.; he also co-authored a memoir by the just-passed "Godfather of Gore," Herschell Gordon Lewis (TWO THOUSAND MANIACS). You will find links to the various formats of Conversations on Quentin Tarantino in the BearManor press release after the jump.
~ Jason Pankoke
p.s. Uma Thurman compels you to purchase CoQT. Now.
~~~~~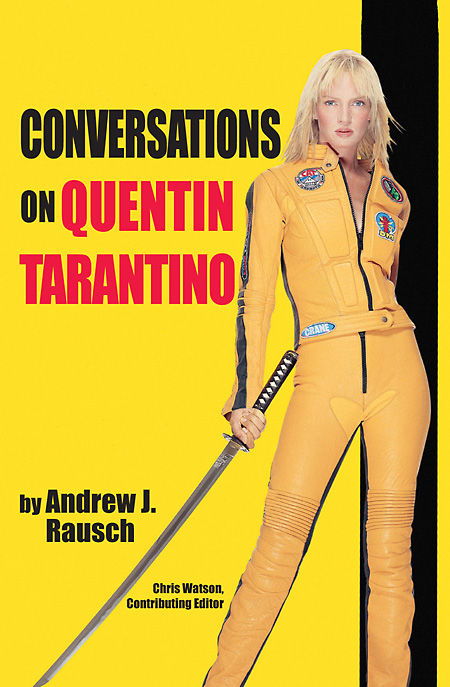 ~~~~~
From September 30, 2016:
FOR IMMEDIATE RELEASE
NO PULP FICTION, NEW BIOGRAPHY REVEALS WRITER/DIRECTOR QUENTIN TARANTINO THROUGH THE EYES OF SCREENWRITERS, DIRECTORS, PRODUCERS, AND ACTORS
BearManor Media announces the release of Conversations on Quentin Tarantino by Andrew J. Rausch
ALBANY, GA (September 30, 2016) – Filmmaker, screenwriter, and actor Quentin Tarantino is best known for DJANGO UNCHAINED (2012), for which he won an Academy Award for Best Original Screenplay, PULP FICTION (1994), for which he won another Academy Award for Best Original Screenplay, RESERVOIR DOGS (1992), and KILL BILL (2003).
Author Andrew J. Rausch tells Tarantino's story through in-depth interviews with screenwriters, directors, producers, and actors.
202 pages long, Conversations on Quentin Tarantino is available exclusively from BearManor Media in hardback, paperback and eBook editions. Print is available on Amazon.com and other on-line booksellers while eBook editions are available on Selz.com.
About BearManor Media: The award-winning and Pulitzer-nominated press publishes cutting-edge entertainment books, audio books, eBooks, CDs, and DVDs on movies, television, radio, theater, animation, and more. Founded in 2001 by publisher Ben Ohmart, the BearManor Media catalog now features more than 900 outstanding subjects from the obscure to the eminent. Visit www.bearmanormedia.com for more.
CONTACT
Ben Ohmart
books [at] benohmart [dot] com
###