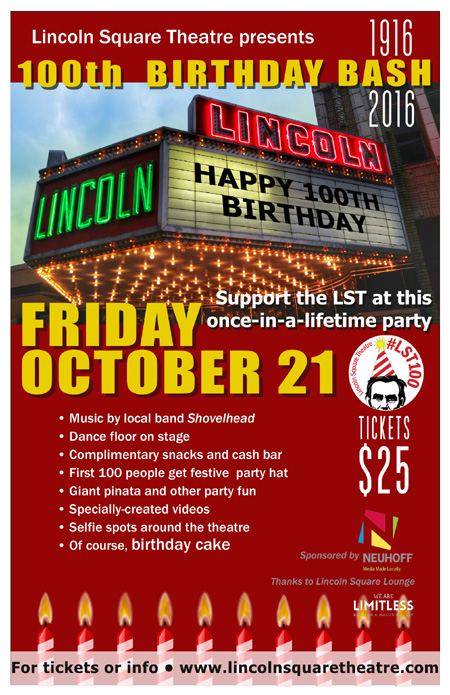 ~~~~~
Thanks to a local cultural legacy that keeps on giving, two upcoming events will separately recall how Bloomington-Normal connects to the entertainment world and Decatur serves as home to one of the great downstate palaces! Second instance first, a new board of directors led by Adam White and Jake Bonnett is striving to revive the fortunes of the Lincoln Square Theatre, 141 N. Main St., Decatur, IL, a semi-restored space originally designed for theater and vaudeville that has weathered sizeable ups and downs in the 36 years since it last served as a first-run movie house in 1980. Rebuilding a customer base with a modest mix of live events and film revivals that began early last year, White and company plan to celebrate the survival and revival of the Lincoln Square with a "100th Birthday Bash" tomorrow, Friday, October 21, from 7 to 11 p.m., serving also as a fundraiser to aid their efforts. The gathering involves a birthday cake, complimentary snacks, a cash bar, party games and favors, birthday video cards, and live music provided by the band Shovelhead; tickets will cost 21-and-over Lincoln Square supporters $25 each. Future attractions on their calendar, including ones for all ages like a recent and well-attended BEETLEJUICE reprise, include horror film favorites, comedy by Gallagher, and a concert by Asleep at the Wheel. The very first show to be hosted by the Lincoln Square, a performance of the Broadway play Hit-the-Trail-Holiday by George M. Cohan, took place on Friday, October 27, 1916, when a well-coiffed crowd numbering more than 1,300 filled the seats to capacity; Gallagher's gig on Friday, October 28, is being considered the centenary equivalent.
We now head north along Route 51 from downtown Decatur to the McLean County Museum of History at 200 N. Main St. in downtown Bloomington, IL, where a second "Movies under the Dome" program will occur next Tuesday, October 25. The debut presentation in July centered on the feature film RING OF FEAR and its direct correlation to circus performers who frequented B-N, while this outing eyes the small screen for season-appropriate episodes written by Jerry Sohl (1913-2002), a former resident of the other twin cities who balanced careers as a newspaper man and science fiction author – often credited under an alias – before heading to Hollywood in the late Fifties. Museum staff will greet attendees starting at 6 p.m., when refreshments can be purchased and faces painted by a make-up artist, prior to the screening at 7 p.m. in the Governor Fifer Courtroom. First on deck will be "The Corbomite Maneuver" from the first season of the original STAR TREK, aired in November of 1966 and directed by television journeyman Joseph Sargent, in which the crew of the U.S.S. Enterprise engages with a mysterious alien craft. After a short talk by museum librarian Bill Kemp about Sohl, "Queen of the Nile" will transport viewers into THE TWILIGHT ZONE circa March 1964 and during the Rod Serling anthology's final season; Ann Blyth stars as a seemingly ageless actress in this entry, directed by prolific television mainstay John Brahm. Artifacts from the museum's collection in the Halloween and science fiction milieu will also be on display for this evening, free and open to the public in the best "treat but no trick" sense!
~ Jason Pankoke
p.s. Considered lost is a 1918 film version of Hit-the-Trail-Holiday starring Cohan himself as lead character Billy Holiday, an expert mixologist who is swayed to join the prohibitionist cause. Ouch.
p.s.2 Indeed, your humble editor did not skim all that Lincoln Square Theatre lore off the top of his own head. Self-published by Jasper P. DeVidal in 2001, Lincoln Square Theatre is an impressive 200-page volume that is possibly only sold at the venue itself 15 years on; not unlike the spirits rumored to haunt the joint, DeVidal and his book have a decidedly cryptic non-presence on the Interspiderwebs.
p.s.3 Costumes, everybody, costumes! It's Halloween! Thrill us!
[Updated 10/21/16, 7:30 p.m. CST]
~~~~~