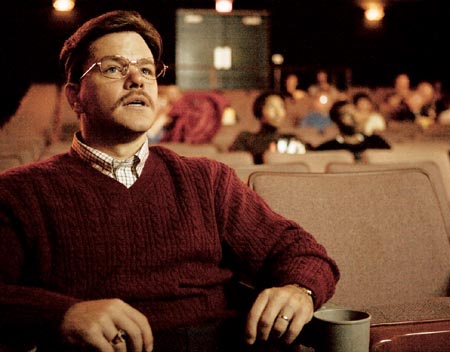 Those who pay attention to the relationship between movies and dollar signs already know THE INFORMANT! placed second on the list of top earners during the September 18-20 "frame" (per Variety slang), trailing smash hit CLOUDY WITH A CHANCE OF MEATBALLS by almost $20 million. However, the $14 million in INFORMANT! ticket sales during its first week, according to this Variety box office chart, bodes well enough that the movie will earn back its reported $22 million production cost and then some – even though C-U Blogfidential swears that earlier press claimed it cost $30-35 million. We'll see how things go now that SURROGATES, FAME, PANDORUM, and other new titles have appeared in the 'plexes.
In related observations, the dramatization of Mark Whitacre's story earned more in a single weekend than Whitacre himself embezzled from Archer Daniels Midland (ADM) during several years' worth of corporate skullduggery in the Nineties. Just sayin.'
Elsewhere, the esteemed Skip Huston of the Avon Theater in Decatur confirmed through his e-newsletter that THE INFORMANT! helped break the record for overall highest grossing weekend and claimed the best and second-best grossing single shows (apart from special event screenings) since the venerable movie house reopened 10 years ago. The Avon also placed in the top five venues in the state of Illinois for INFORMANT! ticket sales. Huston makes a valid point, as did Decatur Herald & Review columnist Tim Cain many months ago, that INFORMANT! is about a crazy incident that took place in Decatur and not necessarily, per his words, "the Decatur story."
In related observations, Huston also plugs the Avon's gourmet popcorn which he says is popped using "healthy Sunflower oil" processed by – you guessed it – ADM, which is to Decatur what the University of Illinois is to Urbana-Champaign, as well as what State Farm Insurance and Illinois State University are to Bloomington-Normal … local institutions with very deep roots in the soil. Just sayin.'
Moving on, CUBlog found numerous on-line comments whereas their authors felt it curious that Warner Bros. seemed to be giving THE INFORMANT! less than an ideal push, apart from the attention attributed to that rascally trailer. It hardly means people were not anticipating its release. For instance, your humble editor wiled away some late Friday hours last week at Champaign's Café Kopi reading several entertainment sections, including pretty good-to-great INFORMANT! reviews by Michael Phillips of the Chicago Tribune, Manohla Dargis of the New York Times, Claudia Puig of USA Today, and Roger Ebert of the Chicago Sun-Times.
In related observations, I do love the smell of papers in the evening. Fresh coffee, too. Just sayin.'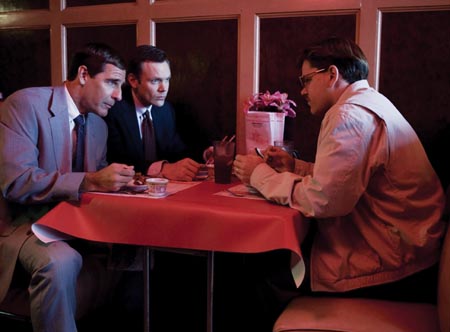 In addition, media coverage was hardly limited to critical review. The Herald & Review has two recent articles keying in on the life of Mark Whitacre and his thoughts about the movie, both during pre-production in spring 2008 and mere weeks ago after having watched the final product. (We'll slip you a shortcut to an entire string of H&R INFORMANT! reporting, just because we're down like that.) While a bonus Phillips article zeros in on the popular targets, Steven Soderberg and Matt Damon, other outlets like USA Today and Movieline.com quizzed supporting talent such as Joel McHale and Scott Bakula. McHale's real-life counterpart, FBI Special Agent Bob Herndon, has been profiled by the Kansas City Star. Even ADM gets into the act with a slightly pandering counterpoint to "answer the public's questions" about the Whitacre incident and the millennium edition of the agricultural powerhouse.
In related observations, film fans who long to make a difference in our world should keep an eye on Participant Media, a co-producer on THE INFORMANT! More overtly than many other media companies, Participant seems bent on mixing progressive messages into their entertainment product as well as engaging the public in acting responsibly. Sounds like a solid path to walk on. Just sayin', dawg.
Coming full circle, the non-spectacular debut of THE INFORMANT! may be your cue to get thee gone to the closest cinema as soon as possible if you want to check out Decatur cornfields and corporate shiftiness via silver-screen projection. Your humble editor plans to see it later tonight and deliver his two cents' worth here on CUBlog soon after, but don't delay in sending us your own INFORMANT! insights. We'll gladly compile them for reader consumption in the upcoming weeks if there's enough response!
~ Jason Pankoke
~~~~~
All graphics © 2009 Warner Bros. Entertainment Inc.
Courtesy Participant Media. All Rights Reserved.
~~~~~