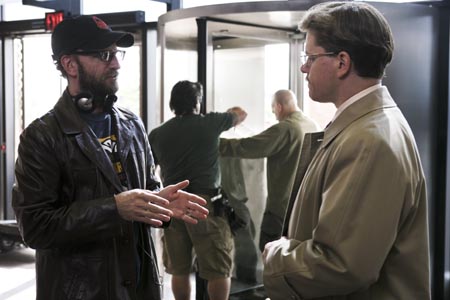 As expected, it looks like all foreign and ancillary business for THE INFORMANT! will simply be gravy – minus whatever (little) marketing costs Warner Bros. tacked on top of the production cost. Variety reported in their weekly box-office chart that Steven Soderbergh's sleeper woke up to an additional $8.7 million accumulation during its second week of theatrical release. The sum total as of Thursday, October 1, stood just shy of $23 million, which means American moviegoers have done their duty to offset the reported $22 million budget. This achievement was certainly helped by an even wider release than once hoped for; Variety's charts noted that INFORMANT! played 2,505 screens during its first 14 days. How 'bout that, Decatur!
Despite critical dismissals, SURROGATES and FAME took their places above THE INFORMANT! on the chart, yet all of them still trailed far behind CLOUDY WITH A CHANCE OF MEATBALLS in ticket sales. (Don't the kids have to, like, attend school or something?) There's nowhere to go but down from that No. 4 slot, especially with ZOMBIELAND eating everyone alive last weekend, so look for Matt Damon's faux Mark Whitacre to lose clout (if not heft) quickly until disappearing into the second-run stratosphere. C-U Blogfidential would probably not be writing about this further except for the fact that it's a novelty to see how a local production (of sorts) tracks when ushered into the movie equivalent of "prime time." Besides, we have a few more things up our sleeve that we could share…
…such as a critical assessment of the movie in question. New CUBlog friend Sanford Hess and your humble editor finally took in THE INFORMANT! at the only place we could fathom to do so – the Avon Theater in downtown Decatur. (And, since you're probably wondering, the still we ran in our last related post could not have been taken at the Avon; none of her three auditoriums have an entrance/exit at dead center in the back like that one does.) We won't bother to recount what a boon the film has been to the Avon, other than Head Honcho Skip Huston confirming during our visit that they've been doing gangbusters compared to the two Decatur-area multiplexes thanks to some heads-up booking and promotion on their own behalf. (Insert grin here.) We could still feel that all-important buzz after buying our tickets and walking through the lobby; probably two-thirds of the ground floor seats were filled for the show, a full week into its run.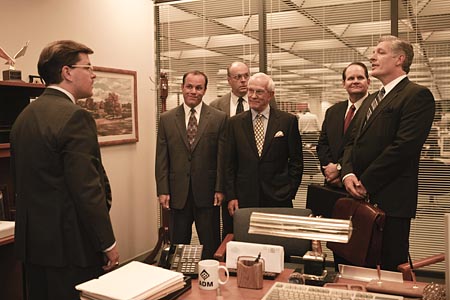 There are several strikes against me in commenting on this picture. Despite my long-ago connection with Decatur when the younger Pankoke attended Millikin University and bought a house there in the first half of the Nineties, I only vaguely remember the Archer Daniels Midland brouhaha as it was unfolding an hour away from C-U. (Heck, I remember even less about the A.E. Staley Manufacturing Co. lockout from around the same time or the Bridgestone/Firestone tire recall caper a few years later.) I'm also not the best person to pick out all the recognizable Decatur sites seen in the movie, although I thought it funny that Soderbergh set the "Whitacre reveals embezzlement" scene at the ancient Chinese Tea Garden restaurant right next to Decatur's other surviving movie palace, the Lincoln Square Theatre. I did hear a comment after the lights went up about Staley standing in for ADM, the latter cooperating with the filmmakers but limiting on-site production to a minimum. I haven't even read the Whitacre vs. ADM books, the one Scott Z. Burns adapted for this (The Informant (a True Story) by Kurt Eichenwald) or the more procedural retelling by James B. Lieber called Rats in the Grain. This hasn't dissuaded my colleague, Joel Gillespie of SmilePolitely.com, from digging a little deeper and dredging up his own first-hand memories of mingling with the ADM machine.
So, treating it as a pure movie-going experience unconcerned with judging its fidelity to history or geography, THE INFORMANT! is an intelligent and fairly engrossing tale that somehow misses that all important knock-out punch which would make it an instant recommendation. Maybe I was distracted by the milieu in which I was watching it, or I was simply antsy/excited about other happenings that evening – we'll discuss those CUBlog-relevant findings in the next week – but I felt Burns and Soderbergh thought the best solution was to gradually introduce their large character pool and then allow Whitacre's unadulterated flights of fantasy to run circles around them until Justice expectantly intervened in the closing reel.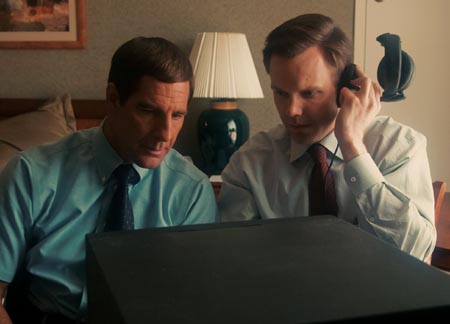 Casting comedians/-ennes for several supporting roles did not seem to help or hurt the drama, although all did a good job including an unusually stoic Scott Bakula as FBI Special Agent Brian Shepard, the one burned repeatedly by Whitacre's about-faces. Damon certainly steals the show as Whitacre and never fails to hold our attention even when his stories (and THE INFORMANT!) start to become tiring in the late innings. Bully to him for going the extra mile with modifying his physical attributes to resemble the pudgy, bespectacled Whitacre, and also props to Soderbergh and his technical crew for not making the Midwest too artificially pretty for the camera. I had first thought the yellows permeating the on-line trailer hinted at some ugly High Definition photography and was not looking forward to sitting through two hours of that visual aesthetic, but I found the parched palette a lot more reasonable when projected on the big screen.
Alternately jarring and amusing is the Marvin Hamlisch score, which is more prevalent in THE INFORMANT! than I had expected. Personally, I'd love to have the CD because it's an exciting listen, but the daring use of jaunty cues to reflect Whitacre's state of mind does not always pay off. Sometimes the pairing is absolutely perfect while other times it simply feels like the cuts are shoehorned in without mercy, especially during scenes of Whitacre traveling from one scenario to the next. Then again, considering how Whitacre justifies his actions with a simplified notion of beating ADM at its own game, "playing" the good guy in white like so many movies and television shows from an era gone by, the anachronistic juxtaposition of "spy-fi" music with contemporary international espionage – and all the shades of gray that come with it – is a little more than appropriate.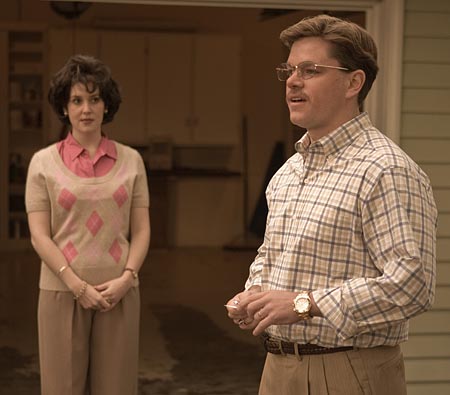 So, what of that undisputed blow I wanted this movie to land on its audience, sending ripples through the conscience of America? One could have easily found out how the real-life story or this movie ended. Therefore, it's all about the journey but Soderbergh and company never reach a crescendo that chills us to the bone about the gravity in ADM employees' errant ways or Whitacre's bipolar superhero complex. As flat is the land in which this agricultural aggravation took place, the retelling does not ride its peaks and valleys nearly as hard as it should have. The overreaching fault may lie with a restraint in approach caused by treating Whitacre (or possibly Eichenwald's version of his ordeal) with a little too much preciousness, intending for the overreaching "incredible true story" to amaze the audience via the filmmakers' interpretation instead of the other way around or, best case scenario, a heightened synthesis of the two. Yet, if the drama hinges primarily upon an ever-expanding lie that does its best to distract the principals from meeting the greater evil head-on, then why hold back cinematically?
Even then, viewers expecting the filmmakers to focus more on the documented "truth" and hold it high upon the pedestal of moral judgment – arguably of the conservative stripe if you emphasize with Midwest family business ADM or a liberal leaning if you sympathize with semi-unwitting pawn Whitacre – will be disappointed. THE INFORMANT! is a narrative feature, after all, and even the brainiest cinema needs to show as much as it tells lest it lose its audience and fail to resonate outside the theater's walls. Certainly, none of the parties at fault here come off well – and they shouldn't – but those who might expect it to exclusively rail against the machine since Corporations are Bad will probably get more ammo out of anarchist leaflets and pirate radio stations than a Warner Bros. wide release. (Lucky for you, the elixir called CAPITALISM: A LOVE STORY is now playing!) Soderbergh inherently did the right thing, making it about human beings wrestling with the Issues and not doting on the Issues themselves, but his intellectual detachment mutes the power this movie could have had.
Strangely, I'd almost rather see the holly, jolly, zippy, white-collar tomfoolery promised in that original trailer than this would-be black comedy where characters spend a lot of time standing and sitting around explaining the situation to each other. Even stranger is that THE INFORMANT! finally came out right when Terry Gilliam publicly announced that his famously cursed Don Quixote picture would be resurrected. Could you imagine if Soderbergh had squeezed out a little extra creativity and visually drawn Whitacre as a corporate Quixote, brandishing wireless mikes instead of lances to slay the juggernaut at the top of a giant sun-battered pyramid instead of, um, a not-so-giant food processing plant surrounded by acres of corn? Madness, I tell you, madness!
But, seriously … I liked THE INFORMANT! I just would have liked to see a much more compelling version of THE INFORMANT! than what the filmmakers delivered.
~ Jason Pankoke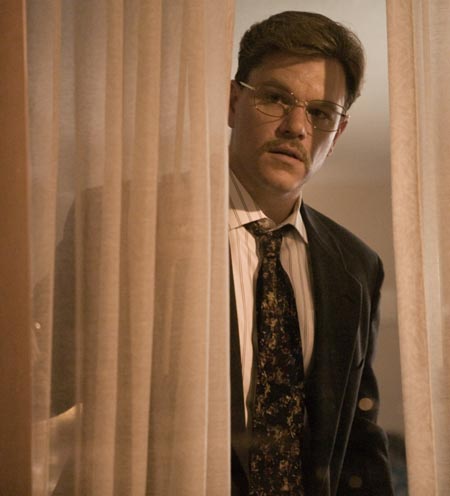 ~~~~~
THE INFORMANT! is a Warner Bros. Pictures release of a Section Eight-Jaffe/Braunstein enterprise in association with Participant Media and Groundswell Productions. It was directed by Steven Soderbergh, produced by Gregory Jacobs, Jennifer Fox, Michael Jaffe, Howard Braunstein, and Kurt Eichenwald, and written by Scott Z. Burns based on the book by Eichenwald, and stars Matt Damon, Scott Bakula, Joel McHale, and Melanie Lynskey. 2009, HD, Color, 108 minutes.
All graphics © 2009 Warner Bros. Entertainment Inc.
Courtesy Participant Media. All Rights Reserved.
~~~~~
p.s. Yes, we know this is kind of late. Look for the quickie follow-up in a couple of days!