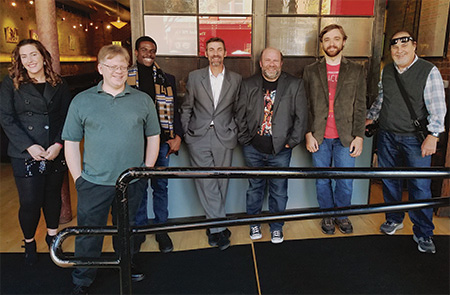 Now that a crisp blanket of the white stuff has covered the Midwest swath we know as Champaign, Urbana, and the cities beyond, we trust you are tucked away safely with family and friends in this holiday season. On the flip side, the lights remain off and doors locked at the Secret MICRO-FILM Headquarters as it has been for a good portion of 2017 – our humble editor's continued absence to care for his ailing Ma JaPan and her husband has necessitated it – but we're crossing fingers that 2018 will be more prosperous in our C-U Blogfidential pursuits! Since we have posted very little for our dearest readers as of late other than Calendars and Confidential Almanac entries, we'd like to close out the month by issuing a few brief reports connected to the most recent New Art Film Festival.
Ye Ed's determination and resourcefulness paid dividends in this outing; our show went on as scheduled at downtown Champaign's Art Theater on Sunday, October 29, despite much of the planning process taking place well outside Champaign County. One would not have known the difference that night despite a couple of uncharacteristic glitches in the presentation allowed by the NAFF's slightly rusty emcee. (He apologized when needed and adjusted where required, so there's that.) Otherwise, the Art hosted a consistently sizeable audience, populated by happy film producers and well-wishing fans, throughout the event. The NAFF is fortunate to attract the participation of our trustworthy friends at ThirdSide, Shatterglass Studios, Radio Maria, and the Art, who help make our free community experience happen without fail. We also tip our cap to Art Theater operations manager Max Cronenberg for guiding our pieces into place during the final days and hours, Quiddity poetry editor David Logan for traveling upstate from southern Illinois to present on Vachel Lindsay for us, and outgoing Art Theater artistic director Austin McCann for continuing our relationship to bring the local independent cinema to their respected venue on Church Street.
To conclude, we adorn this CUBlog summary with a pair of selections we did not feature on the festival Web site. Both FOUR A.M., produced and performed by Andy Due of Charleston, and RIPPER THE CLOWN VS. SECURITY, starring Internet personality Jake Aurelian of Danville as his alter ego, riff on the conventions of early 20th century film comedy with good humor and jangling piano accompaniment. We hope you will enjoy them for the first time or yet again, shared below for your convenience, and take a few moments in the coming days to tell us your thoughts about the NAFF by writing newartfilmfestivalcu [at] gmail [dot] com. We can always learn from your constructive feedback!
Until we NAFF again…
~ Jason Pankoke
p.s. Andrew Stengele of Forced Perspective Entertainment in Champaign recorded the David Logan talk for us. We'll work to release it online in January so you can learn more about the versatile poet, artist, and thinker Vachel Lindsay who we featured in C-U Confidential #9 while giving due to his fascinating 1915 volume, The Art of the Moving Picture. Look to our Facebook for an announcement once it goes live!
~~~~~