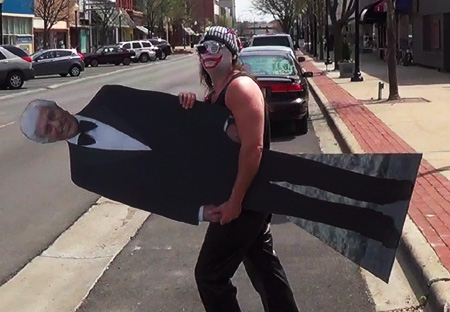 ~~~~~
Even though clowns have once again been striking coulrophobia in the hearts of us regular humans, thanks to the hit revival IT and Stephen King's famous shapeshifting metaphor-monster, we can still have some fun with them in the right context. Therefore, we'd like to introduce you to a downstate Illinois "it" boy who is in it to win guffaws from his audience rather than shrieks and scares, even though he regularly brandishes a bit of a knowing sneer instead of a smile. Ripper the Clown, a staccato-speaking huckster serving as an alter ego for creator Jake Aurelian of Danville, is a highly unique presence when he makes appearances in person and otherwise quite busy outside the limelight. An example of his offbeat output will be on display tonight, Saturday, April 7, at the Vintage Villains collector's shop and performance venue in downtown Danville where he will present his current magnum opus and first of the feature-length stripe, THE STRIPPER RIPPER. Self-described as "a spoof of classic horror films and television shows" including HALLOWEEN and THE NIGHT STALKER, the final preview keeps much of its referential humor close to the vest, strangely enough:
Originally unveiled in December to a packed hometown crowd, STRIPPER seems of a kind with previous YouTube (er, ScrewYouTube) videos that place the poker-faced rapscallion in comedic situations; nearly all his self-depreciating schemes involve Danville locations and faces more familiar to Vermilion County than our own. The movie features the faithful Ripper posse – Shawn Hosseini, Albert King, Chris Purviance, Sarah Woodard, Hema Rishi, and so on – with dozens more as well as cameos by Chicago indie producer John Borowski, a specialist in serial killer documentaries, and Philo Barnhart, an Oak Park resident whose career involved animation work with Walt Disney Pictures and Don Bluth Studios. Presumably, the jokes will fly and bodies fall with many of the trailer's colorful characters involved in both!
According to his autobiography on Amazon, Aurelian graduated from the University of Illinois in 2000 with a degree in Media Studies, Communication & Rhetoric. Apart from teaching and freelance writing, he has spent a good amount of effort spiraling Ripper and related efforts into a cottage industry of novels, children's books, videos, and live events in Danville such as "Pop Goes the Culture Variety Show" and "Brouhaha! Stand Up Comedy Show." You may have spotted him in Champaign-Urbana at the Dark History "true crime" convention and our own New Art Film Festival. Where might Ripper venture next? What might Ripper pull out of that tight-knit cap of his? Feel free to quiz him about origins, plans, and interactions with zombies and extraterrestrials this evening if you dare! He might even sign a STRIPPER RIPPER DVD for you if asked kindly. Doors open at 7 p.m., the movie begins at 8 p.m., and suggested donation at the door is $5. All ages are welcome.
~ Jason Pankoke
p.s. …lets the laughs rip tonight. Not the clothes. We think. (We hope?) Unless he gets into an impromptu wrestling match, anyway…
~~~~~