C-U Blogfidential discovered on Thursday that, lo and behold, it was not exempt from the attentions of the commercial theater chains. We received a surprise press notice from the Carmike Cinemas home office in Columbus, Georgia, promoting the opening on Friday, October 16, of a romantic comedy called OPA! (Yes, here we go with the punctuation again.) Seems this romantic drama set in the Greek isles is a 2005 film festival holdover receiving a belated release, possibly due to certain recent hits (MAMA MIA!) and misses (MY LIFE IN RUINS), although the trailer implies a more modest affair. It seemed curious that this production, directed by Udayan Prasad and starring Matthew Modine, Richard Griffiths, Alki David, and Agni Scott, would be sent to our attention instead of, say, PARANORMAL ACTIVITY, but a little digging upon the Interwebs shed some light that's worth noting.
OPA! is essentially part of an High Definition counterprogramming series provided not by the big studios or boutique houses but by Cinedigm, the company responsible for installing digital projection into Carmike's multiplexes, among others. Most of the fare is of the concert/opera/"live event" variety with narrative titles appearing once in a while a la MUTANT CHRONICLES. Cinedigm's own press notes claim a 300 screen break for OPA! which sounds pretty wide for the digital unveiling of an independently-made film. If nothing else, this is a possible harbinger of things to come when more widespread adoption of high-tech projection and efficient data transport will allow a larger variety of non-Hollywood titles to hit a theater near you at a moment's notice.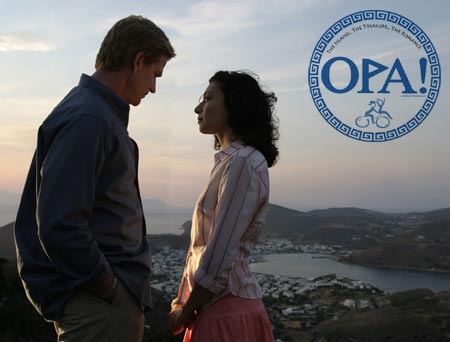 Back to Carmike, their marketing department passed along a two-for-one flier that you can download and print out. Take it to the nearest Carmike – in our case, it's the Beverly Cinema 18 in the faraway land we call "North Prospect" – and get a guest in for free when you buy one ticket to see OPA! (Given the nature of OPA! your guest will most likely be the significant other of your choice.) I would not blame perspiring filmmakers from keeping close watch on what kind of material occupies these screens, let alone attending choice shows to study how other people's labors of love hold up. I also would not blame perspiring filmmakers from being wary about how controlled the programming will be or whether theaters will learn to be flexible and book films based on customer demand, whether at the art houses or movie malls.
Therefore, much as I hate to say it, being a paying Carmike patron might be the beginning step in the path towards playing your film for other Carmike patrons in the near future.
[Takes pills to calm nerves after connotation rattles entire system.]
~ Jason Pankoke