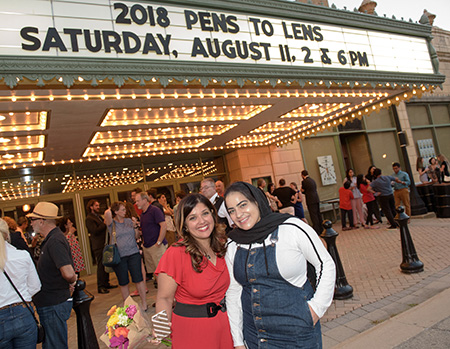 ~~~~~
Today, we segue from one Virginia Theatre special presentation of intergalactic proportions to another recent Virginia showcase highlighting the smallest stars on our galaxy. Based on the fervent participation by numerous Champaign-Urbana families and creatives, the Pens to Lens Screenwriting Competition + Gala event that occurs every August is simply the best … thing … ever for local children to participate in and all other children to witness; the ensuing deluge of testimonials, cell phone snaps, and press that appears like clockwork during this stretch of the calendar year only reinforces the growing affection for it. A program of the Champaign-Urbana Film Society, Champaign Movie Makers, and Champaign-Urbana Design Organization (CUDO), Pens to Lens is a teaching tool for area children to learn how to write their stories in script format so they can potentially be adapted into other media; the ultimate reword for good work is when a percentage of those entries are turned into actual film shorts by our filmmaker citizens who donate time and effort to show how well their words and ideas can translate.
Nineteen original pieces made their debut at the sixth annual P2L show on Saturday, August 11, with 2 p.m. and 6 p.m. sets divvying up the all-ages and "PG/PG-31" level material, while additional recognition was awarded to unmade quality scrips and student-produced shorts. Edison Middle School's assistant principal, Mallory Morris, hosted the early block while Charlie Hester, a Danville-based singer and comedienne, emceed the nightcap. Above you can watch a teaser while below we share the itinerary borrowed from the P2L Facebook page that is illustrated with on-the-scene stills by Della Perrone and Darrell Hoemann. You can head directly to YouTube or hit this page on the official Web site to watch films, while the latter sports a gallery of CUDO-commissioned poster art created by local graphic artists to tease student stories both produced and unproduced by P2L. Given the timing of their celebration in downtown Champaign with the beginning of school, the group is already accepting screenplays for consideration in 2019. What will the creative and compassionate minds of our youth think up next?
Be sure to search for past Pens to Lens coverage here on C-U Blogfidential and revisit our feature story published last year in C-U Confidential issue 9.
~ Jason Pankoke
~~~~~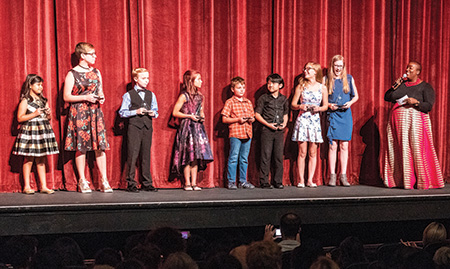 ~~~~~
Pens to Lens Screenplay Competition + Gala
Saturday, August 11, 2018
2 p.m. program | All films appropriate for all ages
Student Screenwriting Competition Selections
ADVENTURE AROUND THE WORLD
Written by Rose Bailey, Noah Hettinger, and James Graham | Film directed by John Isberg
DUSTY RUSTY
Written by Caroline Paluska | Film directed by Emily Polk
GOOD NIGHT, LITTLE KNIGHT
Written by Ozella Green | Film directed by Thomas Nicol
I'M NOT EVIL
Written by Quinn Fisher | Film directed by Andrew Nygard
THE CONTEST
Written by Rayane Marzouqi | Film directed by Andrew Stengele
THE DISCOVERY OF THE JACKABOW
Written by Kallie Lancaster, Lia Sheets, and Kadince Wells | Film directed by Andrew Stengele
THE MONSTER WHO ATE THE BOY
Written by Audrey Moser, Jaydin Anderson, Lilly Jurkowski, and Garrett Fulfer | Film directed by Brian Hagy
TOMATOES
Written by Fallon McFarland | Film directed by Jarrod Finn and Isaac Musgrave
WATER YOU SAD ABOUT?
Written by Jayton Reynolds | Film directed by AJ Christensen
WHY COWS CAN'T HAVE BIRTHDAYS
Written by Brynlee Vigil and Sadie Polonus | Film directed by Michael Bach
Student Filmmaking Competition Selections
OBVIOUSLY OBVIOUS | Directed by Iona Hopping
TRUE LOVE | Directed by Tara Armas
GHOST ON THE RUN | Directed by Sofie Skottene
ENGAGING JASON | Directed by Madeline DeCoste (honorable mention)
~~~~~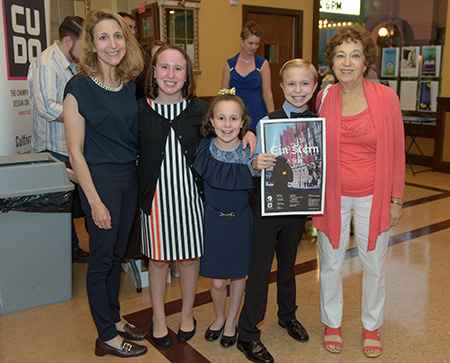 ~~~~~
6 p.m. program | Some films may contain content appropriate for age 13 and up
Student Screenwriting Competition Selections
A NORMAL DAY
Written by Sariah Rose Deal | Film directed by Danil Formenov
A STAR
Written by Max Libman | Film directed by Jon Lecouris
CORNERED
Written by John Nicol | Film directed by Charlie Kessler
FOURTH WALL
Written by Estephany Arroyo | Film directed by Hugh Sullivan
NEO-SCUM
Written by Parker Evans | Film directed by Thomas Polk
STUCK
Written by Gwen Kaiser | Film directed by Andrew Gleason and Thomas Nicol
THE DEFENSE
Written by Dema Evans | Film directed by Jon Lecouris
THE ONE
Written by Sydney Hoel | Film directed by Rebecca Nicol
THE RED SCARF
Written by Ariana Mizan | Film directed by Jennifer Heaton
Writing Awards (both K-8th grades and 9th-12th grades)
ONE UPPER by Elena Reifsteck and Andie Strauss
THE TIME MACHINE by D.J. Wang
HEAVEN WORLD by Jacob Epstein
FIRST TIME BABYSITTER by Josie Evans
RIDE OF YOUR LIFE by Maher Adoni
PURGATORY by Makenna Boyd
SLIME STRIKE by Max Libman
THE SECRET PET by Mayameen Mizan
FEAR OF THE UNKNOWN by Quinn Fisher
GIRL ON A MISSION by Rachel Manselle
~~~~~