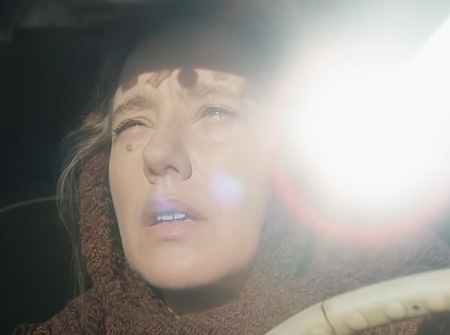 ~~~~~
'Tis the pre-spring season when the Champaign-Urbana citizenry, ranging from friendly neighbors to at-large cineastes, perks up every single time the College of Media at the University of Illinois makes public mention of an upcoming Roger Ebert's Film Festival. We all want to know what films fill out the program, which will be presented from Wednesday, April 10, to Saturday, April 13, at the Virginia Theatre in downtown Champaign, as well as the guests, panels, and such that will be unique to the newest edition. Per the usual protocol for "Ebertfest" organizers, nuggets of information trickle out in February and March until the full wealth of details drops right before April 1, when individual tickets go on sale. The lead-up to this twenty-first year is no exception as the tease has finally begun!
Various local media have confirmed that Chicago Sun-Times columnist and movie critic Richard Roeper will appear informally after multiple screenings to talk shop and fete his former television co-host. Also revealed is the first feature from the 2019 schedule, a period drama called A YEAR OF THE QUIET SUN (ROK SPOKOJNEGO SŁOŃCA, 1984) that is written and directed by the prolific filmmaker Krzysztof Zanussi and stars Maja Komorowska as a wartime widow and Scott Wilson as an Army private who meet by chance in Poland and begin a courtship that is deep and possibly doomed. This award-winning feature has seldom been seen in America since its regional release in 1985-86 by a tiny Utah-based outfit, Sandstar Releasing Company, and is otherwise available on an early 2000s DVD issued by Kino on Video and streaming via the library-based service Kanopy.
~~~~~
~~~~~
This year's festival will be dedicated to Wilson, as detailed in the press release below, while his wife Heavenly Wilson and veteran actress Komorowska (DEKALOG, FROM A FAR COUNTRY) plan to appear in support of QUIET SUN. The durable character actor passed away last October at age 76 after a lengthy career marked by popular Hollywood and better-than-average genre productions including IN THE HEAT OF THE NIGHT, IN COLD BLOOD (both 1967), THE GREAT GATSBY (1974), THE NINTH CONFIGURATION (1980), THE RIGHT STUFF (1983), THE GRASS HARP (1995), SHILOH (1996), MONSTER (2003), THE HOST (2006), and HOSTILES (2017). As well, a memorable run as "Herschel" on THE WALKING DEAD marked a high point of his recent television work. The Wilsons were loyal to Roger and Chaz Ebert, attending Ebertfest several times previously
We presume the "digital print" of QUIET SUN will be derived from a recent restoration done by the film's original studio, TOR Film Production (Studio Filmowe TOR), which has apparently been reviving key titles from their 50-year history with the help of cultural agencies and the Polish government. A region-free Blu-ray was issued in that country as well as a legitimate YouTube streaming copy with optional English subtitles, should you wish to preview the beautifully photographed and hauntingly scored love story. A viral video posted by TOR and shared here gives a brief before-and-after sample of the necessary image upgrade. There is no crime in getting familiar with the program in advance! Of course, these suggestions are not to distract you from the Ebertfest experience of A YEAR OF THE QUIET SUN or any other selection, which are bound to impress greatly on the Virginia's giant screen.
~ Jason Pankoke
~~~~~
~~~~~
From February 11, 2019:
FOR IMMEDIATE RELEASE
First film and guests announced for 21st annual "Ebertfest"
(Champaign, Illinois) February 11, 2019: Roger Ebert's Film Festival has had a thing for films featuring Scott Wilson, and he has come to four festivals as a guest, including the first.
This year's "Ebertfest" will be showing yet another of the actor's films, a post-World War II romance, A YEAR OF THE QUIET SUN (1984), but this time in his memory. Wilson died last year.
QUIET SUN is the first film announced for this year's festival, coming April 10-13 to the ornate Virginia Theatre, a restored downtown Champaign movie palace, with related events held at other downtown or University of Illinois locations.
Wilson's co-star, Polish actress Maja Komorowska, will be a guest with the film along with the actor's widow, Heavenly Wilson. Both will appear onstage after the film for a celebration of the actor's life. The entire festival is also being dedicated to his memory.
Organizers also announced that this year's Ebertfest will celebrate the on-air partnership Roger Ebert shared with Chicago Sun-Times film critic Richard Roeper in their television series EBERT & ROEPER.
Roeper will select two of the festival's 12 films, working with festival co-founder and host Chaz Ebert and festival director Nate Kohn. Roeper also will appear onstage after each of those films to reflect on his partnership with Roger and to moderate the guest panels.
Scott Wilson attended the first Ebertfest in 1999 with SHILOH and returned in later years with THE RIGHT STUFF, COME EARLY MORNING, and JUNEBUG, making him among the festival's most frequent guests. His other credits included IN THE HEAT OF THE NIGHT, IN COLD BLOOD, THE GREAT GATSBY, DEAD MAN WALKING, and THE NINTH CONFIGURATION, for which he received a Golden Globe nomination. More recently, he played Hershel Greene in the television series THE WALKING DEAD.
In A YEAR OF THE QUIET SUN, Wilson plays an American soldier who falls in love with a Polish refugee in war-torn Europe. In a 2003 review, Roger Ebert praised Wilson's "great performance" and called the movie "poetic in the way it visualizes the hope of the two lovers while reflecting the poignancy of their fates." It won a best film award at the Venice Film Festival.
Festival passes, covering all screenings, are available for $150 plus processing. A four-pack of passes can be purchased for $510, or 15 percent off. Additionally, a small number of U. of I. student passes will be made available priced at $100 each.
The festival is sponsored by the U. of I. College of Media.
All passes can be purchased through Ebertfest [dot] com, TheVirginia [dot] org, or at the Virginia Theatre box office, 203 W. Park Ave., Champaign, 217-356-9063.
Tickets for individual movies will be available April 1 after the full schedule is announced.
CONTACT
Craig Chamberlain
Social Sciences Editor
217-333-2894
cdchambe [at] Illinois [dot] edu
###