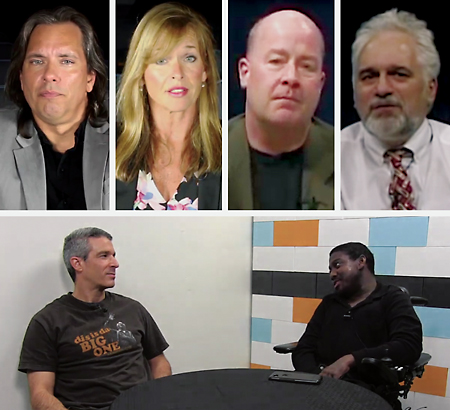 ~~~~~
A few months back we shared news about the former Champaign-Urbana/Savoy resident Gerry Kissell, who is reviving his critical voice as both a reviewer and, evidenced by this GoFundMe campaign to help afford new recording gear, a vlogger. The piece inspired us to look around for the folks in our neck of the prairie who might be presenting their filmic findings on screen via the Internet or television, and … there are very few. It is a bit stupefying in context, yes? These same Twin Cities, serving as a defining influence on the best known, Roger Ebert, and a college stop for one of the more distinctive, Gene Shalit, have presumably produced a solid number of writers and talent who ply their trade in the professional mass media. Even then, in a virtual space cluttered with commentators and so-called influencers who upload slicker-than-the-next videos and podcasts of their viewpoints, analyses, and gossip, we don't see that kind of material on the cinema coming out of the C-U on the regular that we could easily locate.
We're arguably moving away from the days when traditional newspaper critics doubled up with a radio or television station to broadcast their viewpoints. For immediate examples, Ebert had presence on WLS-TV Channel 7 (ABC) in Chicago for many years as did Gene Siskel on rival WBBM-TV Channel 2 (CBS), while Shalit enjoyed nearly 40 years on NBC's THE TODAY SHOW. One hardy individual has managed well enough to keep the cross-platform tradition alive in east central Illinois. Chuck Koplinski, a language arts instructor at Urbana Middle School, leads quite the second life as a film aficionado. Long a mainstay in print downstate with the Illinois Times in Springfield and "The Screening Room" weekly feature in the News-Gazette, he covers new releases on the "Morning MIX" show airing on Mix 94.5 FM as well as both the "Morning Show" and "ciLiving" on WCIA-TV Channel 3 (CBS). His output is prolific and the breadth of it enhanced greatly by memberships in groups like the Chicago Film Critics Association (CFCA), which allow access to industry events, celebrity interviews, and pre-release screenings.
Lately, Koplinski has paired with suburban critic Pamela K. Powell for many of the WCIA and Mix 94.5 segments. Herself a member of CFCA and co-founder of the Chicago Independent Film Critics Circle, Powell writes for the Kankakee Valley Daily Journal, reports for FF2 Media and Fete Lifestyle Magazine with a stress on women in film, and guests on WGN AM 720. The team-up has been branded "'Reel Talk' with Chuck and Pam" for their social media accounts and public appearances, the latter of which have recently included a visit to New York City and a table at the Critics' Choice Awards in Santa Monica, CA, for both, plus a snowy sojourn to the Sundance Film Festival in Park City, UT, for Powell. It seems the handle first appeared in a pilot episode for a movie debate program that was taped in 2017 and is present among the videos on the pair's YouTube channel. Opening with an upbeat montage filmed in downtown Champaign that echoes the credits sequences from Siskel and Ebert's tenures with PBS and Disney, the cohosts converge at the Art Theater and settle into front row seats for a familiar back-and-forth session on then-current releases such as BABY DRIVER, THE BEGUILED, and SPIDER-MAN: HOMECOMING.
~~~~~
~~~~~
The potential always exists in a show like REEL TALK if the personalities jive – Powell and Koplinski are knowledgeable and lively in their banter while exuding an approachable charm – and its audience comes away with useful suggestions and insight. As far as shopping around a pilot that does not stray far from a formula introduced in the 1970s, who can say if it has a place in today's media landscape? We're guessing many broadcast schedulers might consider the genre passé and simply pass, even if REEL TALK would be glossed up with improved production value. (We've already witnessed the quick demise of the AT THE MOVIES revival produced by Roger and Chaz Ebert at the beginning of the decade.) In the meantime, our downstate duo has cemented a partnership with WCIA that includes taping sessions on the affiliate's existing sets, including a viral video in which they ruminate on the results of Sunday's Academy Awards ceremony, which provides them with an accessible home base.
~~~~~
~~~~~
As Koplinski and Powell continue their productive streak, is anyone else in the C-U following suit? To answer that, we must enter the fringes of our media outlets to see other examples of programs with similar aims. A constant in the rotation of Urbana Public Television (UPTV) is REEL REVIEWS, started by movie and music fan Chike Coleman and cohosted by the Urbana city government's IT director, Sanford Hess. Most episodes are subtitled "The Cinematic Underground," a blanket for discussion of current releases and, certainly, a nod to its cable access origins, while episodes labeled as "Rewind" favor older films. The lack of commercial interruption and limited topics allow Coleman and Hess to hold a reasonable, in-depth conversation rather than the brisk soundbites of AT THE MOVIES and its direct descendants. REEL REVIEWS has aired on UPTV for several years; the oldest episode on-line dates from 2012 and features Hess as a guest, talking up the Art Theater with Coleman and the show's previous cohost, Koplinski. Our sample of REEL REVIEWS embedded here is from January, when Hess and Coleman muscled their way through AQUAMAN and SPIDER-MAN: INTO THE SPIDER-VERSE.
~~~~~
~~~~~
While one can enjoy plenty more REEL REVIEWS on the Internet or at Channel 6 on the cable television dial, the opposite is true for a different local effort. IF YOU LIKED … YOU'LL LOVE … appears to be a pilot, made in 2011 for Parkland College Television (PCTV), and features Parkland and University of Illinois lecturer Syd Slobodnik with Parkland Humanities chair Dr. Matthew Hurt in the hosting roles. The concept is to pour over classic cinema that comes to mind based on current releases in the theaters; in this instance, the Coen Brothers' TRUE GRIT remake and THE KING'S SPEECH lead to recommendations of THE SEARCHERS with John Wayne and THE LION IN WINTER with Peter O'Toole and Katharine Hepburn. Filled with a nice amount of clips and stills, the program feels substantial in content even with the threadbare set arranged on Parkland's lab sound stage. Is it possible this is the only episode made, repeated ad nauseam for years on PCTV? Slobodnik continues the concept in written form in buzz magazine, where he contributes a "Hidden Gem" movie feature every week.
~~~~~
~~~~~
We can take heart in the fact that some of the budding movie scholars among us are interested in using media to communicate, just like the individuals in the three shows we've already surveyed. The newest attempt is a series of recorded monologues and discussions by UIUC students who belong to the C-U Cinefile club. We picked an example that is the classic round-table format in which James Hall, Nick Arroyo, Cece Walcynski, and Colin Meier offer ideas on what makes for an ideal holiday movie; most pieces are of the clips-and-voiceover kind and cover such topics as horror film remakes, Westerns, David Lynch, and THE ROCKY HORROR PICTURE SHOW. If considering a bit deeper the qualities and elements of a film is your bag, dearest viewers, now is a good time to press "play" on these programs and support the ongoing ones with your viewership. We need to do our best to ensure that Champaign-Urbana is never barren of passionate talking heads with much to say about what is playing near you.
~ Jason Pankoke
p.s. Yesterday was the 20th anniversary of the passing of Gene Siskel. Always remember.
p.s.2 According to IndieWire contributor Christian Blauvelt, there is only one program left in the (English-language) world that truly passes muster as worthwhile televised coverage of the film industry – TALKING MOVIES, hosted by Tom Brook and aired by the BBC for the past 20 years.
p.s.3 Syd Slobodnik has a long association with the Illini Media Company, reaching back to his work at the Daily Illini in the 1970s when a UIUC undergraduate, so it's not inconceivable for him to use buzz as an outlet even though it is otherwise a "work experience" opportunity for currently-enrolled students. IF YOU LIKED … YOU'LL LOVE … co-producer Michael Coulter also wrote for buzz as a non-student, cranking out a weekly humor column for the magazine's print editions in the mid-2000s.
p.s.4 Although these points are secondary to the post, we feel we should briefly address something else that involves the growth and well-being of local students including our future artists, critics, and the like. Not only is Chuck Koplinski's output impressive when you factor in his livelihood as both a full-time teacher and a father, but you can't help but understand how his "movie life" might be a grateful escape during tough stretches, such as the issues of salary caps for veteran instructors and student bullying under an ill-serving disciplinary system that currently plague the Urbana school district. Hats off to him for not holding back. Security and safety help form the bedrock on which effective learning is built.
p.s. Who did we miss in the critics-on-screen milieu of downstate Illinois? Write us right now with a tip!