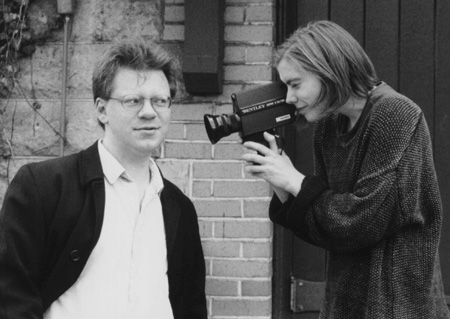 ~~~~~
After our marathon look at local television critics that we published yesterday, we decided to push back our weekly Calendar until tomorrow to give us a breather. However, we also don't want to leave our dearest readers floating on a Friday without something new to enjoy on C-U Blogfidential, so we're sharing this vibrant artifact for your amusement. The sketches turned up during a fruitful mining of our digital archives at the Secret MICRO-FILM Headquarters and, while the activity doesn't rate as a worthy Almanac entry in the Confidential timeline, it might provide a bit of interest to the artists, designers, and other visual minds in our audience.
According to the hand-printed date, your humble editor put the finishing touches on this preliminary storyboard 20 years ago today, one of a few he created during that era and the only one to ever be translated into a movie. He filmed it the following week with the help of then-University of Illinois senior Cecilia Cissell Lucas along with photographer and then-Champaign resident Jason Brown at the Channing-Murray Foundation in Urbana. The intent was to use it as a creative promotion for the launch of MICRO-FILM magazine; the actuality is that it sat for two years until a future coworker, Ted Veatch, offered to piece it together for Mr. JaPan on a home desktop system. It has never been properly formatted for streaming even though a DVD transfer of the Hi-8 master exists, so, this facsimile will have to do. Since he knew that frugality was key in nailing the necessary shots as he chose to shoot the promo in retro-fashionable Super 8, the final edit follows this storyboard pretty closely. Click on the sample sketch below to access the entire sequence in thumbnail form, accented in colored pencils despite the black-and-white cinematography to make the pictures easy to see on location. The soundtrack of the existing version is the songs "Opening/One Fly's Wing" from the Mud Records/Parasol album Piloted by Ghosts by The Suede Chain.
Will we ever do such activities again in the C-U? Mr. Brown now lives near Madison, WI, with his wife Ellen and a barnyard menagerie, while Ms. Lucas has ingrained herself in the University of California, Berkeley, community as faculty and a progressive dynamo, but we're still trying our hardest to keep it real in these here Twin Cities. If we can ever break away from our self-publishing kick that has been our ongoing party since 1999, it is a tempting notion. We'll let you know about the latter at some point and talk to you more about the former next week!
~ Jason Pankoke
~~~~~