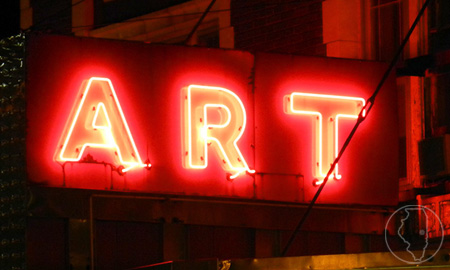 ~~~~~
At this point, it's almost moot to cry "help" on behalf of the Art Theater in downtown Champaign, IL, for the people have responded in kind to their surprise need for $25,000 posthaste. First pitched in an e-mail blast sent out last Thursday, February 21, by Jerry Payonk, the president of the board of directors at the Art Film Foundation, the drive has accumulated nearly $22,000 as of 5 p.m. yesterday, displayed on the home page of the Art's Web site as an animated thermometer graphic. There is no reason to doubt it will hit the top by tomorrow and beat the "25K in 25 Days" time frame handily; we simply feel obligated to share the news since we value the Art for many things including its symbiotic role in staging the New Art Film Festival with us every year for our community and its filmmakers.
This is a great showing, yet, we don't like seeing our friends, neighbors, and former neighbors hit up for so much on short notice. In comparison, we received plenty of time to listen and react when Sanford Hess, Ben Galewsky, and company let Champaign-Urbana know about their plans to sell shares under their cooperative model to the tune of a small mint, intended to cover operating costs and the much-debated digital conversion mandated by the exhibition industry. Payonk says obliquely in his message that, "Due to a slow end of 2018 [and] beginning of 2019, we need $25,000 immediately to keep us open." What led to this being an issue? Low ticket sales? (Maybe.) Frigid temperatures and burst pipes? (Yes, those did happen.) A slow start to gearing up for fundraising? (Since this is the first definitive push for patrons' money that we've seen since the Art transformed into a non-profit organization, more than likely.) Well, damn.
We didn't learn much more from an appearance by Dr. Porshé Garner, the executive director of the foundation, during "The Morning Show" on WCIA-TV early Monday, February 25. Discussing the Art's needs with co-hosts Alexandra Corradetti and Christie Battista under the pretense that "25K in 25 Days" would succeed, Dr. Garner frames the move as necessary to secure their "operational efforts" to do business and help "find their footing" as they move towards courting their patrons for regular and on-going donations. Half a week later, then, the Art suddenly is not under the threat of closure, despite all the dire headlines and teaser copy thrown up by the local media based on Payonk's plea. Whew! Again. We guess it's their prerogative as to whether they break down the Art's needs for the general public in this new era. Let's give them the benefit of the doubt in these early moments and keep going.
Although, encores of this presentation need to be few and far between if you can swing it, dearest Art Theater. We want you to reach a satisfying crescendo that consists of less drama and more performance.
~ Jason Pankoke
p.s. Also playing as part of "Things are Tough All Over Week" in the Bubbly City – Screen 1: A man with a duffel bag and strange demeanor triggers the evacuation of the AMC Champaign 13 on Sunday afternoon in MULTIPLEX PANIC; Screen 2: A brewpub and a night club plan to leave a vibrant downtown that has already witnessed the vacating of storefronts by longtime business owners in EXODUS ON MAIN STREET; Screen 3: A locally-published digest on local film culture is stopped short of achieving its own modest fundraising goal after three months and counting in 100 BUCK HUSTLE.