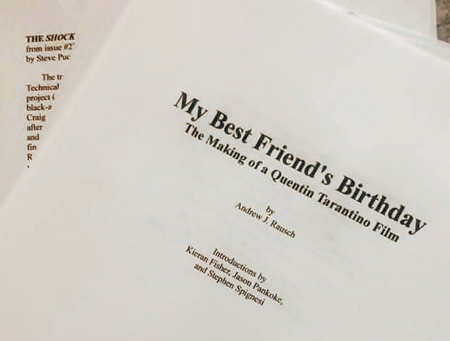 ~~~~~
Let's review two of the prime directives here at the Secret MICRO-FILM Headquarters. First, we'd rather take longer to do it right, and then, we always reappear after we disappear. Work factors, personal needs, and a C-U Confidential issue edging towards completion add up to a lack of blogging, but the floodgates will open soon enough to let content flow more freely than in the last few weeks. We promise it. You believe it. We appreciate you for sticking with us, dearest readers.
There have been fun asides, we'll admit. Your humble editor was asked by interviewer Andrew J. Rausch to contribute a new essay to the follow-up book to Conversations on Quentin Tarantino that is titled My Best Friend's Birthday: The Making of a Quentin Tarantino Film. Often excused from QT canon by scholars and fans, the ultra-low budget and unfinished comedy MY BEST FRIEND'S BIRTHDAY was made in the late Eighties by the future auteur and his collaborator at the time, Craig Hamann. The latter joins Rausch and several others in providing oral histories and juicy anecdotes about the project in this intriguing volume, while Mr. JaPan's words will kick off the middle section about its production.
Ye Ed has also submitted a testimonial that will appear in a book called Red Light and Other Tales. It supports the Champaign screenwriter and B-movie reviewer Colin Gabriel Price who makes his debut as a published author with this release. Red Light is a collection of short stories on the dark and seamy side of recognizable genres like fantasy and Gothic horror, although "Red Light" itself is a slice of crime fiction about a sociopathic killer and his young female mark who only knows the dark side of good fortune. We're elated to see Price persevere with his work after recent creative ups and downs in his world.
Stealing away from the keyboard for a bit with our friend, artist and CUZine #9 cover model Drea Aarons, we shared the Confidential love at this past weekend's Small Press Fest at the Independent Media Center in Urbana. A solid turnout of professional imprints, 'zine makers, alt-media collectives, and crafty types filled the Sun Room of the IMC's main floor while we teased our next issue by giving out previous issues at a table just inside the Stage Room where speaking activities took place. CUZine sat alongside two other local mags that did not have representatives at the show: Activator, a music culture monthly from Springfield that now counts David Gracon of Hallways Microcinema as a contributor, and Comparisons, a science-as-art 'zine created for the University of Illinois' Institute for Genomic Biology by creative program manager Julia Pollack, once a member of Illini Film & Video while she was a UI undergraduate. Hopefully, this is a solid stepping stone for organizer Sarah Christensen and friends on which to build the event and complement other local efforts like the "Lit" arm of the Pygmalion Festival.
While both Red Light and My Best Friend's Birthday should be available by this fall through Page Publishing and BearManor Media, respectively, you will be able to pour through C-U Confidential #10 much sooner! We can announce with certainty that the digest will go to press in the first half of May and appear at our favorite drop points du C-U soon afterwards. We'll have the traditional cover reveal here on C-U Blogfidential and, for the first time, bonus articles that directly relate to what you'll find inside the issue. Enjoy the spoils of our efforts while we return to our version of normal.
~ Jason Pankoke
~~~~~