~~~~~
During the more productive years here in Champaign County, the arrival of summer means that teams of media-makers will be out in the field realizing their dreams. It may involve setting up a scene in a literal field such as, not surprisingly, one filled with miles' worth of corn stalks that might be hiding nefarious truths. This is the general scenario of the upcoming horror-thriller CORN from Dreamscape Cinema of Champaign, who recently announced a casting and crew call to staff the shoot that will take place between July 25 and August 14 in central Illinois. The studio is needing 18-years-and-older actors for all roles, the breakdowns for which can be found at this brand-new Facebook page, while paid positions behind the scenes in the camera, lighting, wardrobe, art, and makeup effects departments are detailed in this notice at the Champaign Movie Makers group on Facebook. Interest and headshots should be directed to robin [at] dreamscape [dot] la about CORN, said to be "a scary take on isolation … similar to HOSTEL, HOUSE OF WAX, and CHILDREN OF THE CORN," as well as their next project, a "holiday movie" set in Fargo, North Dakota, that will be cast in July and filmed at the end of 2019. Dreamscape head Robin Christian tells C-U Blogfidential that BELOW, the bull shark attack flick they made last summer, is approaching picture lock and will be pitched to distributors in the next few months.
~~~~~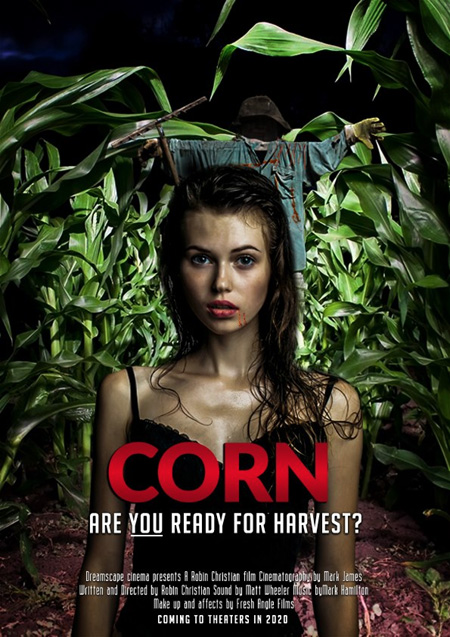 ~~~~~
Also spinning those storytelling gears is John Isberg of Swede Films in Urbana – look for his educational Web series MAGNETIC FIELDS to be unveiled on-line shortly – as he prepares for his debut in the full-length narrative format. A post to the Champaign Casting Call group on Facebook describes his venture as "horror [in the] haunted house genre in the vein of POLTERGEIST, THE INNKEEPERS, [and] THE AMITYVILLE HORROR" that will be filmed from July 7 to 15 in our immediate area. Swede Films is looking primarily for preteen-to-teenage actors in the main roles and is aiming to cast all talent from central Illinois. Hopefuls should forward their headshots to john [at] swedefilms [dot] com as soon as possible so they may be in the running for auditions to be held soon at Shatterglass Studios in Champaign. A brief skim through the timelines of the groups linked above will reveal bonus opportunities from DeShawn Hill of HD Productions Media and numerous point people behind this year's armada of Pens to Lens films. Get involved in our film scene, friends!
~ Jason Pankoke
p.s. For those with deep-cut knowledge of the CUBlog milieu, we want to clarify that CORN is completely separate from an earlier attempt to harvest horror from our crops. Dreamscape Cinema lent production gear and good cheer in August 2004 to the makers of a proof-of-concept alternately titled STALKED and STALKED IN THE CORN. The brainchild of Ryan E. Heppe, a voice actor and former executive at the David Foster Company whose credits include COLLATERAL DAMAGE and THE CORE, the short was photographed on his parents' farmland in his hometown of Homer with the help of several moonlighting technicians from WILL-TV and myriad contributors from the Chicago area. STALKED never took root as a feature and evidence of this version is hard to come by, but your humble editor did escape the set with a handful of snaps that have never been seen before. The portrait below of Heppe's scarecrow fiend is one of them. You will also find mention of STALKED in C-U Confidential #10 if you look closely!
~~~~~