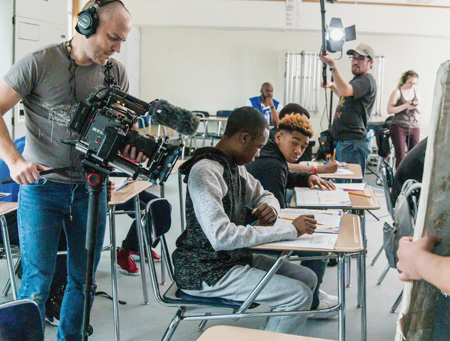 ~~~~~
We don't need to convince you that many of our filmmakers share a sense of wonder with the young people living and learning in our communities. In fact, it's a very nice time to be a child or teenager in Champaign-Urbana with a love for visual storytelling! Let's bounce around to see why that is…
The most public manifestation of this connection, the Pens to Lens Screenwriting Competition + Gala, just returned to the Virginia Theatre for its seventh edition a week ago Saturday, August 10. Adult volunteers produced a brand new set of short subjects that were written by school-age scribes and unveiled on the big screen after a red carpet experience. This serves a twin purpose by showing the writers what good their words can lead to as well as encouraging them to pursue the media arts as an activity if not also a career. You can now see the pieces for yourselves on the YouTube channel of the Champaign-Urbana Film Society; they should also appear soon on the program's website along with poster art created by members of the Champaign-Urbana Design Organization (CUDO). Also co-sponsored by Champaign Movie Makers, it's a popular attraction that functions more as a family affair with each passing year.
~~~~~
~~~~~
While Pens to Lens places the kids' involvement primarily at the beginning of the process, when teachers and parents use P2L-drafted materials to guide their students in fashioning stories that follow the proper screenplay form, other avenues are designed to highlight the many roles of production. We reported in April that Parkland College had been offering "summer camp" style instruction in both narrative (film) and serial (television) storytelling for students in grade school. Last month, the Class Act performing arts studio housed at SoDo Theatre in downtown Champaign offered a "Create-a-Film" camp for middle and high school children to be taught by Pens to Lens alumna Rachel Rebecca Berry. Youth enrolled in the "Filmmaking Studio and Workshop" curriculum through 4-H were eligible to enter their work in a "Young Filmmakers Competition," sponsored by the 4-H Extension at the University of Illinois and the Central Illinois Film Commission with awards to be presented at the current Illinois State Fair. There are most likely classes of a similar nature out there somewhere; one would do well to skim the course catalogs of nearby community centers, park districts, arts organizations, and the like for options.
This is not to take away from the ambitious and self-starting student who rallies their friends together to make a movie. The only path we're aware of for showcasing such work in the C-U is the P2L "Student Filmmaking Competition," a satellite feature of the main program. Its submission window usually runs parallel to the production of the screenplay finalists every summer; such films should be original ideas turned into shorts created by students with minimal adult assistance. In fact, half of the 14 pieces shown at the Virginia were entries in this competition. Go on, kids, and do it yourselves!
~~~~~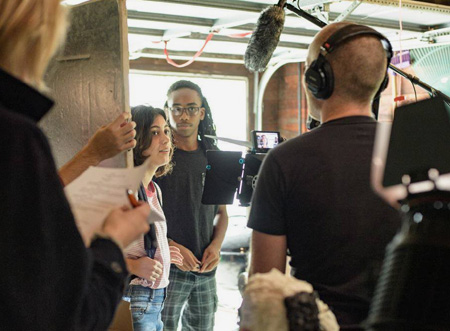 ~~~~~
However, it is also a good deal to see the grown-ups devoting their efforts outside of Pens to Lens to formulate programming that is meant to engage kids in different age brackets, even on the proverbial low budgets. In the same C-U Blogfidential posting from May that we mentioned before, we briefly discussed MAGNETIC FIELDS. This collaboration between Swede Films of Urbana and the Materials Research Science and Engineering Center at UIUC posits the benefits of an advanced STEM education in a dramatic storyline; aimed at high school students, all four episodes of this adventure can now be viewed on the internet. Director and writer John Isberg wore many hats with this endeavor, produced by UI faculty members Nadya Mason, Pamela Pena-Martin, and Jay Rosenstein, relying on his previous experience working with young people and college students to make the ones in this series relatable.
Skewing younger are two additional Web series that made their separate debuts earlier this year as part of WildBrain, an aggregate of child-centric shows that includes known properties such as SUPER WHY, TELETUBBIES, BOB THE BUILDER, and YO GABBA GABBA! Little ones will feel the warm fuzzies all over by watching PATTY AND PAZ, a gently-paced puppet show about the titular platypus and penguin who explore the world and make animal friends along the way. While the multitude of critters is fabricated by Axtell Expressions, Inc., of Ventura, CA, the program itself is written and produced in the green screen wilds of Wisconsin by former Oakwood resident Joseph Taylor. Familiar folks from his central Illinois exploits like UP THE CREEK and the Freeky Creek Short Film Festival have done voiceover cameos for PATTY AND PAZ including Dawn Taylor, Bill Kephart, Julia Megan Sullivan, and Mike Trippiedi.
~~~~~
~~~~~
Grade school girls and boys will get a kick out of SUPERZUZAA, a burst of high-energy fun in which pint-sized superheroes use their smarts and everyday talents to solve problems and thwart one Dr. Chaos (Isaak and Judah Phelps), who regularly splits into two (!) to best connive over how to get back at his enemies. Pens to Lens regulars Thomas Nicol and Andrew Gleason oversee the show, filmed at Fresh Angle Film Studios in Champaign, and cast locally for the Team Zuzaa members: Sketch (Eva Gleason), Maestro (Soren Schrag), Shift (Remington Cox), Mech (Jessy Nzinga), and the F.R.E.D. 3000, a movie serial-era robot built by Taylor and voiced by Matt Shivers. The respective producers also generate and add the extensive CGI animations and backgrounds seen in both shows. WildBrain has published an astounding number of episodes between the two since February – eight for SUPERZUZAA, 35 for PATTY AND PAZ – and we trust that parent company DHX Media is pleased.
~~~~~
~~~~~
We've embedded one sample of each program that opens with a well-done sequence if you'd like to take a quick peek. Patty and Paz join their menagerie for a musical number to kick off "The Road Trip" while Team Zuzaa and Dr. Chaos go at it nocturnally in "Superzuzaa vs. Early Bed Time."
The moments a young person may spend watching these shows or contributing to projects are fleeting in the short term but invaluable in the long run to shape their dreams and inclinations. Every second is ripe for discovery by every kid whether at the keyboard, on the set, or in the aisle seat at a theater near you. It's also clear the adults who reach out to the kids in constructive ways like the ones detailed in this article need to do so with warmth and humanity on top of being skilled at their specialty and adept at instruction. We sincerely hope the thrill of creation jazzed up all the kids taking part including Elijha J. Booker, the 14-year-old Franklin Middle School student who wrote this year's closing Pens to Lens film, WORK HARD PLAY HARD, also directed by Isberg. He did not live to see the film. A shooting by a peer in May took away Elijha's moment to shine, let alone the entire rest of his life. That all-around interest in putting his story to film still mattered, though, starting with Elijha. Never dismiss these opportunities.
Thanks to Thomas Nicol for providing additional details on SUPERZUZAA for this article.
~ Jason Pankoke
p.s. Your humble editor once took a summer class in television production up north at Waubonsee Community College in Aurora. It was in 1984 and his turn at writing and directing a project resembled an Indiana Jones adventure on less than a Republic Pictures budget. No recording exists. He only remembers the image on a studio monitor of one poor "actor" crouching behind a potted plant and eavesdropping on the others.
p.s.2 He also remembers passing by a former grade school classmate in the halls of Waubonsee. The memory has faded as to what class she took but, today, Lana Hinshaw-Klann is a videographer and editor for WBBM-TV Channel 2, the CBS affiliate in Chicago.
p.s.3 Subsequently, Ye Ed blamed the advent of MICRO-FILM for cutting short his second attempt at beginning to learn those broadcast ropes 15 years later at Parkland. Apologies to instructor Tim Hartin for crapping out on the course. He should have known better and tried harder.
[Updated 10/19/19, 4 p.m. CST]