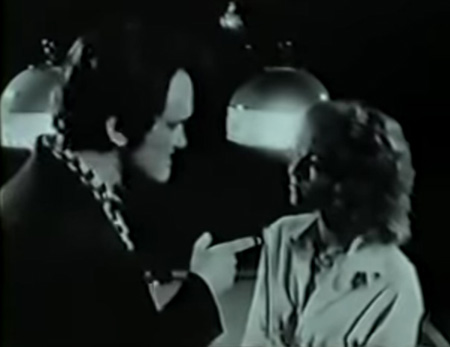 ~~~~~
While summertime audiences the world over took in ONCE UPON A TIME IN HOLLYWOOD, the latest Quentin Tarantino effort to assign past aesthetics and thematic tropes to a storytelling mode all his own, a new book revisiting the past of the filmmaker himself inched closer to completion. This oral history and script analysis of MY BEST FRIEND'S BIRTHDAY, a project that might have been "the first film by" the director had fortunes gone another way, is now available from the prolific Georgia publishing house BearManor Media that issued Conversations on Quentin Tarantino three years ago.
My Best Friend's Birthday: The Making of a Quentin Tarantino Film, a long-in-the-works passion project by the author of Conversations, Andrew J. Rausch, emerged in paperback and hardcover editions as of Sunday, October 6. It dives deep where few QT scholars and acolytes have bothered to look closely; three sections cover the lifetime of BIRTHDAY, an unfinished indie comedy that exists in ephemeral shambles but is still considered a significant turning point in the careers of its three behind-the-scenes principals: co-writer/producer/director/editor Tarantino, producer Roger Avary (THE RULES OF ATTRACTION, KILLING ZOE), and co-writer/producer Craig Hamann. The latter is invariably the heart of the show even if his not-yet-famous collaborator's thumbprint is all over the remaining evidence.
~~~~~

~~~~~
Those of you fascinated by the interviews in Conversations dealing with Tarantino's earliest friendships and activities in Hollywoodland can find plenty more in that vein to enjoy here. The micro-focus on BIRTHDAY, aided greatly by the participation of Hamann and set photographer Todd Henschell along with exclusive quotes from Tarantino himself, will endear the book to completists as well as enthusiasts who appreciate what no-budget creators have to go through to pull it all together. And when it falters? Well. True stores are often more edifying than the (pulp) fiction we weave! Kieran Fisher, a contributor to Film School Rejects and Diabolique, Stephen Spignesi, a co-author of Elton John: Fifty Years On that was released last week by Simon & Schuster, and yours truly provided introductions to the sections. Like my segment in Conversations, I combine insight with first-person anecdote and a sprinkling of the C-U.
The curious fates of MY BEST FRIEND'S BIRTHDAY and its unrelated precursor, the equally AWOL indie WARZONE, did not spell the end of the core team's ambitions or the brewing QT legend once they exited the Eighties, of course. This past Monday, October 21, Fathom Events and Wood Entertainment collaborated on a one-shot presentation of QT8: THE FIRST EIGHT, a slightly dated documentary traveling the QT oeuvre from RESERVOIR DOGS to THE HATEFUL EIGHT that survived previous ownership by the Weinstein Company. ONCE UPON A TIME IN HOLLYWOOD has invigorated Tarantino's profile since its North American bow on July 26 through Sony/Columbia Pictures and is returning to theaters tomorrow, Friday, October 25, with bonus scenes added. Lionsgate launched a limited release this month of Avery's latest directorial effort, LUCKY DAY, while Hamann's first directorial effort BOOGIE BOY returned in May on Blu-ray courtesy of MVD's "Rewind Collection" line. As for the rest of the former BIRTHDAY boys and girls, it's time to read Rausch's book to get all caught up.
~ Jason Pankoke
~~~~~