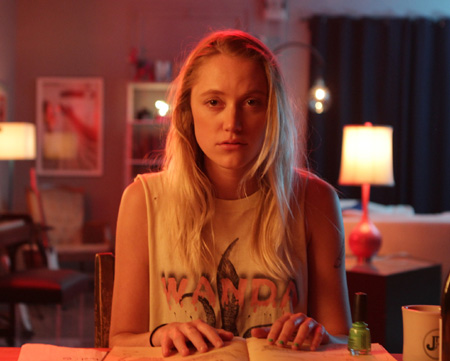 ~~~~~
Just in time to warm the cockles of everyone's hearts, the Krampusnacht Freaky Film Festival (KNFFF) will delight our inner misfits and counter the standard Xmas pageantry when it overtakes SoDo Theatre, 111 S. Walnut St., Champaign, IL, for its debut on Saturday, December 7, starting at 7 p.m. A set of 24 shorts culled from more than 200 international entries sent to festival director Thomas Nicol will play the show, named after the annual event in European folklore when the devilish Krampus emerges late on December 5 to punish the naughty children who are not in line to receive good tidings the following morning from St. Nicholas. That said, the shorts to be projected on the screen with care at KNFFF are not necessarily yuletide horrors, as is apparent from the illustrated descriptions on their website, and three of them hail from C-U filmmakers Andrew Nygard, Clint Andrae, and Jeff Kacmarynski.
"I'd advise folks to plan on getting [to SoDo] a bit early," suggests Nicol in a brief discussion with C-U Blogfidential. "This isn't a red carpet event, but there will be some fun, thematically appropriate photo [opportunities] when the doors open at 6:30 p.m." Given the best-known depiction of the Krampus in contemporary cultures – ironically, the throwback "Krampus run" staged in several countries where packs of creatures roam city streets that are lined with families – Nicol's comments may or may not hint at its physical presence at the KNFFF. "While the event is deeply inspired by the spirit of Freeky Creek [Short Film Festival, a former local event involving costumed actors and puppets] it is going to be its own unique entity and have a distinct framing device for the films." Are you grimacing with joy, kiddies?

Nicol, a software professional who has figured in a number of Champaign-Urbana film efforts including Pens to Lens and the SUPERZUZAA internet series, admits he is testing the frozen waters with KNFFF. "As a first-year fest, I'm not starting too ambitiously with the extra show elements. My goal for this inaugural event is to establish a solid foundation." Although he is downplaying what may still look ambitious to attendees, Nicol typically has a good sense for how to achieve quality with modest means. "The foundation of a great film festival is made of two things: good movies and an engaged audience," he states. "We have the first part; this collection of shorts is full of gems, most of which have never screened in Illinois before. The second part is up to the community. Let's make this a night to remember!"
One way that audience members can fulfill the goal other than enjoying the "creepy, darkly funny, and macabre" offerings of KNFFF is to vote for awards while on the scene including "Naughty" and "Nice" nods as well as "Best of the Fest." According to the website, several films have already been nominated for technical citations – "Best Direction," "Best Acting," and so on – with their winners to be announced alongside the rest at the show. Admission is $8 per ticket if purchased in advance through FilmFreeway or $10 at the SoDo door. We have confidence that Krampus and company will provide everyone a good time at the Krampusnacht Freaky Film Festival. We're also interested to see how this one flourishes in parallel with the other regional genre festivals that have emerged to haunt the later months in our year.
~ Jason Pankoke
p.s. We now want a collectible t-shirt with a Krampus head exclaiming "Knfff!" in the spirit of the legendary horror host of Cleveland, Ghoulardi (Ernie Anderson).
~~~~~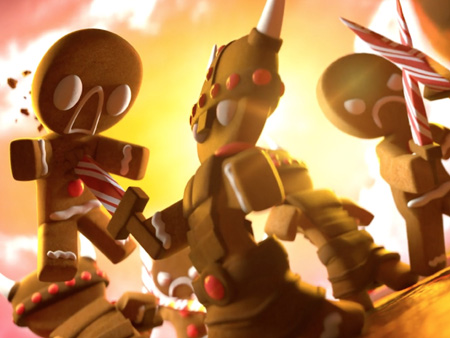 ~~~~~
From November 21, 2019:
FOR IMMEDIATE RELEASE
THE KRAMPUSNACHT FREEKY FILM FESTIVAL CELEBRATES THE DARKNESS OF THE SEASON
(Champaign, Illinois) November 21, 2019: The Krampusnacht Freeky Film Festival will present its inaugural screening at the SoDo Theatre, 111 South Walnut St., Champaign, on the evening of Saturday, December 7th, 2019. Doors open at 6:30 p.m., and the event will run from 7 to 10:30 p.m. Tickets are $8 in advance, $10 at the door.
This festival draws its name from the Krampus, a creature from central European folklore who acts as the shadow of St. Nicholas – its punishment of naughty children makes a stocking full of coal sound appealing. "Krampusnacht" is observed on December 5th, the night before the Feast of St. Nicholas on the 6th.
This year's program features two dozen short films from 9 different countries, including some produced right here in Champaign. The films range from horror to dark comedy, with many expertly entwining the two genres, and some incorporating twisted holiday themes. A full list of the selected films is available on the festival website, KNFFF.com, as well as a link to purchase tickets.
The festival is supported by generous sponsorships by The Prompting Theater, CU Adventures in Time and Space, and Darrell Hoemann Photography.
CONTACT
Thomas Nicol
Festival Director, Krampusnacht Freeky Film Festival
tdnicol [at] gmail [dot] com
###