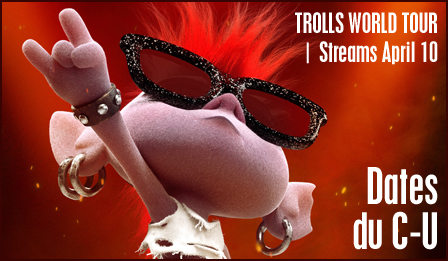 Our movie and media Calendar appears every Friday/Saturday on C-U Blogfidential and caters to the downstate region anchored by Champaign-Urbana, Illinois, USA.
~~~~~
MILESTONES | Happy Birthday to You!
4/16: Sarah Christensen (visual resources and outreach specialist, University Library, UIUC, Urbana, IL)
4/16: Joe Taylor (producer/fabricator, Studio Extraño, Sturgeon Bay, WI)
MFHQ MEMO | From Chambana Mendota with Love Resolve
I've been mostly quiet about the New Art Film Festival since November and figure that next week will be an opportune time for me to open up. Why? For starters, see the Almanac below.
CONFIDENTIAL ALMANAC | Dates in Film Culture History
10 Years Ago … April 15-20, 2010: Inspired by the warm reception given to his Boneyard Arts Festival "movie show" at Urbana's Caffe Paradiso the previous spring, Jason Pankoke of C-U Confidential takes up a cross-town opportunity to build a more substantial showcase for independent cinema. He and Art Theater owner Sanford Hess collaborate to launch the first New Art Film Festival to offer Champaign-Urbana a unique program, drawing from both locally-made content and the work of producers from Chicago and several Midwest states. A free "non-taxing" reel, mixing trailers and film shorts in a similar vein to the Paradiso event, kicks off the NAFF on Thursday, April 15, after which the full potential of its concept is demonstrated to audiences. Blocks include various pieces from University of Illinois alumni and students, a selection of adventures from Dark Maze Studios of Champaign, the C-U debut of the documentary HOOPESTON, and features made by Pankoke's contacts through the defunct MICRO-FILM journal such as EXISTO, RETURN IN RED, and DEADWOOD PARK. Screenings are paced across six days, the first three concurrent with Boneyard Arts and a closing "best of" presentation taking place on Tuesday, April 20, the night before Roger Ebert's Film Festival commences. While an overall success, the NAFF would be modified to eliminate ticket sales, concentrate on selections from the state of Illinois, and consolidate to a single-day affair, becoming a signature Art event for the next decade that provided media storytellers who live downstate with a public space to convene. As reported on 4/14/10, 4/16/10 at CUBlog.
NOW PLAYING | Champaign-Urbana Area
@ AMC Champaign 13, Champaign, IL
Closed for the week.
@ Family Video, Champaign-Urbana, IL
LITTLE WOMEN, DOLITTLE, CATS, CAMP COLD BROOK, WE GO IN AT DAWN, AMERICAN MARTYR, 40: THE TEMPTATION OF CHRIST, THE DEVIL'S FAIRGROUND, KIDDING (s1), more! (4/7 on)
@ Goodrich Savoy 16, Savoy, IL
Closed for the week.
Events featuring locally produced movies are marked with an asterisk (*). Additional "Now Playing" and "Coming Soon" listings appear after the jump!
~~~~~
NOW PLAYING | The Cities Beyond
@ AMC Classic Village Mall 6, Danville, IL
Closed for the week.
@ AMC Peru Mall 8, Peru, IL
Closed for the week.
@ The Avon Theater, Decatur, IL
Closed for the week.
@ The Lincoln Family Theater & Community Center, Lincoln, IL
Closed for the week.
@ The Little Lorraine, Hoopeston, IL
Closed for the week.
@ The Normal Theater, Normal, IL
Closed for the week. "Living Room Film Festival" virtual screenings: EXTRA ORDINARY., BACURAU (through 4/12), AND THEN WE DANCED, SAINT FRANCES (4/10-4/19) Purchase
@ The Onarga Theatre, Onarga, IL
Closed for the week.
@ The Princess Theatre, Leroy, IL
Closed for the week.
@ Roxy Cinemas, Ottawa, IL
Closed for the week.
@ Streator Eagle 6, Streator, IL
Closed for the week.
NOW PLAYING | Midwest
For detailed and curated listings of Chicago-area film presentations and related events, as well as cancellations and postponements due to the ongoing coronavirus pandemic, please visit the fine folks at Cine-File and subscribe to their definitive "Cine-List" weekly blast.
COMING SOON | Area-wide Events
5/22-5/24
INCIDENT AT KICKAPOO CREEK* 50th anniversary screenings
@ The Normal Theater, Normal, IL
11/28
SAFETY LAST feat. BIG BUSINESS w/live organ accompaniment by Steven Ball
@ The Virginia Theatre, Champaign, IL, 7 p.m.
COMMUNITY & CAMPUS SERIES | Champaign-Urbana area
The News-Gazette Film Series
@ The Virginia Theatre, Champaign, IL, 1 & 7 p.m.
5/16: CAT ON A HOT TIN ROOF; 6/20: FANTASIA
~~~~~
Compiled by Jason Pankoke.
~~~~~
"Calendar du C-U"
© 2020 Jason Pankoke/C-U Blogfidential