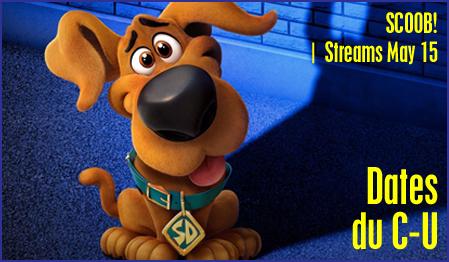 Our movie and media Calendar appears every Friday/Saturday on C-U Blogfidential and caters to the downstate region anchored by Champaign-Urbana, Illinois, USA.
~~~~~
MILESTONES | Happy Birthday to You!
5/19: Gerry Kissell (conceptual artist, Panoramic Pictures, Pontiac, MI)
5/21: Katherine Bokenkamp (cover model, C-U Confidential #10)
PASSINGS | You Will Be Missed
3/30: Ron Torregrossa, 69 (camera technician, Publication Services, Champaign, IL, retired)
MFHQ MEMO | From Chambana Mendota with Love Further Concessions
It's safe to say that fresh-air screenings will have a resurgence this summer, based on the weekly waves of ozoners being opened across the country. Starting their season tonight is the Route 34 Drive-In of Earlville, a Calendar constant and the one closest to where MFHQ Remote is currently situated; be sure to follow the link after this paragraph to access their website and observe instructions on how to prepare and conduct yourselves for a visit. Such a development is great for business and diversion as long as federal and state guidelines are being followed by customers and staff, but it doesn't necessarily help all the brick-and-mortar theaters left in the lurch. Every day is a good day to haunt your favorite movie house's internet accounts to learn if there are ways to support them financially. A popular promotion at several area theaters as of late is curbside popcorn sales. The Lincoln Family Theatre & Community Center in Lincoln will hold their monthly "popcorn day" tonight, Friday, May 15, from 5 to 7 p.m. in their lobby. The Avon Theatre in Decatur is offering several house-made "Mr. Popcorn" flavors along with drinks and gift certificates for the fourth weekend in a row tomorrow, Saturday, May 16, from 12 to 3 p.m. in a park-and-wait scenario. The Lorraine Theatre in Hoopeston has a program every Saturday from 5 to 8 p.m. where patrons call in during that time period to have their orders made for immediate pick-up or to be delivered in person by the reigning "Miss Hoopeston," Asti Scharlach, with some proceeds going to charity. The Onarga Theater in Onarga and Princess Theatre in LeRoy organized similar promotions in recent weeks and may be intending to do so again. Pairing their goodies with streaming at home will make you feel like a million bucks for encouraging your local exhibitors to keep it going. Bravo!
@ Route 34 Drive-in, Earlville, IL
ONWARD, SPIES IN DISGUISE (5/15-5/17)
NOW PLAYING | Champaign-Urbana Area
@ AMC Champaign 13, Champaign, IL
Closed for the week.
@ Family Video, Champaign-Urbana, IL
BIRDS OF PREY, THE CALL OF THE WILD, THE PHOTOGRAPH, FANTASY ISLAND, VIVARIUM, SHAMELESS (s10), NARCOS: MEXICO (s1), more! (5/12 on)
@ Goodrich Savoy 16, Savoy, IL
Closed for the week.
Events featuring locally produced movies are marked with an asterisk (*). Additional "Now Playing" and "Coming Soon" listings appear after the jump!
~~~~~
NOW PLAYING | The Cities Beyond
@ AMC Classic Village Mall 6, Danville, IL
Closed for the week.
@ AMC Peru Mall 8, Peru, IL
Closed for the week.
@ The Avon Theater, Decatur, IL
Closed for the week.
@ The Harvest Moon Twin Drive-in, Gibson City, IL
TROLLS WORLD TOUR (Screen 1), I STILL BELIEVE (Screen 2) (5/15 on)
@ The Lincoln Family Theater & Community Center, Lincoln, IL
Closed for the week.
@ The Little Lorraine, Hoopeston, IL
Closed for the week.
@ The Normal Theater, Normal, IL
Closed for the week. "Living Room Film Festival" virtual screenings: New York International Children's Festival: Kid Flicks One (ages 3 and up), Kid Flicks Two (ages 8 and up) (through 5/17), FOURTEEN, SUNRISE/SUNSET, RGB (5/15-5/28) Purchase
@ The Onarga Theatre, Onarga, IL
Closed for the week.
@ The Princess Theatre, Leroy, IL
Closed for the week.
NOW OPEN! @ Route 34 Drive-in, Earlville, IL
ONWARD, SPIES IN DISGUISE (5/15-5/17)
@ Route 66 Twin Drive-in, Springfield, IL
THE CALL OF THE WILD (Screen 1), 1917 (Screen 2) (5/15 on)
@ Roxy Cinemas, Ottawa, IL
Closed for the week.
@ Streator Eagle 6, Streator, IL
Closed for the week.
NOW PLAYING | Midwest
For detailed and curated listings of Chicago-area film presentations and related events, as well as cancellations and postponements due to the ongoing coronavirus pandemic, please visit the fine folks at Cine-File and subscribe to their definitive "Cine-List" weekly blast.
COMING SOON | Area-wide Events
10/4
Dead in Decatur presents "The Art of Fear"
@ Heroic Age Art Center, Mt. Zion, IL, 4 p.m.-12 a.m.
11/6-11/7
19th annual Route 66 Film Festival
@ State House Inn, Springfield, IL
11/28
SAFETY LAST feat. BIG BUSINESS w/live organ accompaniment by Steven Ball
@ The Virginia Theatre, Champaign, IL, 7 p.m.
COMMUNITY & CAMPUS SERIES | Champaign-Urbana area
UPDATE! The News-Gazette Film Series
@ The Virginia Theatre, Champaign, IL, 1 & 7 p.m.
Postponed: 5/16: CAT ON A HOT TIN ROOF; 6/20: FANTASIA
~~~~~
Compiled by Jason Pankoke.
~~~~~
"Calendar du C-U"
© 2020 Jason Pankoke/C-U Blogfidential