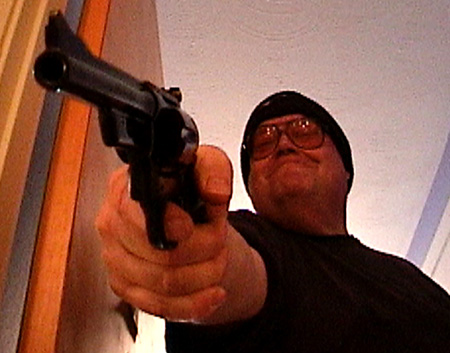 ~~~~~
"Here lies the story of Bucky McSnead / The slasher who rhymes and revels in grue / He did not see Ole Splitfoot enter the scene / A mischievous legend that grew and grew!" The presumption I made in our last post about the Memorial Day weekend being a prime time for film activity is not without basis. Twenty years ago, I spent a day at the cozy household of Mike and Sue Trippiedi in Champaign to witness the taping of a comic dispute between the lumbering Bucky McSnead (Steve Davis) and his abrasive parents (Traci Nally and Will Ridenour) that ended in murder and began a crime spree littered with many suspect couplets. I was grateful to be invited and could not wait to see the scene cut together when BUCKY McSNEAD, THE FIRST SLASHER FILM DONE IN RHYME had its debut in 2001. Slice and dice to the present, it seems inexplicable that so few horror movies originate from downstate Illinois and it always takes me by surprise when a new one is announced. After you watch the vintage trailer for the clever McSNEAD, shared by Mike Trippiedi collaborator Bill Yauch of RiellyBoy Productions in Urbana…
~~~~~
~~~~~
…you can let your imagination run wild with the proposed grindhouse-style feature its creators have titled – let me catch my breath here – THE TRUE TALE OF OLE SPLITFOOT VS. THE LESBIAN WARRIOR NUNS OF THE GREAT WHITE NORTH. Conjures up a lot of saucy and devilish possibilities, yes? Ash Hamilton and Horror-Fix Pictures of Springfield, Ben Harl and Silver Compass Studios of Decatur, and Michael Welborn and Nic White of CinemaSlice in Bay City, Michigan, believe the world needs a niche flick like this and have launched an Indiegogo campaign as of last Friday, May 22, to float a modest six-figure budget. If you want a hint at what Harl and Hamilton's screenplay may entail, visit Indiegogo for an over-the-top teaser and this Horror-Fix.com article for their ribald sense of humor. OLE SPLITFOOT is intended to roll this November under the direction of Massimiliano Cerchi (MAYDAY) and star a number of indie horror talents along with veteran actors like Michael Paré (BONE TOMAHAWK) and Robert LaSardo (THE MULE). Peoria actress Samantha Marie (TEACHER SHORTAGE) is a co-producer.
Given that mouthful of a title and the involvement of CinemaSlice, I wonder if OLE SPLITFOOT will be filmed closer to Canada than the Illinois plains. We'll certainly find out! Until then, a promotional poster oozes with exploitation intent below. You already know whether or not you want to scroll any further.
~ Jason Pankoke
p.s. Apologies to Damian Duffy Barely Trying for the flashback. Nuns? Guns? Beer!
~~~~~