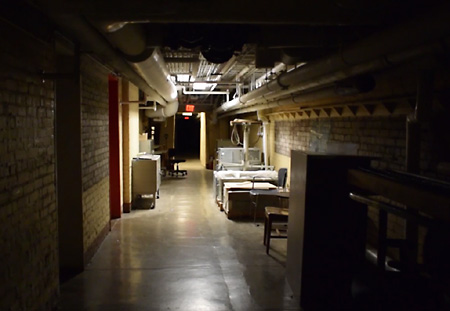 ~~~~~
"Spirits in an Intermediate World"
Memories of fictive fantasma and sequestered students filter through a closed flagship campus.
by Jason Pankoke
I don't believe in ghosts or the afterlife. I do believe the specters of human experience waft about our very being and are inextricably anchored to everything shaped by our tools, hands, and minds. Sitting at my mother's house as I write the current run of C-U Blogfidential, any glance upward is to a space that I have known for many years and can subtly remember how it was once different and more populated than now with just the two of us. I easily imagine a similar sense of displacement if I was living among all my friends and neighbors of Champaign-Urbana in this "new normal," had family crises not steered me to a different path. My guess is walking through a business district that should be teeming with bodies on warmer May days like these is akin to traversing, for lack of a clever euphemism, a ghost town. I'm sure that I would have a visceral reaction to the ongoing emptiness of familiar streets, sidewalks, and hangouts.
The cumulative effect is more pronounced if one wanders among the storied structures on the University of Illinois campus, I guarantee it. Normally at this time of year, I'd secretly look forward to summer break because I find it pleasant to explore the terrain halved by Wright Street when it's dialed down in bustle, especially the Krannert Center for the Performing Arts sector. Other than the Secret MICRO-FILM Headquarters and parks, no place is calmer to me between June and August in the C-U than a chair outside Espresso Royale on Goodwin Avenue as a hazy sun drops behind the Main Quad skyline. Even in the most tranquil moment with a perfect sip of java, it can still feel incomplete. I react slightly to chatter over my shoulder that isn't happening. I redirect my eyes to a distant street when I know that no one comes or goes. I anticipate the comfort of Altgeld Hall chimes an eternity longer than usual.
Right now, we can't experience those lingering interactions with our environments at any length due to the shelter-in-place order. I wonder how UIUC seniors are coping with their college experiences coming to a makeshift end as a "virtual celebration" on Saturday, May 16. Hopefully, they built up enough positive experiences to take with them and revel in for some time. Should any return to their alma mater in a future less restrictive, those individualized echoes will be unlocked and flow freely. It's not just about the notions, however. Spaced between dusty volumes and glass-encased displays is unheralded history with more definition but less hard evidence, dismissed perennially by generations of underclassmen, graduate students, academics, and civil servants. I can choose to not believe in ghosts and still be intrigued by the ways that locals and the campus community process the preternatural.
~~~~~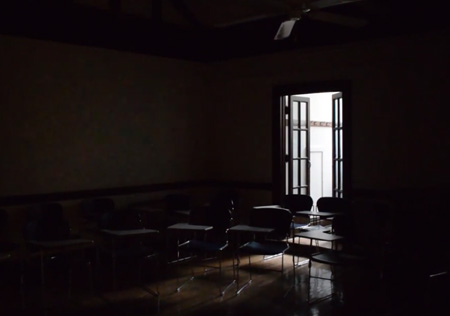 ~~~~~
However the tales are relayed during their short C-U residence, from the humored faculty member who repeats sketchy details to the giddy tour guide embellishing them off the cuff, young people can't help but be intrigued. Many love a good ghost story. Why not hunt one down themselves on a dull weekend, even if the prospects of proving it to be true seem dubious? All it might take is a tour through the UI grounds on a moody evening for that tactile sense of lore to grasp the imagination. With ammunition comes a sense of adventure in seeking out more, whether the students hole up in the library system to research the past or creep about longish hallways to discover for themselves in the present.
Apparently, tales often repeated don't necessarily result in tales better told. Most pieces that I found while perusing the internet treat the supposed UI hauntings as an amusing footnote and little else, often in "listicle" formats regarding "most haunted' colleges or sites in the United States. The sampling does include a handful of mentions that are at least more artfully relayed with a sense of wonder and context, such as by the veteran paranormal researcher and author Troy Taylor of American Hauntings Ink, and the rare article backing up the hearsay with reflection based on factual information, like this lighthearted overview from the UI Alumni Association. Speculative videos on YouTube seem to be just as spare as most written accounts while dramatic takes on these regional urban legends simply do not exist.
~~~~~
~~~~~
Or, do they? The relatively new UI student club C-U Cinefile attempted to visualize campus phenomena in late 2018 by mating the most "notorious" ghost story with a smattering of genre conventions and a faux documentary format. THE HAUNTING OF THE ENGLISH BUILDING is presented as footage recorded by Colin (Colin Meyer), Owen (Owen Balk), Jackie (Jacqueline Masiunas), Nick (Nick Arroyo), and James (James Hall), who set out to investigate one of the decades-old claims for an assignment. They pick the English Building and its early 19th century phantom, a former student who either hung herself, threw herself out a third-story window, perished at the hands of a boyfriend, or drowned in the basement swimming pool in what used to be known as the Women's Building. It all depends on whatever strain of the story one wishes to believe. Her fate is ghastly all the same if the story is true.
Several cuts of the group taping themselves as they enter English and set up their camera gear – "We're going to see the coffin!" offers Jackie en route – are followed by brief interviews with fellow students who waffle on what they've heard about hauntings. The final interviewee, a plucky coed (Cece Walcynski) who takes issue with their presumptions about the nature of this spirit, rattles the classmates' cages and sets the stage for them to witness alleged paranormal business as they continue. ENGLISH BUILDING is an agreeable experiment in storytelling that wears its media references and "ghost hunter" tropes (flickering lights, flashes of movement, temperature swings from hot to cold) on its UI sweatshirt sleeve. I'm glad they show an interest in exploring the cinema hands-on in addition to appreciating it with team analysis and wonder if they ever saw the ghost of a different sort peering over their shoulders.
~~~~~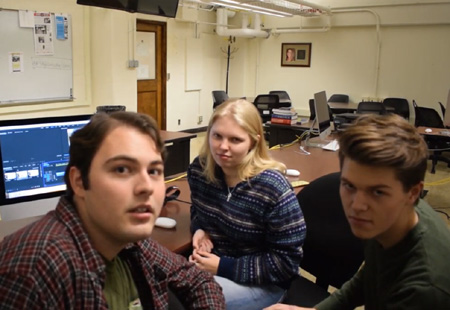 ~~~~~
Another student telling of the same campus myth from more than 15 years ago discards the familiar, barely-there details and conjures an enigmatic spook show with music video fluidity. Tight-knit school chums Jake (Evan Dollard), Angie (Hayley Maree Jannesen), and Carter (Adam Pasen) become the title TRIAD in more ways than one when unseen forces linked to particular structures – the English and Psychology buildings as well as the Library, all shadows and endless planes – threaten to break up their relationship and challenge personal beliefs. The lengthy short was directed, produced, co-written, and scored by then-sophomore Chris Folkens as a calling card project with a big assist from Illini Film & Video members. While intimate in key moments, the tale is played as big as possible using roving cameras, distressed color grading, crashing cues, terse exchanges, and lots of running and stair climbing.
Made before the CUBlog era and three years after the launch of IFV, TRIAD was a rare kind of UI student production that dared to affect Hollywood production values. Looking at it today without rose-colored glasses in place, the project is amateur with a capital "A" and an admirable harbinger of things to come for Folkens, who makes a living as a television and commercial producer in Los Angeles while honing his aesthetic style in independent works like DIVERSION, TRIGGER, and the upcoming feature CATALYST. As for the ghostly quotient, it is angst-ridden fantasy all the way through. UI pillars of learning, both real entities and invented authority figures, offer no solutions or apologies in a brooding scenario where it's optimal to "keep the secrets" as mumbled by the story's old soul, frumpy handyman Amos (John Chandler), and vocalized by its astute conspiracy theorist, Daily Illini reporter Miles (Paul Karpenko).
From my brief observations, it should be clear that I'm not contrasting TRIAD with THE HAUNTING OF THE ENGLISH BUILDING from a critical standpoint, rather addressing how they are distinct treatments of literalized "school spirits" made all the more intriguing given the C-U Cinefile crew most likely had no knowledge of what Folkens and company stirred up in 2003. In ways, TRIAD itself haunted university for years after its director graduate and bounced from Urbana to Chicago to Los Angeles. Beyond the reputation he built among the student body due to this film and its unrelated follow-up, TOXIN, Folkens had saleable DVDs pressed as did every respectable indie filmmaker of the era. Spare copies remained on the shelves of Campustown stores for some time before vanishing discreetly. Today, you will find no video evidence and very little copy online about TRIAD precisely because it was a footnote preceding the professional career of its guiding light. To most, it is elusive by design.
~~~~~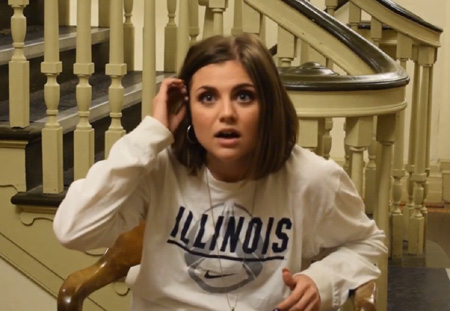 ~~~~~
Or, is it? We know I have an uncanny knack for connecting the local cinema to our present lives, so it was no surprise at all when a particular finality threw me in atypical ways. As it became clear early in 2019 that developers would raze the buildings on the northeast corner of Daniel and Sixth streets to make room for a mixed-use monolith, I realized another former movie set would soon vanish. I wrote about it last May so I won't rehash what it meant to me for that location of Espresso Royale, site of the fateful clash of words between Miles and Carter over administrative machinations and that infamous fucking triangle, to close down before the demolition. A few weeks later, I was in the C-U so I walked the length of the fenced property with its gaping rut in the ground. Instincts told me to go in either of the two doorways no longer there. Gut reaction told me to just glower for a moment and move on.
I wonder what it will be like if I solve our family situation in a way that allows me to return to Champaign as a full-time resident. Not much will stump me since I keep watch from afar over the news, controversies, beginnings, and endings that shape our fair Twin Cities. Yet, the coronavirus protocol and other private concerns have swayed me to not be in a gigantic rush to go back. My mother's house on the edge of an American small town is a comfortable zone from which I can operate and spend time aiming for a better and healthier tomorrow for myself, the two of us, and you if I can be of service. Once we're allowed to move about with flexibility, I sure as hell plan to visit and take a seat at my preferred Espresso. You should join me, dearest C-U. We'll do double takes with each passing apparition as the night falls and sip java while debating universal mysteries in hushed tones. I may even tell you about a triad or two.
~ Jason Pankoke
p.s. Espresso Royale has begun opening locations including the one with the drive through. Whew!
p.s.2 C-U Cinefile co-founder James Hall wins Confidential brownie points for this hard-boiled look at super-sugary basic cable holiday romance movies. That expository end scene is certainly murder.
p.s.3 Science Channel's MYSTERIES OF THE ABANDONED profiled a Champaign County locale that evokes lifetimes' worth of memories in their episode first aired on May 14. Pretty drone footage sure does make the decommissioned Chanute Air Force Base in Rantoul look evocative…
~~~~~