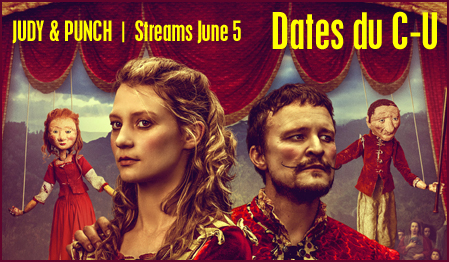 Our movie and media Calendar appears every Friday/Saturday on C-U Blogfidential and caters to the downstate region anchored by Champaign-Urbana, Illinois, USA.
~~~~~
MILESTONES | Happy Birthday to You!
6/10: Allen Richards (publisher, B-Independent.com)
MFHQ MEMO | From Chambana Mendota with Love Movie-Going Dreams
It's been about three months since movie theaters shut down in response to the pandemic. We have not learned much since then about what a future trip to the cinema might entail other than drive-ins are having their renewed day in the sun, despite the fact they have to operate at night, and TROLLS WORLD TOUR made a mint regardless of being redirected to a video-on-demand premiere. It will be a while before we have more clarity and procedure dictating how we can safely return to the fold, even with bobbled political attempts to coerce theaters to open back up, so we must simply wait until further notice. Compare what Owen Gleiberman of Variety wrote at the outset of the closure with Sara Stewart's sentiments as shared today by CNN. Deficiencies of the theatrical model we've known for decades are now glaringly apparent, yet the communal experience is always the ultimate experience. How does the industry respond? What might customers expect for their hard-earned money? Will it be enough?
CONFIDENTIAL ALMANAC | Dates in Film Culture History
35 Years Ago … Saturday, June 1, 1985: Geoff Merritt opened the Campustown media rental store, That's Rentertainment, in Johnstowne Center. After bouncing around that building for their first decade, Rentertainment moved a half block east to their current location at 512 E. John St., Champaign. History [R]
NOW PLAYING | Champaign-Urbana Area
@ AMC Champaign 13, Champaign, IL
Closed for the week.
@ Family Video, Champaign-Urbana, IL
ROBERT THE BRUCE, 1BR, DEBT COLLECTORS, ROGUE WARFARE: THE HUNT, POWERBOMB, THE BLACKOUT: INVASION EARTH, HARLEY QUINN (s1), WATCHMEN (cs), more! (6/2 on)
@ Goodrich Savoy 16, Savoy, IL
Closed for the week.
Events featuring locally produced movies are marked with an asterisk (*). Additional "Now Playing" and "Coming Soon" listings appear after the jump!
~~~~~
NOW PLAYING | The Cities Beyond
@ AMC Classic Village Mall 6, Danville, IL
Closed for the week.
@ AMC Peru Mall 8, Peru, IL
Closed for the week.
@ The Avon Theater, Decatur, IL
Closed for the week.
@ The Harvest Moon Twin Drive-in, Gibson City, IL
JURASSIC PARK (Screen 1), THE WIZARD OF OZ (Screen 2) (6/5, 6/7-6/11), JURASSIC PARK w/90's Daughter live performance (6/6, 9 p.m.)
@ The Lincoln Family Theater & Community Center, Lincoln, IL
Closed for the week.
@ The Little Lorraine, Hoopeston, IL
Closed for the week.
@ The Normal Theater, Normal, IL
Closed for the week. "Living Room Film Festival" virtual screenings: BLACKFISH, DIANA KENNEDY: NOTHING FANCY (through 6/11), HAIL SATAN?, YOURSELF AND YOURS (6/5-6/18) Purchase
@ The Onarga Theatre, Onarga, IL
Closed for the week.
@ The Princess Theatre, Leroy, IL
Closed for the week.
@ Route 34 Drive-in, Earlville, IL
CALL OF THE WILD, STAR WARS: THE RISE OF SKYWALKER (6/5-6/7)
@ Route 66 Twin Drive-in, Springfield, IL
SUPERMAN, BATMAN (Screen 1), KNIVES OUT, I STILL BELIEVE (Screen 2) (6/5 on)
@ Roxy Cinemas, Ottawa, IL
Closed for the week.
@ Streator Eagle 6, Streator, IL
Closed for the week. "Drive-In Week" outdoor screenings: BACK TO THE FUTURE (6/5, 6/9), E.T. THE EXTRA-TERRESTRIAL (6/6, 6/8), THE BOURNE ULTIMATUM (6/7)
NOW PLAYING | Midwest
For detailed and curated listings of Chicago-area film presentations and related events, as well as cancellations and postponements due to the ongoing coronavirus pandemic, please visit the fine folks at Cine-File and subscribe to their definitive "Cine-List" weekly blast.
COMING SOON | Area-wide Events
10/4
Dead in Decatur presents "The Art of Fear"
@ Heroic Age Art Center, Mt. Zion, IL, 4 p.m.-12 a.m.
11/6-11/7
19th annual Route 66 Film Festival
@ State House Inn, Springfield, IL
11/28
SAFETY LAST feat. BIG BUSINESS w/live organ accompaniment by Steven Ball
@ The Virginia Theatre, Champaign, IL, 7 p.m.
~~~~~
Compiled by Jason Pankoke.
~~~~~
"Calendar du C-U"
© 2020 Jason Pankoke/C-U Blogfidential