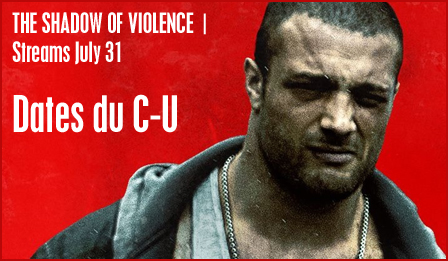 Our movie and media Calendar appears every Friday/Saturday on C-U Blogfidential and caters to the downstate region anchored by Champaign-Urbana, Illinois, USA.
~~~~~
MILESTONES | Happy Birthday to You!
8/2: Jeff Kacmarynski (writer/director, ESSENCE, Refractive Error Media, Champaign, IL)
8/2: Satina Braswell (co-owner, Dark Moon Loot, Urbana, IL)
8/3: Daniela LaFave (SEO specialist, National Instruments, Austin, TX)
8/5: Steve Scott (design manager, Dungeons & Dragons, WotC/Hasbro, Renton, WA)
8/6: Jason Cerezo (co-owner, ThirdSide, Champaign, IL)
8/6: Sam Ambler (producer, Ambler Video, Champaign, IL)
MFHQ MEMO | From Chambana LaSalle County with Love Mask On
Well, that's aggravating. Confirmed cases of COVID-19 are rising in the immediate region where I'm staying at Momkoke Manor. The numbers are enough of a concern that Illinois governor J.B. Pritzker made an appearance in nearby Ottawa on Thursday to plead his case for local officials and authorities to plead their case to the citizens, lest restrictions be tightened up again in the very near future. I might be confined to MFHQ Remote even longer than I had anticipated. I also might not come to Champaign-Urbana any time soon because I don't have a place nearby to care for my parent. What now? I'll just sit here and fiddle with content, I guess, such as making note of the 10th anniversary of the first Calendar on C-U Blogfidential. It appeared on Friday, July 30, 2010, buried in this short-lived column. The first listings were just as sparse as they are today but for wildly different reasons. Eegah! Stay safe.
NOW PLAYING | Champaign-Urbana Area
@ AMC Champaign 13, Champaign, IL
Closed for the week.
@ Family Video, Champaign-Urbana, IL
YOU SHOULD HAVE LEFT, SAMURAI MARATHON, THE OTHER LAMB, LIGHT FROM LIGHT, END OF SENTENCE, LEGACY OF LIES, ORANGE IS THE NEW BLACK (s7), THE OUTSIDER (s1), more! (7/28 on)
@ The Virginia Theatre, Champaign, IL
Closed for the week. "Virtual Virginia Theatre" screenings: HEAVEN CAN WAIT (1943), AND THEN THERE WERE NONE (1945), THE ALFRED HITCHCOCK HOUR "House Guest" episode (1962) free on YouTube, BILL AND TED'S EXCELLENT ADVENTURE for Purchase (7/31 on)
Events featuring locally produced movies are marked with an asterisk (*). Additional "Now Playing" and "Coming Soon" listings appear after the jump!
~~~~~
NOW PLAYING | The Cities Beyond
@ AMC Classic Village Mall 6, Danville, IL
Closed for the week.
@ AMC Peru Mall 8, Peru, IL
Closed for the week.
@ The Avon Theater, Decatur, IL
THE BIG LEBOWSKI, JURASSIC PARK, THE BLUES BROTHERS (7/31-8/2)
@ The Harvest Moon Twin Drive-in, Gibson City, IL
E.T. THE EXTRA-TERRESTRIAL (Screen 1), MEN IN BLACK (Screen 2) (7/31 on)
@ The Lincoln Family Theater & Community Center, Lincoln, IL
Closed for the week.
@ The Little Lorraine, Hoopeston, IL
Closed for the week.
@ The Normal Theater, Normal, IL
Closed for the week. "Living Room Film Festival" virtual screenings: ALL I CAN SAY, WE ARE LITTLE ZOMBIES (through 8/6) Purchase
@ The Onarga Theatre, Onarga, IL
Closed for the week.
@ The Princess Theatre, Leroy, IL
Closed for the week.
@ Route 34 Drive-in, Earlville, IL
THE MUMMY, THE MUMMY RETURNS (7/31-8/2)
@ Route 66 Twin Drive-in, Springfield, IL
HARRY POTTER AND THE DEALTHY HALLOWS PARTS 1 & 2 (Screen 1), IT: CHAPTERS 1 & 2 (Screen 2) (7/31-8/2, 8/5-8/6)
@ Roxy Cinemas, Ottawa, IL
RAIDERS OF THE LOST ARK, GHOSTBUSTERS (1984), THE GOONIES, THE KARATE KID (1984), JAWS, JURASSIC PARK, THE RENTAL (7/31 on), TROLLS WORLD TOUR (7/31-8/2)
@ Streator Eagle 6, Streator, IL
THE BIG LEBOWSKI, GET OUT, HARRY POTTER AND THE SORCEROR'S STONE, IT (2017), MEAN GIRLS, POKÉMON: DETECTIVE PIKACHU (7/31-8/2, 8/5-8/6), "Drive-In Week" outdoor screenings: TOMMY BOY (7/31), MAJOR LEAGUE (8/1-8/2)
NOW PLAYING | Midwest
For detailed and curated listings of Chicago-area film presentations and related events, as well as cancellations and postponements due to the ongoing coronavirus pandemic, please visit the fine folks at Cine-File and subscribe to their definitive "Cine-List" weekly blast.
COMING SOON | Area-wide Events
11/6-11/7
19th annual Route 66 Film Festival
@ State House Inn, Springfield, IL
11/28
SAFETY LAST feat. BIG BUSINESS w/live organ accompaniment by Steven Ball
@ The Virginia Theatre, Champaign, IL, 7 p.m.
~~~~~
Compiled by Jason Pankoke.
~~~~~
"Calendar du C-U"
© 2020 Jason Pankoke/C-U Blogfidential