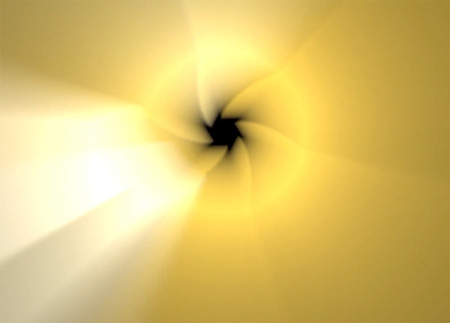 ~~~~~
Film presentation in Champaign, Urbana, and the cities beyond is taking place through the internet for the foreseeable future with few exceptions, such as the reopening locations of AMC Theaters. We should be thankful the platforms and technology are far along enough to allow for video streaming and virtual interaction without a ton of hurdles or cash outlay. It may not be considered an ideal substitute for what devoted purists and participants associate with a collective screening, but at least the alternative allows easier access to the shows and panels for individuals who might not be able to swing the costs or receive time off to attend in person. As we talked about in a recent Calendar, some locally organized events that had been scheduled prior to the pandemic are being reconfigured for the online space. One by one, we'll learn through our remote patronage what this will look like and how other event directors can improve on the experience if they go ahead with shows in the winter and spring.
The first midyear "special edition" of an east central Illinois film event took its bow a month ago. Sunny post-derecho weather set the tone on Saturday, August 15, when Pens to Lens premiered their newest collection of shorts as a Facebook video stream at 12 p.m. for all to enjoy. In a switch from the usual format for P2L, a successful program that teaches kids and teenagers how to tell stories through proper screenwriting technique with the potential of their scripts to be turned into films by local filmmakers, the 2020 "digital gala" was given over completely to movies made by Champaign-Urbana students. Twenty-one entries total in three categories ran a compact 43 minutes, much of it colorful animation and skits that involved parents, siblings, pets, and household items given the restrictions on gathering during the pandemic, and they all registered with sweetness and wonder.
~~~~~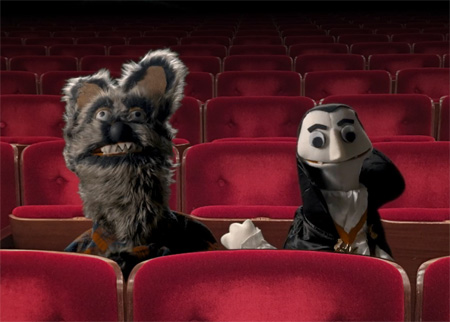 ~~~~~
Emceed by the charming puppet characters "Vlad" and "Wolfgang" from the 2016 P2L entry HORRORS, the stream concluded with our famous felt monsters announcing the awards: "Elementary School Group," winner: YOU'RE NOT ALONE, D.J. Wang, runner-up: CUTIE AND LYLA, April Yu; "Middle School Group," winner: UNDEADLY COMBAT, Joseph Warfel, runner-up: THE SOAP MONSTER, Marissa Altaner; and "High School Group," winner: FISHERMAN, Sofie Skottene, runner-up: ALONE TOGETHER, Elena Sofia. You should hit this hotlink back to FB if you did not catch the original livestream as I'm sure the children, their families, and the event's organizers at Champaign-Urbana Film Society and Champaign Movie Makers would appreciate it. I'm even more certain the lensing exercises for Pens gave everyone a bit of summertime levity that was sorely needed with all the discernible stress in the world at large and the highly contested hybrid school year that just began.
As the first C-U movie show to be held since the Illini Film Fest in May, the eighth annual Pens to Lens had amazingly little traction to speak of in the local press that I could find, save for a few checkpoint reports by Debra Domal of Smile Politely. The online magazine also posted a bonus article for which William Kanter interviewed Urbana High School senior Max Pociask about his process and the P2L entry, TOO MUCH, TOO BARE. Good on SP for providing some coverage! Still, the 2020 stream has received a little more than 900 views since its debut, so we know the program's friends and champions are finding it at the least. Organizers confirmed for me the collection will remain available on FB to be discovered, meaning that we have plenty of time to share through social media and word of mouth.
~~~~~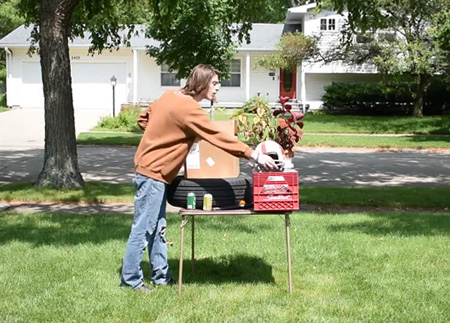 ~~~~~
Like the students pouring creativity into their projects by using anything within reach, adult mentors at Pens to Lens may have to continue thinking outside the box. Their decision to focus completely on films created by youth to "try something different" was announced on December 4 of last year, well before the threat of widespread COVID-19 infection became a reality in the United States, and thereby avoided a major letdown. If the wheels turned as usual with the kids sending in their scripts by a late February deadline and production crews mobilizing as early as March to make movies, P2L 2020 would have been halted unceremoniously when the government restrictions went into effect. Our community is really lucky to have been treated to a show this year and I believe the kids-film-at-home approach may be the best bet for one more go-round, even if a vaccine is available by the spring, so we can play it safe with the health of our children. We want them to have full lives as vital citizens and expressive dynamos.
Reestablishing a C-U presence for the flagship Pens to Lens Screenwriting Competition + Gala, not to mention every other cinema initiative in town, will take patience, adjustment, and canny marketing skills. Puzzle pieces that fit prior to the pandemic may not align correctly for some time. As an example, P2L has yet another consideration to make because their host venue, the Virginia Theatre, won't open in time for the August window they've inhabited since 2014. The University of Illinois Department of Dance streamed their annual Flatlands Dance Film Festival two weekends ago; the first night's curated content of three films and Zoom interviews has been retained on Vimeo, shorn of its opening sequence due to glitches, while it seems the second night's competition group was both streamed and available briefly at a password-protected link for audience voting purposes. Pygmalion plans to handle the broadcasting of its itinerary in bulk, be it music performance, literary reading, discussion group, or video presentation, when it's "go" time on September 24. I have an inkling that more intrigue will materialize as we test these unknown waters. You?
~ Jason Pankoke
~~~~~