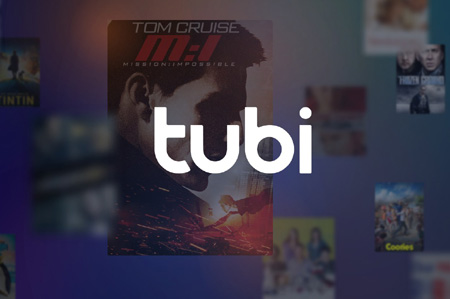 ~~~~~
When it comes to the major streaming services, I agree with the sentiment shared by other pop culture writers that niche and international films should be better represented. I also realize the media conglomerates have to satisfy the tastes of a general audience in order to make money. So, if one wishes to dive deeper, one has to look past the likes of Netflix, Disney Plus, Vudu, Peacock, Apple TV, Hulu, YouTube Movies, and CBS All Access (about to become Paramount Plus). Criterion Collection launched its own platform to present its library of curated world cinema, while Vimeo on Demand provides an outlet for independent producers to rent their wares that is not swarmed by Hollywood as is Amazon Prime. Other variants exist if one searches a bit and most of them require the viewer to make a purchase. That is expected and all good if the viewer has disposable income.
I emphasize greatly with my fellow citizens whose finances continue to wither because of insufficient employment in the pandemic era. Many of us simply don't have the cash flow to afford first-run movies and many other amusements. (Conversely, swarms of parents have now dropped $20 to $30 in premium fees on cue for the privilege of streaming TROLLS WORLD TOUR and MULAN with their children.) So, we'll always have cable television and its insane price tiers, free YouTube interrupted by awkward breaks, free Vimeo filled with shorts and experiments, free Daily Motion for flotsam and jetsam to wade through, and free-with-membership access to collections like Kanopy through our public libraries. The overwhelming effect can be the equivalent of surfing 57,000 streams (and nothin' on) and this doesn't even account for movies ripped to one's devices or a shelving unit stocked with home videos.
Recently I discovered a newer service that is user-friendly, free with ad breaks, and just weird enough to possibly be worth the adventure. Tubi, launched in 2016 and purchased by Fox Corporation earlier this year, is available via numerous platforms as well as the internet and is comparable in feel to brands like Crackle and PlutoTV. After several swims in the pool, I can best describe Tubi as if one ambled into a mom-and-pop store where direct-to-video features, cult movies, moldy oldies, and documentaries outnumbered studio releases by a wide margin. The algorithms bring up titles you have never heard of in every search, but a few surprising gems can be located with a little effort and guess work; it will be worth the extra time to create an account and keep track of goodies that way. Tubi has no organization to speak of that guides you through their offerings by genre but they do hotlink the names of directors and actors, which allows a one-click search method of sorts.
~~~~~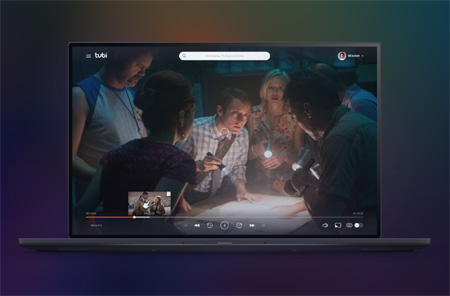 ~~~~~
Being the humble editor of C-U Blogfidential, I had to entertain a hunch or two and my findings can be found below. The first list is of independent films related to downstate Illinois and the second is of features that have played Roger Ebert's Film Festival. Click on titles to go to the landing pages and play without delay! Video streaming quality is fine with good Wi-Fi, advertising insertions are spaced agreeably, audio options are basic, subtitles are hardcoded, and a suggestion box may partly cover the screen during end credits but you can collapse it and allow your movie to finish out. All these observations stem from browsing Tubi via Mozilla Firefox on both a PC laptop and Apple iMac. The service does not put all its licenses on all platforms; Ma JaPan and I watched Aardman Animations' EARLY MAN on Tubi using her Roku-loaded flat screen television, but I could not find it on the computer side.
All the plot crunches I've included here are carried over from Tubi and presumably were given to them by the films' respective distributors. They have been mildly edited. Licenses also don't last forever, especially with studio titles; in the few weeks since I began compiling this article, Tubi stopped offering the musical biography of Cole Porter, DE-LOVELY, which appeared at "Ebertfest" in 2017. If you happen to take up the challenge and find any more titles that could be added to our lists, let us know!
~ Jason Pankoke
p.s. I know it says "TubiTV" in the headline. That is what I've called it in my head since I first found it because of the website's URL, tubitv.com. It is a sing-songy handle that is easy to remember.
p.s.2 Of all the movies to appear large in the Tubi "title treatment" graphic I found in their promotional assets and used here, it had to be the first MISSION: IMPOSSIBLE with Tom Cruise. For some reason, Internet Movie Database lists Champaign as a shooting location. Does anyone know why? It's a mystery more baffling than, you know, a nationally televised jump on the couch.
p.s.3 M:I is not currently available on Tubi. Nice try. This YouTube upload shows the C-U attribute is absent from the end credits crawl and is so janky looking that it may be about to, you know, self-destruct.
~~~~~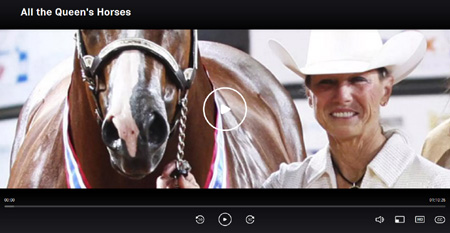 Local and Locally-Focused Productions
ACT YOUR AGE (2011)
An out-of-work young actor with no respect for the elderly makes himself into an old man to get a part in a play. When research requires him to spend a week at a nursing home, he is forced to review his life choices.
ALL THE QUEEN'S HORSES (2018)
The luxury-loving Rita Crundwell, who perpetrated the biggest municipal fraud in U.S. history and stole $53 million from Illinois taxpayers, is exposed.
BAD COMPANY (2018)
Troubled teens going through a boot camp program become the country's only hope of stopping terrorists targeting a nuclear power plant.
BEFORE 'I DO' (2018)
Three people tangled in a web of passion, lust, unrealized dreams, and lies make a vow that they will take each other's burning secrets to the grave.
CONSUMED (2017)
A mother's concern when her son develops a mysterious illness inspires her to investigate the controversial world of genetically modified organisms.
DISCONNECT (2011)
A distraught college student finds a phone that enables her to talk to her deceased mother in the past. Instead of a heart attack, she learns that her mother was murdered.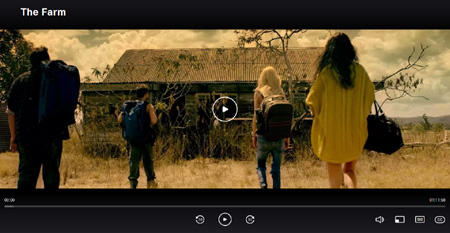 THE FARM (2011)
In this apocalyptic thriller, two brothers live a secluded life on their farm, tending a deadly secret that will soon give rise to a nightmare.
THE GHOST OF SPOON RIVER (2001)
A big city lawyer returns to her quiet hometown to defend a man accused of slaying a local game warden, as more murders occur in the passing days.
JUMP IN (2014)
Troy Alexander returns to her roots, armed with a plan, to pass the bar and start her own practice. She's content and love is a distraction until her friends stumble upon Malik Bond, a middle school math teacher.
LIFE ITSELF (2014)
This documentary explores the life and legacy of film critic Roger Ebert, who rose to become one of the most influential voices in American culture.
SHOT (1973)
Tasked with taking down a local drug kingpin, a detective duo enlists a low-level pusher and his girlfriend to go undercover to avoid prison.
~~~~~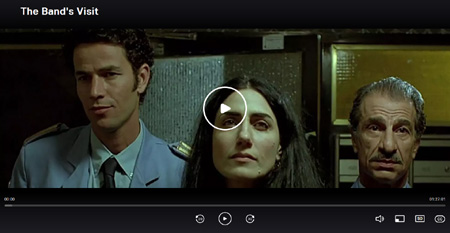 Selections of Roger Ebert's Film Festival
THE BAND'S VISIT (REFF 2008)
A musical band made up of Egyptian police officers goes to Israel to play at the opening of an Arab arts center only to end up lost in the wrong town.
BAYOU MAHARAJAH (REFF 2014)
This doc captures the story of New Orleans piano legend James Booker, a black, gay, one-eyed, musical genius who inspired countless.
BERNIE (REFF 2013)
When a lovable mortician in a Texas town gets involved with a rich, nasty widow, she tightens her grip and steers him on a course toward a murder rap.
BIG FAN (REFF 2012)
A parking garage attendant, who lives for New York Giants football, struggles to deal with the fallout when he gets beaten up by his favorite player.
I AM LOVE (REFF 2011)
A Russian woman marries a rich Italian industrialist and becomes a respected member of his family, until a talented young chef fires up her appetites.
THE MOTEL LIFE (REFF 2015)
A pair of troubled brothers go on the lam when one of them accidentally kills a child in a hit-and-run accident, and calamity follows their footsteps.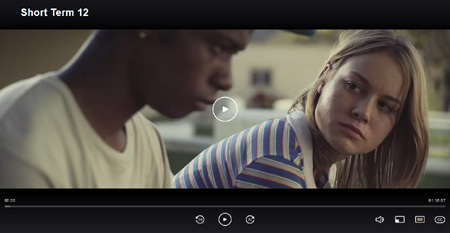 MUNYURANGABO (REFF 2010)
Munyurangabo and his best friend set out to avenge his parents' murder, but encounter ethnic clashes along the way.
NOT YET BEGUN TO FIGHT (REFF 2013)
A Vietnam vet brings five injured men who served in Iraq and Afghanistan to the rivers of Montana to learn how to fish, and discuss their journey.
NOTHING BUT THE TRUTH (REFF 2009)
In Washington, D.C., a female reporter faces a possible jail sentence for outing a CIA agent and refusing to reveal her source.
PERFUME: THE STORY OF A MURDERER (REFF 2007)
Jean-Baptiste Grenouille, born with no smell, develops a superior olfactory sense that he uses to create the world's finest perfumes. His work, however, takes a dark turn as he searches for the ultimate scent.
A PIGEON SAT ON A BRANCH REFLECTING ON EXISTENCE (REFF 2015)
Meet Sam and Jonathan, a team of novelty salesmen, who want to understand the human condition in this darkly funny, absurdist tale.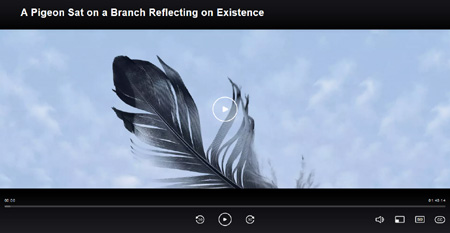 SHORT TERM 12 (REFF 2014)
Grace, a young supervisor at a foster care facility for at-risk teenagers, takes on the crises of two new residents while going through her own.
SITA SINGS THE BLUES (REFF 2009)
Two women having troubles with their men, separated by several centuries, find their stories coming together in this animated comedy-drama from artist and animator Nina Paley.
A SMALL ACT (REFF 2011)
A testament to the rippling effect of a single act of kindness, A SMALL ACT follows a rural Kenyan student-turned-Harvard-grad as he tracks down the woman whose sponsorship changed his life.
THEY CALL US MONSTERS (REFF 2017)
Meet Juan, Jarad, and Antonio, all in their teens, all facing decades in prison. This doc examines how minors are regarded in the justice system.
TROUBLE THE WATER (REFF 2009)
A redemptive tale of an aspiring rap artist surviving failed levees and her own troubled past and seizing a chance for a new beginning.
VINCENT: A LIFE IN COLOR (REFF 2010)
Vincent twirls on Chicago's many bridges, performing fashion shows for passing tour boats.
YOUNG ADULT (REFF 2014)
Dissatisfied with her life, a divorced, young-adult novelist returns to her hometown to win back the affections of her married high school sweetheart.