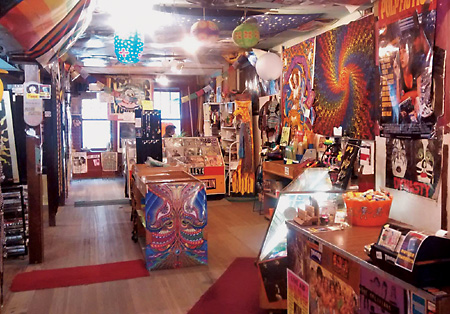 ~~~~~
In the course of cross-checking details and sources for my upcoming (and long-intended) post about the late James "Chef Ra" Wilson, it was surely a rainbow of karma that pointed me to the following video. Probably created for class work a la MAKING A MURAL, the award-winning short completed by Illinois State University undergraduates earlier this spring while in quarantine, ANYTHING BUT NORMAL briefly explores how a singular local business can survive in a modernized shopping district. Opened by Betty Anderson and Charlotte Radka (née Murphy) in 1968, Mother Murphy's Rock-n-Roll Emporium is the seminal "head shop" of downstate Illinois that serves the offbeat needs of counterculture leaning students and residents. Between 1990 and this year, Mike Williams and his wife Becky operated the hippy mecca from its second floor location at 111 W. North Street in Normal where it shares space with its younger retail brother, Shockwaves, a supplier of skater gear. One can't help but feel pretty cozy when awash in the relaxing sights, sounds, and scents of the conjoined stores, even if it's not quite one's scene.
After receiving a mention in the December 2018 issue of High Times magazine as one of the longest-lasting joints of its kind in the United States, Mother Murphy's turned to face the strange changes necessary in order to continue serving its loyal clientele. The Pantagraph and other news media reported in December 2019 that both endeavors were listed for sale by the Williamses, who wished to retire and preferred handing them over to young upstarts instead of liquidating the assets. The same month, ANYTHING BUT NORMAL appeared at the YouTube channel of "Fell Hall Productions," named for the location of the School of Communication on the ISU campus. (A postscript at the end of the piece mentions this turn of events and may have been added at the last minute.) Good vibes would soon coalesce in late February when Noah Anderson, Colton Walsh, and Griffin Burns announced through the Mother Murphy's Facebook page they had assumed ownership of Shockwaves and the Emporium. Despite the unfortunate timing of the changeover with the beginning of our coronavirus crisis, the trio is actively sustaining the shops by offering new products and responding to customer suggestions.
~~~~~
~~~~~
As for the short itself, ANYTHING BUT NORMAL is primarily an extended interview with Mike Williams that is augmented by inserts of vintage photographs and video, conventional in every sense but easy to digest for those who have yet to climb the decorated stairwell to Mother Murphy's. ISU classmates Ebad Khan, Joel Anderson, Nasia Arnold, and Scott Wrzala did a solid job with their piece; it's paced well over a 13-minute length and cleanly photographed and edited. If anything, NORMAL resembles a lifestyle segment from a magazine show as opposed to the evening news-type urgency of MAKING A MURAL, which is about a public artwork in danger of being demolished. Both projects are also indicative of what "local video production" usually consists of if not an industrial film or a television commercial, far removed from the narrative efforts like PEORIA that we're discussing in a separate series on C-U Blogfidential. In the end, the stories of our communities can be told in many ways.
It took me forever as a younger man to visit Mother Murphy's for the first time, while I'm more prone these days to visiting North Street Records and Waiting Room Records on the street level of the same block, yet I would be extremely sad if I ever looked up from the sidewalk and realized they had quietly vanished like the end of an incense stick. (Neighboring business owners Jim Wilson and Jared Alcorn of the aforementioned stores, along with Chuck Payne of Shorty's Barber Shop, provide on-screen salutes to both the Emporium and the city's revitalization project that has resulted in "uptown" Normal.) I hope the new owners stick with the mellow program that has defined it for so long and only add small and sensible improvements. I'm also glad that today's students are willing to take stock of the old school as the world around us changes rapidly. Now, I want to put on the coolest thing I ever bought from Mother Murphy's – a 12-inch promotional record with a live recording of Blue Ӧyster Cult's "Godzilla" – except that both platter and turntable are many miles away from MFHQ Remote. Oh, no, there goes Tokyo.
~ Jason Pankoke
p.s. Yes, I see it in the picture below. Go, go, Godzilla!
p.s.2 Just like all the other schools of higher learning within easy driving distance of the C-U, Illinois State University does not offer a film production major. Instead of pulling out the ol' soapbox for one more round, however, I'll offer constructive options to the young people who are yearning to get their start in making media without having to move far away. For instance, ISU students talked to the Daily Vidette a few years ago about how they're approximating a film school experience with what is available to them over in Bloomington-Normal. Elsewhere, the Herald & Review reported yesterday the Arts Technology and Administration program at Millikin University in Decatur had built for their students a brand-new lab studio dedicated to photography and videography, an effort led by department chair Jessa Wilcoxen as well as lecturers Johnny Power and Eric Hector. It was also announced yesterday by the College of Media at the University of Illinois in Urbana-Champaign that California-based entrepreneurs and media veterans, Richard and Leslie Frank, gifted them $7.5 million to revamp their broadcast and editing facilities as well as launch an endowment to afford special programs and guest speakers, all geared towards a state-of-the-art education in journalism. It seems the opportunities are there to develop your media skills if you pay close attention to the details.
~~~~~