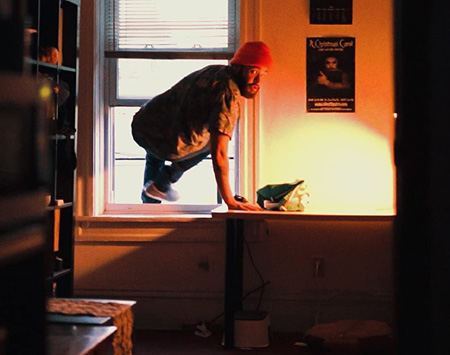 ~~~~~
Got time for a quick hit this afternoon, dearest Sunday sleepyheads? Our hard-working friend Nick Alonzo of Cluck Films has a new cinematic joint effort with their Chicago area collaborators to share, and you can be one of the first to see it from the comfort of your own home! DA BIG ZIP, Alonzo's fourth feature eked out on the micro-budget level, will play one of its first gigs later this afternoon at 3 p.m. Central time as a selection of Seattle's CannaBus Culture Film Festival, which began yesterday, Saturday, October 17, and will finish up later today, Sunday, October 18. "We recently won 'Best Comedy Narrative' at the New York Hip Hop Film Festival and we're talking to them about distribution," Alonzo tells C-U Blogfidential in an e-mail conversation from earlier this week. "[I am s]uper happy about the reception of the film and feel like it's my most successful work to date" as it follows the whimsical SHITCAGO (2015), contemplative THE ART OF SITTING QUIETLY & DOING NOTHING (2018), and thought-provoking DECAF DON (2019) in an outpouring of narratives that express the writer/director's social concerns and distinct sense of humor.
~~~~~
~~~~~
DA BIG ZIP is an Alonzo-described "stoner noir" that follows what happens when a rapper and drug dealer named Oz and played by Noah Alonzo loses a fanny pack filled with weed and cash. "I think it'll introduce a new fresh take on the stoner comedy genre," they continue, "[as] it challenges the viewer by doing a lot of insane editing tricks to tell a very funny and dramatic story." The main cast includes Alina Oria, Mario Anthony, Juan Hernandez, DECAF DON lead Dennis Episcopo, and the filmmaker, who offers praise to their sibling for the on-screen turn. "My brother has actually acted in all my films so far," they explain. "[H]e does a fantastic job in this and I really hope he pursues acting sometime in the future." Although all of their long-form storytelling so far has serious underpinnings, they feel DA BIG ZIP will provide a neat diversion now that people will be able to see it after the original April 20 premiere was canceled due to the pandemic. "It's fun, full of laughs, and something that I hope leaves a good impression on audiences," concludes Alonzo. Cluck Films will return to production this winter on da fifth big endeavor, and we at CUBlog are stoked to see what they have in store for us.
Slip on over to the official website for DA BIG ZIP to learn more and keep tabs on future festival play, while you can visit Alonzo's personal website to find direct access to the prior features as well as shorts and music videos. Following our recent story on the enduring comfort zone that is Mother Murphy's in downstate Normal, our warm fuzzies for ganja-infused culture will culminate soon with a bounce back to the days when Champaign-Urbana's Chef Ra ruled the airwaves and relished the high times to come.
~ Jason Pankoke
~~~~~