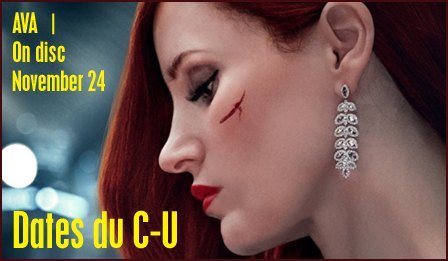 Our movie and media Calendar appears every Friday/Saturday on C-U Blogfidential and caters to the downstate region anchored by Champaign-Urbana, Illinois, USA.
~~~~~
MILESTONES | Happy Birthday to You!
11/27: Jake Jackson (producer/special effects make-up, I AM LISA, Mutiny Pictures, San Francisco, CA)
12/3: Greg Woods (publisher, The Eclectic Screening Room, Toronto, Canada)
12/3: Bryan Wendorf (programmer/artistic director, Chicago Underground Film Festival, Chicago, IL)
MFHQ MEMO | From Chambana Mendota with Love 'Bad' Taste
Because no global comment from me this week is probably a good policy, we present to you the first brand new Almanac entry in several months. It is about the belatedly released and long-forgotten turkey, BAD CHARLESTON CHARLIE, which also was the first independent feature film to be produced in the Champaign County area of which we're aware. It is certainly not worth one-tenth of the asking price for the rare VHS cassette that has been listed on eBay for years but, if you want to take a gander at the bootleg rip offered by the Rarefilm website for historic purposes or whatnot, then be our guest. Modern (e.g., online) discourse on BAD is pretty nonexistent, although the former Los Angeles Times columnist Larry Harnisch has milked some fun out of its bad movie reputation more than once, but I'll always value the interview that star and producer Ross Hagen gave to me 20 years ago that ran in MICRO-FILM 3. He and wife Claire Hagen were passionate and generous to a fault while talking about the project and it seems petty at this point to dump on BAD like scurvy gravy or little-loved cranberry sauce. It's yet another footnote in the annals of film culture in Champaign, Urbana, and the cities beyond, one that I'll gladly retain. Troma Entertainment, featured in MF 3 as well thanks to our man Marty McKee and his discussion with rascally Troma head Lloyd Kaufman, owns the BAD rights and hasn't done chuck with it.
Believe it or not, Hagen and costar Hoke Howell are now appearing in one of the only movies showing at any capacity through a venue in downstate Illinois. The Normal Theater is offering virtual rentals of the 1989 direct-to-video flick ACTION U.S.A. until this coming Thursday, December 3, while the Vinegar Syndrome Archive label has revealed a surprise Blu-ray edition of the same during their extended Black Friday sale. Being old pros from a seamy exploitation side of Hollywood that doesn't exist anymore, Howell passed in 1997 as did Claire Hagen in 2003 and Ross Hagen in 2011. They'd be thrilled by these sorts of B-movie revivals, I'm sure.
CONFIDENTIAL ALMANAC | Dates in Film Culture History
50 Years Ago … November 1970: Location filming commences in the Champaign and Vermilion counties of east central Illinois on BAD CHARLESTON CHARLIE, an independent action-comedy feature derived from the exploits of Prohibition-era gangster and dubious local legend Charlie Birger (1881-1928). Bad Charleston Charlie Associates and Studio 9 Productions are partnering on this motion picture, having set up a central office in Champaign and received investment funds from local businesses, while the main architect of the operation is producer, co-writer, and star Ross Hagen, who recently appeared in the television show DAKTARI and the theatrical Elvis Presley vehicle SPEEDWAY. Industry professionals that Hagen is welcoming from Los Angeles include director Ivan Nagy, cinematographer Michael Neyman, assistant directors Eric Lidberg and A.J. Lorea, and performers Kelly Thordsen, Hoke Howell, Dal Jenkins, Carmen Zapata, and John Carradine. Community members and University of Illinois students are also playing roles on both sides of the camera, according to articles in the November 7 and 11 editions of the Daily Illini, in scenes being photographed at Kickapoo State Park near Danville, the tiny town of Fairmount located between Danville and Champaign, and coal mining country in southern Illinois to depict Birger's exploits before his turn to crime. Interior segments will be completed on sound stages once the visitors return to California. Word is that CHARLESTON takes a lighthearted approach to the Birger saga, making him out as a bumbling Al Capone idolizer instead of a Robin Hood type with a mean streak as he is described in scholarship; the screen story retains his real-life row with the Ku Klux Klan while it downplays his scuffles with the law and omits his clashes against the rival Shelton brothers gang that involved airplane bombings and assassinations. It is unclear what distributor will release CHARLESTON in the near future or what is next for Studio 9, which local participants Martin D. Wright and Charlie Lo Bue formed with the help of Hagen and Lidberg based on the latter's experience as partners in a Hollywood entertainment company, Triforum, Inc.
NOW PLAYING | Champaign-Urbana Area
@ AMC Champaign 13, Champaign, IL
Closed for the week.
@ Family Video, Champaign, IL
THE IRISHMAN, AVA, TRAIN TO BUSAN PRESENTS: PENINSULA, AFTER WE COLLIDED, IRON MASK, SUMMERLAND, BETTER CALL SAUL (s5), more! (11/24 on), store closing – inventory sale (through 12/20).
Events featuring locally produced movies are marked with an asterisk (*). Additional "Now Playing" and "Coming Soon" listings appear after the jump!
~~~~~
NOW PLAYING | The Cities Beyond
@ AMC Classic Village Mall 6, Danville, IL
Closed for the week..
@ AMC Peru Mall 8, Peru, IL
Closed for the week.
@ The Avon Theater, Decatur, IL
Closed for the week.
@ The Fischer Theatre, Danville, IL
Closed for the week.
@ The Harvest Moon Twin Drive-in, Gibson City, IL
"Hot Chocolate and Holiday Weekend": ELF (Screen 1), THE SANTA CLAUSE (Screen 2) (11/25-11/28)
@ The Little Lorraine, Hoopeston, IL
Closed for the week.
@ The Normal Theater, Normal, IL
Closed for the week. "Living Room Film Festival" virtual screenings: THE TWENTIETH CENTURY (through 12/31), ACTION U.S.A., CITY HALL (through 12/3) Purchase
@ The Onarga Theatre, Onarga, IL
Closed for the week.
@ The Princess Theatre, Leroy, IL
Closed for the week.
@ Roxy Cinemas, Ottawa, IL
Closed for the week.
@ Streator Eagle 6, Streator, IL
Closed for the week.
NOW PLAYING | Midwest
For detailed and curated listings of Chicago-area film presentations and related events, as well as cancellations and postponements due to the ongoing coronavirus pandemic, please visit the fine folks at Cine-File and subscribe to their definitive "Cine-List" weekly blast.
COMING SOON | Area-wide Events
12/4-12/14
19th Route 66 Film Festival
@ Springfield, IL (virtual event)
NEW! 12/5-12/6
2nd Krampusnacht Freeky Film Festival
@ Champaign, IL (virtual event)
9/8-9/11, 2021
22nd Roger Ebert's Film Festival
@ The Virginia Theatre, Champaign, IL
~~~~~
Compiled by Jason Pankoke.
~~~~~
"Calendar du C-U"
© 2020 Jason Pankoke/C-U Blogfidential