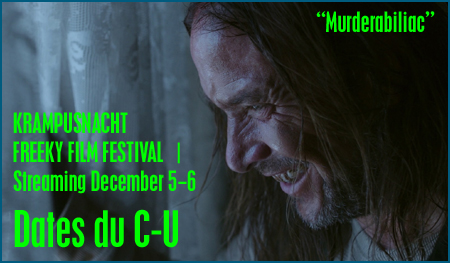 Our movie and media Calendar appears every Friday/Saturday on C-U Blogfidential and caters to the downstate region anchored by Champaign-Urbana, Illinois, USA.
~~~~~
MILESTONES | Happy Birthday to You!
12/6: Andy Due (creator, THE ANDY DUE SHOW, Rubber Chicken Films/RL3 Productions, Charleston, IL)
12/8: C. Jay Wallace (performer, WHO ASKED FOR THIS?, Red Lens Productions, Champaign, IL)
12/10: Sidney Taiko (editor/publisher, Storm Cellar, San Diego, CA)
MFHQ MEMO | From Chambana Mendota with Love One Door Closing…
According to conventional and proactive wisdom, another door of opportunity is bound to open after a previous one shuts. According to a discovery made by Confidential agent CR this week, the wisdom will manifest in the same set of doors reopening soon at the Savoy 16 multiplex in Savoy! Once the Illinois state restrictions on public gathering are eased enough to allow for shows and the new management at Phoenix Theatres Entertainment of Knoxville, Tennessee, is ready to go, we'll see if movie-goers notice a difference at 232 W. Burwash Avenue from when Goodrich Quality Theaters presented their last fare in March. (It probably doesn't have to be stated ad nauseam that daily protocol will be influenced by COVID-19 safety measures for many months to come in public spaces like this.) Until any or all screens light back up in the area, watch what you will at home and be creative with how you engage your eyeballs and spend your dollars. For instance, you should consider being supportive of our local cinematic experiences that have been adjusted to fit the virtual sphere. Next up are the Krampusnacht Freeky Film Festival of Champaign, which you can view during a 24-hour period starting at 8 p.m. tomorrow, Saturday, December 5, and the Route 66 Film Festival of Springfield, which will offer nine programs total through the Film Festival Flix platform between Friday, December 18, and Monday, December 28, with a live awards event to be broadcast via Zoom on Saturday, December 26. You will be treated to material that reflects a much broader universe of thought and sensation than what the Hollywood machine will soon be cramming down the streaming pipeline because, of course, the dominance of the theater space is dead.
CONFIDENTIAL ALMANAC | Dates in Film Culture History
105 years ago … December 1915: The Macmillan Company of New York publishes what cinema historians will eventually consider the first English-language book to seriously appreciate the aesthetics of film, The Art of the Moving Picture, written by the Springfield, Illinois-raised poet and essayist Vachel Lindsay. Rarely appearing in bibliographies of his work is a follow-up entitled The Progress and Poetry of the Movies, released well after the untimely passing of Lindsay (1879-1931) and hard to find today. Conversely, both the 1915 and 1922 editions of Moving Picture can easily be accessed as electronic or print, including a 2000 reissue from Random House that is guest edited by filmmaker Martin Scorsese and features an introduction by the late Stanley Kaufmann, film reviewer at The New Republic for more than a half century. [R] Project Gutenberg eBook
LOCAL FILMS & EVENTS | Support Your Media Storytellers
@ online FilmFreeway
2nd Krampusnacht Freeky Film Festival, virtual event (10/5, 8 p.m.-10/6, 8 p.m.) Tickets
NOW PLAYING | Champaign-Urbana Area
@ AMC Champaign 13, Champaign, IL
Closed for the week.
@ Family Video, Champaign, IL
THE BROKEN HEARTS GALLERY, THE RENTAL, MADE IN ITALY, CAGEFIGHTER, DOWNRANGE, THE RISING HAWK, DUNE DRIFTER, more! (12/1 on), store closing – inventory sale (through 12/20).
ADDED! @ Phoenix Savoy 16 + IMAX, Savoy, IL
Closed for the week.
Events featuring locally produced movies are marked with an asterisk (*). Additional "Now Playing" and "Coming Soon" listings appear after the jump!
~~~~~
NOW PLAYING | The Cities Beyond
@ AMC Classic Village Mall 6, Danville, IL
Closed for the week.
@ AMC Peru Mall 8, Peru, IL
Closed for the week.
@ The Avon Theater, Decatur, IL
Curbside popcorn sale! (12/5, 12-3 p.m.)
@ The Fischer Theatre, Danville, IL
Closed for the week.
@ The Harvest Moon Twin Drive-in, Gibson City, IL
"Hot Chocolate and Holiday Weekend": THE POLAR EXPRESS (Screen 1), IT'S A WONDERFUL LIFE (Screen 2) (12/5-12/6)
@ The Little Lorraine, Hoopeston, IL
Closed for the week.
@ The Normal Theater, Normal, IL
Closed for the week. "Living Room Film Festival" virtual screenings: JINGLE BELL ROCKS!, RARE EXPORTS: A CHRISTMAS TALE (12/4-12/25), THE TWENTIETH CENTURY (through 12/31), CITY HALL (through 12/10) Purchase
@ The Onarga Theatre, Onarga, IL
Closed for the week.
@ The Princess Theatre, Leroy, IL
Closed for the week.
@ Roxy Cinemas, Ottawa, IL
Closed for the week.
@ Streator Eagle 6, Streator, IL
Closed for the week.
NOW PLAYING | Midwest
For detailed and curated listings of Chicago-area film presentations and related events, as well as cancellations and postponements due to the ongoing coronavirus pandemic, please visit the fine folks at Cine-File and subscribe to their definitive "Cine-List" weekly blast.
COMING SOON | Area-wide Events
UPDATE! 12/18-12/28
19th Route 66 Film Festival
@ Springfield, IL (virtual event)
NEW! 3/17-3/21, 2021
43rd Big Muddy Film Festival
@ The Varsity Center, SIU, Carbondale, IL
NEW! 5/13-5/20, 2021
22nd Wisconsin Film Festival
@ Madison, WI (virtual event)
9/8-9/11, 2021
22nd Roger Ebert's Film Festival
@ The Virginia Theatre, Champaign, IL
~~~~~
Compiled by Jason Pankoke.
~~~~~
"Calendar du C-U"
© 2020 Jason Pankoke/C-U Blogfidential