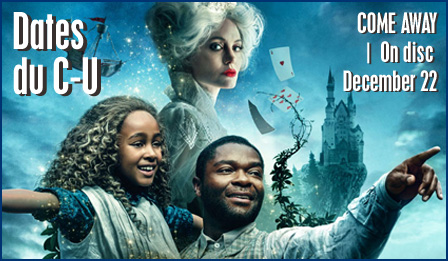 Our movie and media Calendar appears every Friday/Saturday on C-U Blogfidential and caters to the downstate region anchored by Champaign-Urbana, Illinois, USA.
~~~~~
MFHQ MEMO | From Chambana Mendota with Love Real Talk
It will probably be a few weeks at the least before I resume posting about the local film culture. If I write anything, it should be about current realities and projections on what comes next for yours truly and the Confidential enterprise because that is high on my hierarchy of things to deal with. As I motor past the so-called holidays and my not-celebratory 50th birthday in the effort to handle my immediate circumstance, here are a few trinkets of downstate Illinois cinema to engage in. The newest Route 66 Film Festival began on Friday, December 18, as an internet-only affair for which you'll find a link directly below. The last Family Video of our area will cease doing business at the end of Sunday, December 20, if corporate hasn't already shut it down. COME AWAY, the first live-action feature directed by area native Brenda Chapman (BRAVE) that imagines the stories of Peter Pan and Alice in Wonderland as coping mechanisms for young children with grieving parents, will be released on disc this coming Tuesday, December 22, after being available for streaming in recent weeks. So, partake and be satisfied, folks.
LOCAL FILMS & EVENTS | Support Your Media Storytellers
@ Film Festival Flix
19th annual Route 66 Film Festival of Springfield (12/18-12/28) Tickets
NOW PLAYING | Champaign-Urbana Area
@ AMC Champaign 13, Champaign, IL
Closed for the week.
@ Family Video, Champaign, IL
TENET, INFIDEL, FATMAN, THE WOLF OF SNOW HOLLOW, THE REASON, ECHO BOOMERS, THE HEX, more! (12/15 on), store closing – inventory sale (through 12/20).
@ Phoenix Savoy 16 + IMAX, Savoy, IL
Closed for the week.
ADDED! @ Redbox, Champaign-Urbana, IL
COME AWAY, ECHO BOOMERS, FATMAN, INFIDEL, TENET, THE WOLF OF SNOW HOLLOW, more! (12/15 on) Online rentals
Events featuring locally produced movies are marked with an asterisk (*). Additional "Now Playing" and "Coming Soon" listings appear after the jump!
~~~~~
NOW PLAYING | The Cities Beyond
@ AMC Classic Village Mall 6, Danville, IL
Closed for the week.
@ AMC Peru Mall 8, Peru, IL
Closed for the week..
@ The Avon Theater, Decatur, IL
Curbside popcorn sale! (12/18, 12-3 p.m.)
@ The Fischer Theatre, Danville, IL
Closed for the week.
@ The Harvest Moon Twin Drive-in, Gibson City, IL
Closed for the week.
@ The Little Lorraine, Hoopeston, IL
Closed for the week.
@ The Normal Theater, Normal, IL
Closed for the week. "Living Room Film Festival" virtual screenings: JINGLE BELL ROCKS!, RARE EXPORTS: A CHRISTMAS TALE (through 12/25), THE TWENTIETH CENTURY (through 12/31) Purchase
@ The Onarga Theatre, Onarga, IL
Closed for the week.
@ The Princess Theatre, Leroy, IL
Closed for the week.
@ Roxy Cinemas, Ottawa, IL
Closed for the week.
@ Streator Eagle 6, Streator, IL
Closed for the week.
NOW PLAYING | Midwest
For detailed and curated listings of Chicago-area film presentations and related events, as well as cancellations and postponements due to the ongoing coronavirus pandemic, please visit the fine folks at Cine-File and subscribe to their definitive "Cine-List" weekly blast.
COMING SOON | Area-wide Events
3/17-3/21, 2021
43rd Big Muddy Film Festival
@ The Varsity Center, SIU, Carbondale, IL
5/13-5/20, 2021
22nd Wisconsin Film Festival
@ Madison, WI (virtual event)
6/10-6/13, 2021
31st Onion City Experimental Film + Video Festival
@ Chicago Filmmakers, Chicago, IL
9/8-9/11, 2021
22nd Roger Ebert's Film Festival
@ The Virginia Theatre, Champaign, IL
~~~~~
Compiled by Jason Pankoke.
~~~~~
"Calendar du C-U"
© 2020 Jason Pankoke/C-U Blogfidential