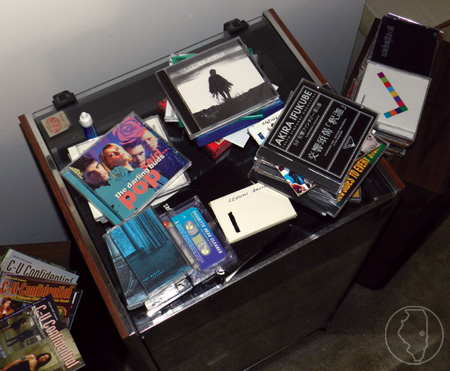 ~~~~~
It's the truth yet to be told to our dearest readers, compatriots, and fellow creators in arts and letters. One of these days, I'm going to sit down and write a few long 'blog posts about the ongoing reckoning here at the Secret MICRO-FILM Headquarters and what it all means. As I box up the media, bring together the files, and scoop up the detritus that has collected wanton in recent times, it's really easy to think too much about what has gone wrong and concentrate too little on what needs to be done. That's why I tune out the brainwaves with tunes when it's appropriate. In the tradition of "consumption" issues of low hug and Syndicate Product 'zines, crafted for more than 20 years by my friend A.j. Michel, I've put together a playlist of what's been filling the hallowed halls of MFHQ as I make my agreed-upon and semi-forced exit from the sesquicentennial Champaign neighborhood. A majority were conscious picks as I put away the compact disc herd, while a few were stragglers that happened to be left out and about before I corralled the bulk. I don't have the patience or latitude to write up context for them, so just know they provide me with some comfort and wisdom as I muddle through this. If the selections mean anything to you then at the least you now know a bit more about where my music taste lies. As far as our output, C-U Blogfidential won't be the same for a while and the movies of Champaign, Urbana, and the cities beyond simply have to wait. "This is not just movies, it's our lives," the tagline for MICRO-FILM used to exclaim, but in real life I've always recognized the movies as never my everything. The gulf between real and reel has been painfully clear, alright, especially these last four years. More soon.
~ Jason Pankoke
~~~~~
Akira Ifukube – Tokyo Symphony Orchestra | Symphonic Fantasia/Symphonic Ode: Gotama the Buddha | Les Disques du Soleil est de L'Acier-Sémantic
Alice in Chains | Jar of Flies | Columbia Records-Sony
Ani DiFranco | Dilate | Righteous Babe Records
Bob Rivers Comedy Corp | Twisted Christmas | Critique Records-Atco Records
Cowboy Junkies | Miles from Our Home | Geffen Records-Universal Music
Extreme | II: Pornograffiti | A&M Records
Extreme | III Sides to Every Story | A&M Records
Extreme | Waiting For the Punchline | A&M Records
Goldfrapp | Black Cherry | Mute Records-EMI
Goldfrapp | Silver Eye | Mute Artists
Goldfrapp | Supernature | Mute Records-EMI
Hum | Downward is Heavenward | RCA Records-BMG
Ice from the Sun | soundtrack | Wicked Pixel Cinema
INXS | The Best of INXS | Atlantic Records-Rhino Records
Jay Bennett & Edward Burch | The Palace at 4am (Part I) | Undertow Music
Lanterna | Highways | Badman Recording Company
Midnight Oil | 20,000 Watt R.S.L. | Sprint-Columbia Records
Midnight Oil | Earth and Sun and Moon | Sprint-Columbia Records
Midnight Oil | Essential Oils | Sprint-Columbia Legacy
Midnight Oil | Midnight Oil | Sprint-Columbia Records
Neil Young | Harvest Moon | Reprise Records-Warner Bros.
Oasis | (What's the Story) Morning Glory? | Epic Records-Sony
Pet Shop Boys | Pop Art: The Hits | Columbia Records-EMI
Pet Shop Boys | Yes | Astralwerks
Peter Murphy | Deep | Beggar's Banquet-Atlantic Recording Co.
Poi Dog Pondering | Natural Thing | Plate.tec.tonic Records-Tommy Boy Records
Poi Dog Pondering | Pomegranate | Pomegranate Records-Bar/None Records
Satan and Adam | Living on the River | Flying Fish-Rounder Records
Suede | Singles | Sony Music UK
The Beatles | 1962-1966 | Apple Corps-Capital Records-EMI
The Beatles | 1967-1970 | Apple Corps-Capital Records-EMI
The Beatles | Rubber Soul | Capitol Records-Parlophone-EMI
The Darling Buds | Pop Said… | Cherry Red Records
The Decemberists | The Crane Wife | Capitol Records-EMI
The Dream Academy | The Dream Academy | Warner Bros. Records
The Flaming Lips | Yoshimi Battles the Pink Robots | Warner Bros. Records
The Great Crusades | Four Thirty | Innocent Words Records
U2 | Achtung Baby | Island Records
U2 | Rattle and Hum | Island Records
Wilco | Ode to Joy | dBpm Records
Wilco | Summerteeth | Reprise Records
XTC | Nonesuch | Geffen Records-Virgin
"Everything Matters" | mix CD
"Fuck Winter Vol.4" | mix CD
"The RadioActive Doghouse" Vol.1-4 | mix tapes
[Updated 5/3/21, 10 p.m. CST]