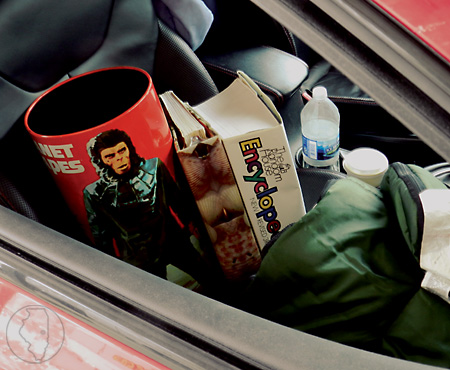 ~~~~~
A while back, I had started batting around ideas for articles not in the vein of C-U Blogfidential's typical community reports. The effort included a couple of false starts that made it to this forum, including what was to be an illustrated series about items to be found in the Secret MICRO-FILM Headquarters and the stories behind them. Alas, that was posted in January 2017, the month my family care predicament would be set in motion and has kept me away from full-time Champaign-Urbana living ever since. Now that I'm taking my leave of the sesquicentennial neighborhood, I'm handling the agents of inspiration left and right as they are placed in box and bag. Every now and then, I'll pause to snap photographs of certain things for certain reasons. Let's take a quick look at what wound up as my co-pilot for a trip out of town…
Garbage Can | As kids, my brother and I had plenty of STAR WARS merchandise to fill our rooms, but the PLANET OF THE APES movies were ubiquitous on television and familiar enough even if we didn't get the attempted subtexts. I believe we found this at an antique store in the Wisconsin Dells and it has accompanied me ever since. No work space is complete without it.
Shell Binder | I don't remember how I acquired it other than Ma JaPan most likely bought it for me since I collected seashells when I was little. What's inside, I recall quite well. I wore out the binding of Donald F. Glut's The Dinosaur Scrapbook so thoroughly that I had to separate it and punch holes in every page and the cover to fit into this binder. Only the best dinosaur restoration efforts were had at Chez Pankoke!
Encyclopedia | This book is so damn bulky that I couldn't pack it with other items. It was a Random House entry in a new breed of highly visual, single-volume references that became en vogue in the Eighties and Nineties. This one is part of a small library from my studio. I have to presume that every title is outdated to a degree at this point, but they should still be of some value until I can upgrade.
Sleeping Bag | The afternoon after the movers hauled away my furniture, I tried to take a nap in this on the floor. It felt awful. I bought my first air mattress later that night.
Vehicle | This Dodge Dart belongs to my mother. It is our only set of wheels since I had to give up the aging Hyundai Elantra at the end of 2017 for petty cash. I am not treating its leather interior very well.
As could be guessed, these would not have been part of the intended series except for the PLANET can, maybe. You have no clue, dearest readers, as to how many things I've had to claw through in the last six weeks post haste. Whether to storage, donation, recycling, or a new home, they will find their place in the interim. I'm sure that many more can elicit a tale or two from me. In the near future, we will see.
~ Jason Pankoke