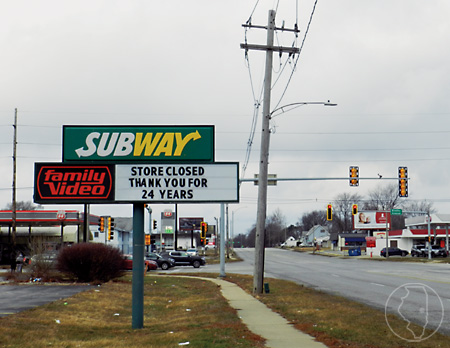 ~~~~~
Over the last few weeks, removing the contents from the Secret MICRO-FILM Headquarters has meant car trips to several corners of Champaign-Urbana when I wasn't hauling things northward. It allowed me time to reflect on the familiar that was still there, acknowledge the absence of what had been there before, and take a fresh look at new constructions and features in the landscape. After living a quarter century in MFHQ and more than 27 years total in Champaign, I know that changes will never cease yet I could always count on bringing back something intellectually or photographically from our communities and farmlands that might inspire and be put to good use. I don't really feel like going over the locations I've written about previously to lament their loss to our film culture and everyone else. I'd rather share with you a short list of the locations I might just frequent when I inevitably return to visit without a home base to hide away in. Places I'll always make a moment to include when I hit the beat on the C-U streets:
Bentley's Pub and the Brass Rail, ensconced in the corners of downtown Champaign, where everyone who is anyone knows my frat name;
Café Kopi, nestled in the heart of downtown Champaign, will always be my forever shop for downing a coffee and spending time at the keyboard, with a good book, or chatting up an even better friend;
Caffe Paradiso, still brewing on the corner of Lincoln Avenue and Nevada Street in Urbana, to soak in its artistic ambience and pay mind to its role in the launch of both

MICRO-FILM

and

C-U Confidential

;
Espresso Royale Coffee, the Oregon Street location in Urbana, which to me is the perfect spot to sit outside on a warm summer evening as the sun sets over the docile University of Illinois campus;
John Street, those first six blocks to the west of the UI Main Quad in Champaign, as it has always served as my portal to Campustown off the well-beaten Green Street path;
Robeson Park, where Phinney Branch Creek crosses under Duncan Road in southwest Champaign, for its foot bridge served as my thinking place during many a lunch and work break over many years;
The Courier Café, just reopened on Race Street in downtown Urbana, because it is the local restaurant that most fits me like a glove and I appreciate the site's newspaper credentials;
The Urbana Free Library, storehouse of knowledge down the street from the Courier, for it reminds me of browsing the small-town library of my youth with a comparable coziness;
West Side Park, the public landmark equidistant from MFHQ and downtown Champaign, to unwind and say hello to a diversified C-U populace on common ground.
There are more points of personal interest for me in the area, of course. I could spend all day naming names and telling stories about what they mean to me. That might be an angle for a different weblog at another time, if I feel the need for it. Take a walk, bike ride, or drive today and see C-U for yourselves, dearest readers, and be sure to treat your favorite and sacred spaces well.
~ Jason Pankoke