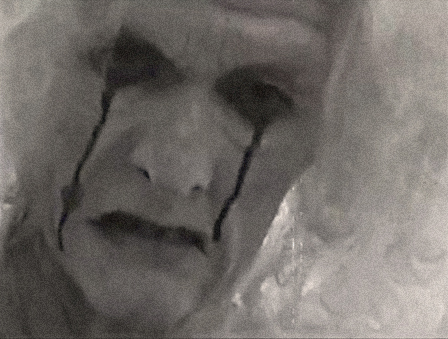 ~~~~~
"Not everything goes as planned" is a truism that applies to all aspects of our lives and forever looms over the filmmaking process. Production snags and project shutdowns have famously hobbled more than a few Hollywood endeavors, yet they can derail no matter what the scope or budget may be. To wit, a couple of years ago I did my part in embellishing the tale of MY BEST FRIEND'S BIRTHDAY, Quentin Tarantino and Craig Hamann's "lost first film" attempted prior to RESERVOIR DOGS. In my contribution for Andrew J. Rausch's book on the same, I drew a parallel between their learning experience and the evidence left behind by many of us dabblers and hard-working dreamers. We all want to flourish and succeed, and we all can falter for reasons both operatic and mundane. It often means being honest at a critical juncture and asking the loaded question, "To shelve or not to shelve?"
The right answer is not always attractive and a decision made is not absolutely permanent. For one area resident, the present day is the correct time to reverse the call on an older project he had stowed away after its completion, and discerning viewers can now add it to their own video shelves. Released on Blu-ray and DVD the week of Monday, May 3, by Burning Bulb Media Group of Bridgeport, West Virginia, the black-and-white feature DISSOLUTION is a meditation on loss and grief where the supernatural lingers in nearly every frame. It is the first full-length effort by Jeff Kacmarynski of Sub-Basement Films in Champaign, originally lensed 20 years ago in the stark and snowy Utah wilderness, and relies on a dreamlike structure for its lo-fi effectiveness.
"At the time I made [DISSOLUTION], most film festivals wanted movies on film," explains Kacmarynski to C-U Blogfidential in a recent conversation, "and this was shot on digital video cassettes and edited on [a personal computer]. Affording a film transfer was out of the question." Family and friends were able to take in the fruits of his team's efforts on VHS, at the least, and found a haunting parable of "be careful what you wish for." A divorced music agent named Paul Anderson (Mike Brown) moves back to the mountainous region near a forest where his son Joey (Scotty Fidel) allegedly died four years earlier. After Paul sees a television report about the vanishing of another child, teenage Candace (Daniel Rasmussen), his anguish and irrational visions intensify. A skeptical detective, Sharon Stowley (Carol M. Rice), will soon share with Paul the horrible truth about recurring cult activity in the region that may be related.
~~~~~
~~~~~
"Working in Utah was an adventure," remembers Kacmarynski about his undertaking, done not long after graduating from film school. "I was good friends with one of our producers and make-up artists [living in the state], so, they rounded up the cast, which was all local actors from the Salt Lake City area." Lodging doubled as comfortable interior locations in contrast with the cold and remote locations chosen for the forest scenes. "Being in the mountain woods at 1 a.m. was cold. We had to use lighting equipment to heat us," he details. "[It] was pretty scary sometimes as there were confirmed mountain lion sightings in our area!" Complicating both photography and post-production was his decision to rely not on 16mm or large-format tape, which he had been trained to use, but lower-cost consumer digital video.
Also starring Mary Matoula Webb, Jason Rice, Anne Flemming, Shaun Davis, and William "Bus" Riley of the recent hit HEREDITARY, DISSOLUTION is far from flawless and clearly made on a microscopic budget, but it reflects the filmmaker's conviction in the material as Paul rides his roller coaster of mental distress to a fateful denouement. "I guess the movie means more to me now than it did back then," Kacmarynski says about the picture in what is not a purely nostalgic assessment. He and wife Kim lost their own son a few years after filming took place, an event that can weigh heavily on the couple to this day. "When writing [DISSOLUTION], I had to research the grief process. Now, I can relate to Paul, so it feels like a complete journey of sorts now that this is released," he states, being well aware of the coincidental relationship. "I kind of felt like life was imitating the art."
Whether viewers investigate the mysteries of DISSOLUTION for its atypical ghost story or to possibly seek out catharsis, it will introduce them to Kacmarynski's genre-bending world. A prolific streak in recent years, aided by a willingness to improve his skills with modern desktop applications and prosumer gear, is fairly impressive and has made creative use of talent and locales in Champaign and Vermillion counties. Original screenplays win awards and honorable mentions in competition while short subjects play festivals and make the cut in home media. The similarly titled DIVINATION, in which Marlene Mahon battles a gas-masked killer (David B. Busboom) on a country bridge, appears in the compilation film 60 SECONDS TO DIE 2 (Sector 5/Gravitas Ventures) as an example of the latter.
~~~~~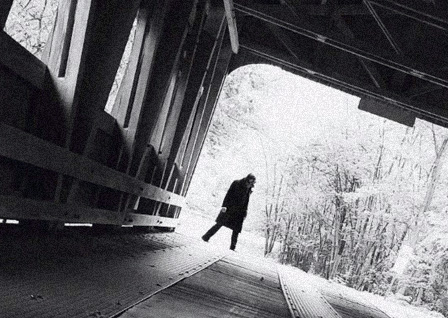 ~~~~~
Also in circulation are: DEAD THERAPY, starring Julia Megan Sullivan and Debbie Richardson, in WELCOME TO HELL (Vestra Pictures/Wild Eye Releasing); THE LIFE OF FLORENCE RAE, with Cara Maurizi, Jace Jamison, and Richardson, in GRINDSPLOITATION 4: MELTSPLOITATION (Body Bag Films/Troma Entertainment); DREAD FLUSH, featuring Pamela Adam, Gwen Kaiser, and Busboom, in GRINDSPLOITATION 8: DRIVE-IN GRINDHOUSE (Body Bag Films/Troma Entertainment); and, a silent film love letter, I WAS A TEENAGE NOSFERATU with Emma Loewenstein and Ryan Gossett, which closes the April episode of WORLD OF DEATH video digest that is sponsored on YouTube by the popular horror culture website, Bloody Disgusting. Further film frights will find homes, we're certain.
Longer and long-in-gestation productions are occupying the director's attentions here in 2021, made more challenging than usual by the lingering pandemic. "Being an 'essential worker' for that time [in 2020 at a night-shift position] put ESSENCE on the back burner," admits Kacmarynski, "[but] it's now my main focus to finish." Mostly filmed before last year, ESSENCE also involves a parent who seeks answers through the indescribable after a child passes away. In this variation, Joanna (played by Adam) must navigate an invasive presence in her house with more visceral and kaleidoscopic qualities than the forest and its "Old Ones" in DISSOLUTION, if the previews are any indication. A major role is filled by the cult film veteran Lynn Lowry of THE CRAZIES and Finland-based composer Beyond the Below has provided a properly eerie score. "I'd say by this fall, we should have a release for it," he adds enthusiastically.
~~~~~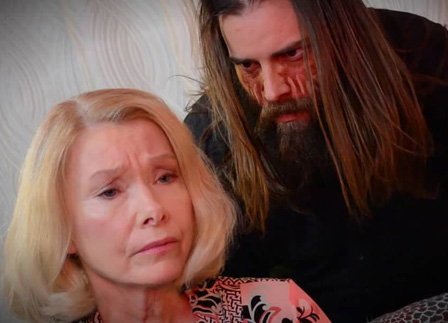 ~~~~~
WITCH ON A WALKER, an "exploitation revenge" throwback short, and REFLECTING THE VOID, a "Lovecraftian survival horror movie" per the Facebook page, will follow for Sub-Basement Films on the cosmic coattails of ESSENCE. "We've started to recast a role [for WITCH] and hope to have our campaign up mid-summer," updates the filmmaker, "[while] VOID will definitely be a 2022 project. The effects are so intense, a substantial budget will have to be acquired before we can even consider moving forward." Lowry is attached to WITCH as are genre actresses Emily Sweet (FEAR PHARM, CASTLE FREAK) and Eva Hamilton (DEATH KISS, RUIN ME) to VOID; Kacmarynski will write and direct both projects with plans to shoot them in the Midwest with involvement from crews more ingrained than usual in the low-budget independent horror scene.
What makes a KacmarynskI motion picture, then, for the uninitiated? "As a storyteller, I hope to leave things open to interpretation on the viewer's part," he teases for CUBlog. "I like to combine the open-ended approach from, let's say, [David] Lynch and [Alejandro] Jodorowsky, with aspects of gritty, drive-in, exploitation techniques. I'm a huge fan of art cinema and low-brow cinema trash, so I like to mix the two and make something strange … I just love weird; I like trying to be myself [in making art]." He also understands the importance of the real world playing off the unorthodox elements. "I think by putting a normal family situation into the mix like that [in DISSOLUTION and several other films], I can hopefully make an interesting, deeper story" that will resonate with viewers.
While in-the-know fans, unsuspecting audiences, and the horror genre press await further reports on the progress of this idiosyncratic-by-design trio, let's not forget that DISSOLUTION – an elusive term that can mean disintegration, disengagement, or death – also awaits those who want to see how Kacmarynski essentially began. "It should be available soon at online retailers, such as Walmart and Amazon," he says, "[although t]here may or may not be digital distribution, with a movie as old as this and barely at the streaming specs that are required." The DVD and Blu-ray products, which sport a remastered version of the 80-minute drama and no extras, can be purchased directly from Burning Bulb by following this link or through the director himself by inquiring at jeffkac40 [at] gmail [dot] com.
~ Jason Pankoke
p.s. Whereas some movies are wrapped before they enter limbo like DISSOLUTION, others are left in physical disarray once the momentum shuts down. Do yourselves a favor and look up articles on the incredible restoration efforts behind Orson Welles' self-reflexive THE OTHER SIDE OF THE WIND and the Aretha Franklin gospel concert, AMAZING GRACE, formerly lost causes of the Seventies that finally surfaced in 2018 and 2019, respectfully. It takes money, lawyers, and force of will to proceed after all that time, never mind the pervasive 21st-century influence of streaming brands in search of novel content.
p.s.2 Kacmarynski is not the only friend and neighbor from the C-U with older footage that is finally finding its way out of the woods. In the near future, we'll be discussing the March re-release of Josh Becker's pip of a crime film, RUNNING TIME, with a particular bonus that is extra freakin' special to me and should be to all of you, too, especially if you happen to have a thing for The Chin.
~~~~~