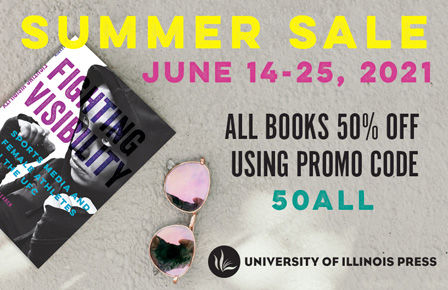 ~~~~~
Are you in need of a literary fix, dearest readers? Then, be sure to investigate the half-off sale being held by the University of Illinois Press through the end of Friday, June 25. We've mentioned them a handful of times on C-U Blogfidential since they are the only local publisher with a sizeable selection of histories and cultural studies on the cinema, and now might be a golden opportunity to take a closer look! Books in our milieu can be found at the online store under the "Film & Media" category, but mention of the sale itself is cleverly hidden in plain sight on the home page. I learned of it through their mailing list, so you should join today to make sure that you receive the news first. And then, enter the secret code as shown in the banner above when you check out to save a little money or help you afford a taller stack to peruse.
Trust me, there is plenty to select from. Recent volumes, all with titles that describe succinctly what one should expect, include: Unruly Cinema: History, Politics, and Bollywood by Rini Bhattacharya Mehta (released June 2020), Film and the Anarchist Imagination, 2nd ed., by Richard Porton (rel. Oct. 2020), Laughing to Keep from Dying: African American Satire in the Twenty-First Century by Danielle Fuentes Morgan (rel. Nov. 2020), Fighting Visibility: Sports Media and Female Athletes in the UFC by Jennifer McClearen (rel. Mar. 2021), Visual Alterity: Seeing Difference in Cinema by Randall Halle (also rel. Mar 2021), and the latest entry in the "Contemporary Film Directors" series, Werner Herzog by Joshua Lund (rel. July. 2020), which centers on the esoteric output of a favorite Roger Ebert's Film Festival guest. Many are available as a hardcover, paperback, and eBook; let's presume the discount can be used to buy any edition and does not apply to other material in their catalog, such as journals.
There is an additional title I'll mention, should fate allow, for it might as well have been designed with CUBlog in mind. "In the 1950s, the gangster movie and film noir crisscrossed to create gangster noir," begins the dust jacket description for I Died a Million Times: Gangster Noir in Midcentury America (rel. Jan. 2021), "[and author] Robert Miklitsch takes readers into this fascinating subgenre of films focused on crime syndicates, crooked cops, and capers." You can click the "Google Preview" button, tucked next to the hard-boiled cover art on the product page, to sample its content if you'd like. A professor of English at Ohio University, Miklitsch has published two previous forays in noir studies with UI Press, The Red and the Black: American Film Noir in the 1950s (2017) and Kiss the Blood Off My Hands: On Classic Film Noir (2014), along with numerous other books and articles.
~~~~~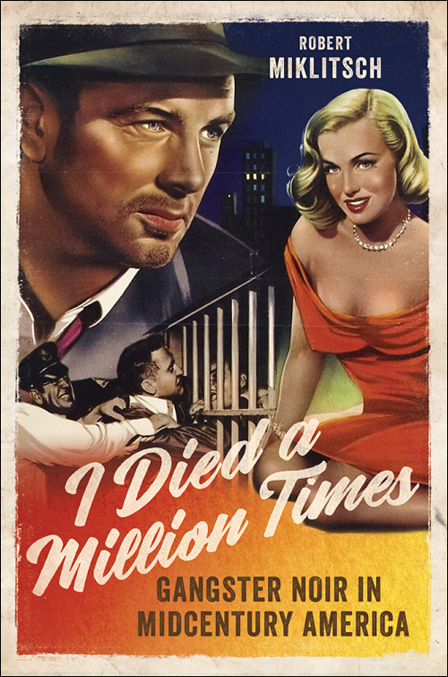 ~~~~~
While researching for this piece the last couple of weeks, I've enjoyed the supplemental outreach done by UI Press that I've spent time with. Subscribers to the e-mails will receive a link to one complementary eBook every month that can be opened with the Adobe Digital Editions application. A "Contemporary Film Directors" monograph on Todd Haynes, the provocative talent behind SAFE, FAR FROM HEAVEN, I'M NOT THERE, and DARK WATERS, happened to be the first title I was given access to. They also post audio and video interviews. An example of the former is this episode of "The UPside" podcast, moderated by Elizabeth Hess and featuring Dr. Ronald H. Sadoff and Gillian B. Anderson, co-founders of the journal Music and the Moving Image and its namesake conference held in New York City every May.
Other conversations are scheduled as livestreams to help launch titles on the eve of release. In a fruitful pairing embedded at the product page for Laughing to Keep from Dying, for instance, author Fuentes Morgan engages in an hour-long Zoom session with the respected comedian W. Kamau Bell, host of UNITED SHADES OF AMERICA on CNN. Even more goodness appears on the website 'blog. Last week, UI Press shared this brief exchange with Jonathan Wright and Dawson Barrett, co-authors of Punks in Peoria: Making a Scene in the American Heartland, and damn does it strike a few sharp chords in pretty short order. (Just like punk rock, tra-la!) It's worth a glance and, if you've ever been part of a self-made community that was built to give adequate space to artistic and authentic expression, you will relate.
~~~~~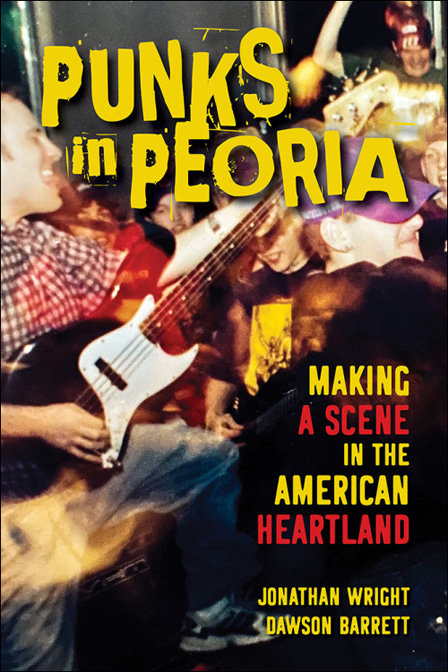 ~~~~~
Happy book hunting to everyone and, if you aren't taking advantage of the discount today, be open to gifting yourselves down the road. Coming in July is Movie Workers: The Women Who Made British Cinema by Melanie Bell, to be followed in October by Movie Mavens: US Newspaper Women Take On the Movies, 1914-1923 edited by Richard Abel and Citizen Spielberg, 2nd ed., by Lester D. Friedman later in January. Also, we should go ahead and mention the journals related to our interests that are issued by UI Press and primarily seen in academic libraries and departments: Journal of Film and Video, ed. Michael Clarke, Visual Arts Research, eds. Laura Hetrick, Jorge Lucero, and Sarah Travis, and the aforementioned Music and the Moving Image, eds. Robynn J. Stilwell and Sadoff.
The University of Illinois Press has published quality discourse from its Champaign-Urbana offices since 1918. The director is Laurie Matheson, editor-in-chief is Daniel Nasset, and acquisition editors are Dominique J. Moore and Alison K. Syring. Marketing and sales manager is Michael Roux.
~ Jason Pankoke
p.s. The concept behind another book, Voicing the Cinema: Film Music and the Integrated Soundtrack edited by James Buhler and Hannah Lewis (rel. Mar. 2020), makes me think of the late UI professor Joseph Tykociner even if music was not the raison d'être of his sound-on-film experimentation. We're fortunate that another scholar incorporated his story into a volume published this year.
p.s.2 Now I really want to read Punks in Peoria. I'm allowed to lose myself in a constructive tangent that is not about film and media, right? I would also be curious to compare Wright and Barrett's approach in relaying this history with the one about do-it-yourself cultural creation that I played a part in so long ago.
p.s.3 That said, I'm surprised Punks in Peoria is not branded with the new UI Press imprint, 3 Fields Books, "dedicated to titles about the Prairie State and Midwest." I wonder if their editorial team is game for considering things about Illinois, film, and media. Hrm.
[Updated 6/25/21, 5:15 a.m. CST]
~~~~~