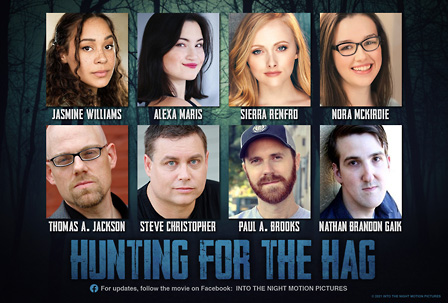 ~~~~~
So, dearest readers, it seems that our previous report about Swede Films' FINAL SUMMER (and our upcoming preview of CHASE & SHEP'S SUMMER CAMP OF HORRORS!) will not be the final word on throwback horror-and-humor film creation this summer in Champaign, Urbana, and the cities beyond! As SUMMER director John Isberg and his group wind down their location work this week in an undisclosed woodland location of east central Illinois, Normal native and C-U Blogfidential friend Paul A. Brooks is gearing up with cast and crew for the start of production next Wednesday, August 25, on their own feature that aims for creepy found-footage thrills. HUNTING FOR THE HAG will be shot in the Pontiac area for seven days and, lucky you, we have the first information and images to share today!
Announced as a surprise on social media this past Monday, August 18, HUNTING FOR THE HAG follows a college student named Tara as she explores a local legend for a documentary that does not go well in the slightest. Brooks and Into the Night Motion Pictures, both of whom moved back to Illinois recently after half a decade spent in California, is teaming on HAG with executive producer Seth Chromick as well as Into the Void Films of Chicago, a genre-focused label run by Nathan Waters and K.R. Brooks. Also contributing are Jason Huls and Paul G. Lyzun of Ten Wing Media, a firm based in the Chicago suburbs; Brooks' history and friendship with Ten Wing goes back more than 15 years and solidified with the infamous BloNo zombie opus, LATE AFTERNOON OF THE LIVING DEAD. Scott Murphy is the sound recordist and Los Angeles makeup artist Aleah Kraft will visit Pontiac to deliver the gory effects goods.
"I'm directing the movie and this is my first feature, so I'm pretty excited," the filmmaker tells CUBlog as the start date rolls near. He is relying on a "pretty tight crew" and downstate resources to bring the HAG home on schedule and within an equally tight budget. "It's easier here in Illinois [to set up a shoot]," offers Brooks when asked about producing in the Land of Lincoln compared to the Sunshine State. "I lived in Los Angeles for six years and, obviously, that's where the industry is, so there's always permits involved and more red tape to cut through. In the Midwest, folks are usually excited to hear you're making a movie and are eager to provide a location or help out in some way." For Brooks, this includes family relations who are lending a "nice piece of property" gratis for a setting, an agreeable tourism board in the Pontiac region, and the Humiston Woods Nature Preserve where the company also plans to set up camp.
~~~~~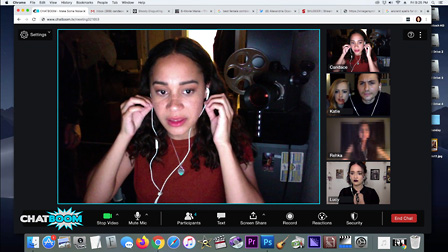 ~~~~~
While the aforementioned team handles the bulk of logistics and technical needs, the on-screen talent needs to convince audiences that the Hag should be rightfully feared. Joining Brooks before the camera are Steve Christopher, Nathan Brandon Gaik, Thomas A. Jackson, Alexa Maris, Nora McKirdie, Sierra Renfro, and Jasmine Williams. Boasting dozens of credits between them, Christopher and Jackson are go-to casting for character parts in shorts and features made in the Midwest. Gaik is a playwright and stage actor in Bloomington, while McKirdie is underway with her theater studies at Illinois State University in Normal. Maris appeared in the 2018 telekinesis drama REBORN alongside Barbara Crampton and Michael Paré. Renfro and Williams, who like Maris will fly in from California to participate, are quickly building resumés that include previous excursions with Into the Night Motion Pictures.
A short subject and a de facto series pilot released by the studio this summer feature the actresses and give us an indication of what HAG might entail. Uploaded to YouTube in July, CONFERENCE KILL is a clever exercise in misdirection presented as a Zoom conference where a young director played by Williams tells her cast (Laura Richardson, Brianna Martinez Gurdzhyan, and Renfro) their movie is postponed due to quarantine restrictions. More than one person winds up showing displeasure with the development as their conversation plays out. "Really, that was just born out of boredom in the middle of the pandemic last year," says Brooks. Materializing on Tubi in June, GHOST GIRLS is a slick endeavor starring Renfro, Karaleigh Antoinette, Sarah Nicklin, and real-life investigator and GHOST HUNTERS veteran Ashley Troub as they try to confirm activity at the Glen Tavern Inn of Santa Paula; this one was filmed in southern California several months before COVID-19 lockdowns went into effect.
~~~~~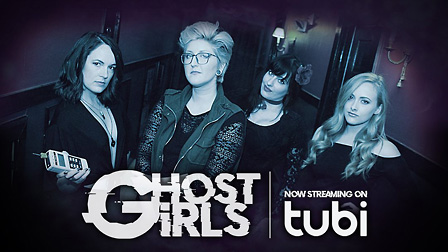 ~~~~~
With the seeming exhaustion of first-person narrative in the two decades following THE BLAIR WITCH PROJECT and the omnipresence of consumer media, HAG co-writers Renfro and Brooks were not discouraged from dipping into the well for their storytelling approach. "Mostly it just comes down to experimenting with different sub-genres to see what happens," the director explains. "Desktop horror, paranormal reality, found footage, I'm a big fan of it all. Camera technology has improved so much since the original BLAIR WITCH, it's way easier to make found footage horror that looks really nice." The duo also hopes to differentiate their rural shocker from the crowd by adding timely thematic elements for the film's viewers to digest. "[We] have incorporated a small piece of social commentary into the story that is very current. We want to scare you," elaborates Brooks, "but we also got a little something to say."
Hopefully, HUNTING FOR THE HAG will make plenty of noise once the picture is completed in the near future. Maybe they'll hit a nerve in horror or popular culture as did BLAIR WITCH and any number of cult hits that have remained a long-lasting influence. Who can say? Believe it or not, GHOST GIRLS actress Nicklin is doing her part to perpetuate the Burkittsville mythology by appearing in the trailer for the brand new "Escape Blair Witch" immersive game in Las Vegas, Nevada, seen here at the attraction's website. "Sarah is really talented and she's always popping up in something new," complements Brooks as he finds humor in the loose parallel between her unusual gig and the HAG task at hand. "If you want to see Sarah freaked out to the point where she's shaking, you can watch GHOST GIRLS for free on Tubi. It was great getting to work with her and I'd love to make more episodes of the show at some point!"
While everyone on their end is navigating the twists and turns indicative of both Mother Nature and motion picture production, we have a bounty of earlier Brooks to enjoy. A pair of Into the Night flicks played the big screen in Champaign during the two most recent New Art Film Festivals – BELOW DECKS, with Caroline Newton, and PROJECTIONS, with Phillip Kelly and Deneen Melody – prior to the making of GHOST GIRLS and CONFERENCE KILL. At the "B-Movie Mania" channel on YouTube, dozens of podcasts involve Brooks, Huls, Mike Hayes, and "Crazy" Chris Hutson (the gruff hero of LATE AFTERNOON OF THE LIVING DEAD) as they talk and joke about the lovable and lowbrow, while Brooks' own YouTube channel is filled with vlogs of cheerful and weird-o sidelines that pair well with a pizza slice of your choice. Clearly, this tandem works hard at having fun and has little to haggle over.
~ Jason Pankoke
~~~~~