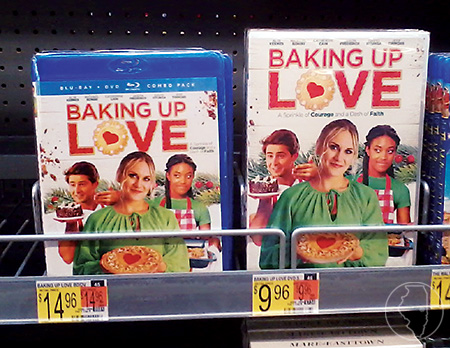 ~~~~~
Continuing to live in the house on the edge of an American small town and marching on as editor most interested in the movies of Champaign, Urbana, and the cities beyond is often a stress test. I can roll with it on the better days and allow it to roil me when life is a chore. To decompress, I really have to reach in order to get my kicks 'round here, what few I can drum up when my peoples and relevant parties are so far away, and that has included browsing the ever-shrinking A/V sections of this area's big box and discount stores. The most interesting site to me is Walmart; they stock just enough off-brand titles to warrant a visit every week or two, and the array has been a case study in what appears and how it is displayed and priced, especially in the current retail climate of patchy delivery to the merchants. At times, as I found by accident the week before Thanksgiving in the Ottawa location, it works just right.
Rounding the end cap of the videos-and-televisions aisle, I was struck by how vacant many of the rows had become in the "new release" section. Conversely, that made it easy to notice an octet of festive covers that were new to me and clearly playing on the Christmastime movies aired by the Hallmark, AMC, and Lifetime networks. I recognized BAKING UP LOVE, as I had just brought it up in a Calendar, and then realized the entire set was made up of recent productions from Gemelli Films, the New York studio that set up shop in nearby Morton earlier this year to film LOVE. One flip to the back jackets confirmed that Gemelli had sold domestic rights for DECK THE HEART, JOY & HOPE, THE MALTESE HOLIDAY, and LOVE to Echo Bridge Acquisition Corp., the label behind the physical release of Zoe Lister-Jones' CONSUMED, and SP Releasing, Inc., an indie-leaning firm run by actor and occasional Hollywood producer Steven Paul (GHOST RIDER). Placing DVDs and Blu-ray/DVD combo packs for each title side-by-side like this made for a tidy Gemelli display, and I picked up LOVE for the Confidential collection.
~~~~~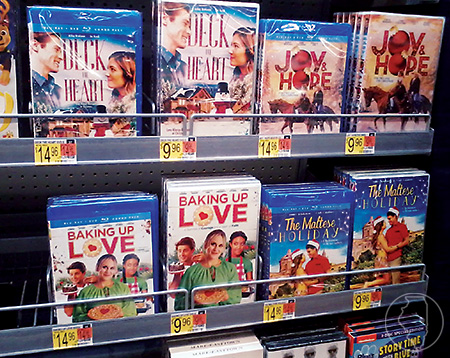 ~~~~~
Produced by Monika Mannix and Jeff Timmons, the latter of 98 Degrees boy band fame, in association with Gold Hive Media and Heartly Creations, BAKING UP LOVE is the result of a partnership between the village of Morton and writer-director Candice T. Cain, an industry veteran and former talent agent who also serves as president of Gemelli. The first of the company's 10 features and four series to be shot on location outside of New York, LOVE is a family-friendly drama starring Gemelli regular Alix Kermes as "Lynn," who attempts to win a holiday baking contest being put on by the "Morton Pumpkin Company." You can probably guess the choice ingredients at play here: unfulfilled dreams, family conflict, romantic interests, surprise twists, and a feel-good resolution by the time end credits begin. Along with a whole bushel of central Illinois extras, LOVE features Jason Frederick, Michael Bonini, Catherine Cain, Missy Byrd, Allison Grischow, Stefanie Bloom, Kenney Myers, David Otunga, and Timmins in the cast. It received an orange-carpet premiere – nice touch! – at the VIP Morton Cinemas on Saturday, August 28.
From the looks of things, Gemelli's immediate future is full steam ahead. Almost all of their productions have been made available on streaming sites like Amazon Prime and Sony Pictures' Pure Flix in recent months. Since Thanksgiving, more Gemelli titles have arrived on disc from SP/Echo Bridge and staked their clam on the shelving space at Walmart; this wave includes HEARTS & VINES, MAGIC IN MOUNT HOLLY, and A HOLIDAY HOMECOMING. The latter, a tale of orphans displaced during the holidays and a lead-in to the upcoming series WELCOME TO HOPE, was given its own Midwest premiere on Saturday, December 11, at the performing arts building of Lincoln College in Lincoln, augmented by bonus meet-and-greet events and an "acting primer" by Gemelli talent. Why did the Long Island creatives pick Lincoln for this outreach? It seems they've adopted the region as their home away from home.
~~~~~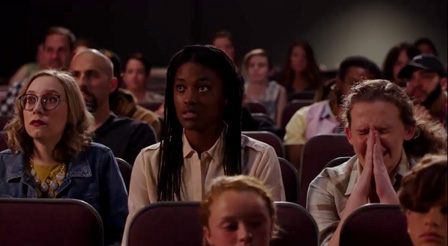 ~~~~~
Language used in local press refers to a proposed "faith-based Central Illinois Film Hub," which is sure to warm the cockles of some residents' hearts, to be launched by Cain and company with help and funding from local municipalities. According to the Gemelli Facebook account, they've returned at least twice since the end of September to film scenes in Lincoln and Morton for WRATH & RITUALS, a new thriller series about secret societies and religious prophecy uncovered by "Ciman Thomas," a police officer portrayed by BAKING UP LOVE actor Otunga. You can glean a lot about Cain's approach to this show as well as her growing affinity for the Land of Lincoln by checking out her interview on the podcast It May Interest You to Know…, hosted by Toni Ann Marcolini and Seamus McDonagh, that zips along with a can-do spirit. The following episode takes the hosts on a live tour of the WRATH & RITUALS set where they speak with Otunga as well as co-star Eliza Roberts, wife of direct-to-video staple Eric Roberts, and LOVE actress Byrd, who is assisting behind the scenes this time. Combined, it's an informative listen.
As Gemelli Films puts their upcoming round of features and serials through the paces while the brand takes hold in the streaming sphere, their roster on disc has already begun to cycle out. Perennial holiday titles and a Hallmark push, combined with the calculated drops of VENOM 2, NO TIME TO DIE, and other Hollywood heavyweights, have displaced a fair share of lingering flicks. I've noticed that our Walmarts decided to bunch together the SP/Gemelli catalog and move it a couple of sections down from the brand-new releases, omitting THE MALTESE HOLIDAY and BAKING UP LOVE en route. I'm not surprised as those two exude "Christmas" the least, even with the label's best effort to work a red-and-green palette and seasonal graphics into their packaging. I hope the townsfolk of Morton made a big deal out of it while the placement lasted, and we'll soon learn what recipe for success will involve them and Gemelli next.
~ Jason Pankoke
~~~~~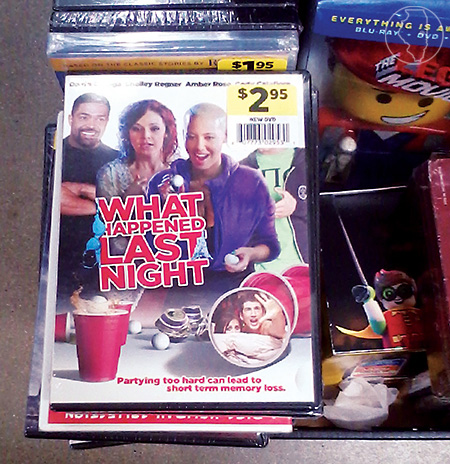 ~~~~~
p.s. Mere days after spotting BAKING UP LOVE and its Gemelli brethren in the Walmart wilds, I happened to stop at the local Dollar General. (DG is an occasional source of amusement as I've previously discussed with Chase & Shep.) Sitting on top of a stack of sell-through videos, of all things, was a copy of Gemelli's first feature production, WHAT HAPPENED LAST NIGHT. Also written and directed by Cain, this decidedly non-Pure Flix affair – witness the "R" rating at the head of its trailer – features Kermes, Otunga, and hip-hop personality Amber Rose in a party-night comedy of errors. GVN Releasing of Studio City, CA, and Canada's Alliance Entertainment issued it in North America with a distribution assist from Sony, which handles physical media worldwide for SP Releasing as well.
p.s.2 Mere hours before finally running this article, I visited a Walmart in Plano. The Gemelli armada of DVDs and Blu-rays was there as I've described, but this one had also kept BAKING UP LOVE and THE MALTESE HOLIDAY in stock. I found them paired in the next section over. In fact, said section had numerous other recent releases from second-tier labels that I had not seen in the locations closer to home. You mean, I can haz WEREWOLVES WITHIN with Sam "CHAMPAIGN ILL" Richardson, too? Nice.
~~~~~