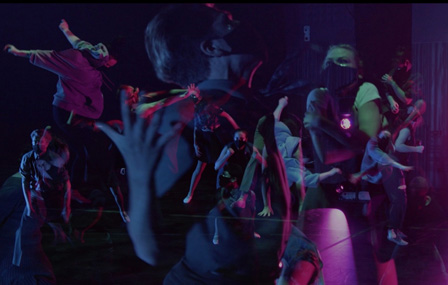 ~~~~~
Before the hush of finals week falls over the colleges in our area, we can expect some noise to be made in advance when arts and performance students storm their campus communities with end-of-semester projects and events. This includes the presentation of media projects at those academic institutions that foster it, and I'm happy to note how prevalent they seem to be here in 2022 – so much so that we've skipped or flat-out missed reporting on some of them because so much is afoot! Today, we have details on three such showcases that will take place over the next four days, and I hope you'll be interested in seeing how the upcoming generation of producers with potential are telling their stories through a lens.
Hitting the partly refurbished Lincoln Square Theater in downtown Decatur later tonight, Thursday, April 28, is the first Images in Motion Film Festival, which is comprised of short subjects created by students enrolled at the city's Millikin University. It reflects the establishment of a cohesive track in learning media production, Arts Technology & Administration, at their School of Arts & Creative Media as well as a student-run studio called 1901 Productions, overseen by Millikin faculty members Johnny Power, a photographer, graphic designer, and printmaker, and Eric Hector, creative director of Heroic Age Studios. Scheduled from 6 to 9 p.m., the show will include previews of upcoming 1901 efforts, including the long-form SONDER: AN ANTHOLOGY OF LOSS, and numerous other pieces; judges for the awards are Millikin communications instructor Sam Meister and Nickelodeon personality Emmanuel Carter.
Impressively, there is also a Millikin Dance Film Festival for the first time this year. It is an 80-minute program of student work that can be watched virtually through this Sunday, May 1; visit the Facebook event page for a Vimeo link that is sponsored by the School of Theatre and Dance and a separate link where patrons can donate funds to the dance department in lieu of rental fees to view the video.
And on Saturday, April 30, is the annual UIUC Student Film Festival, a culmination of the semester-long work done by the students of course 464 that is taught through Media and Cinema Studies, College of Media, at the University of Illinois. The class curates the program of films made by their peers throughout the school and organizes a showcase that will be presented this year in Knight Auditorium at the UI Spurlock Museum of World Cultures in Urbana. Doors open at 5 p.m. and the show begins at 6 p.m., during which "food trucks, panelists, prizes, and more" will be in evidence as told by the Facebook page, while the action will be livestreamed via the festival website. Satisfy your curiosity this weekend, folks.
Maybe I'll be quick enough in the future to also include comparable student events such as the "COM Week" documentary film festival, hosted by the Normal Theater on April 6 and presented by the School of Communications at Illinois State University, and the Guerilla Film Festival, taking place this past Monday, April 25, at the Hansen Student Center of Illinois Wesleyan University in Bloomington. Who knew that even my alma mater Wesleyan would begin offering a formal education in media production? Encore!
~ Jason Pankoke
~~~~~