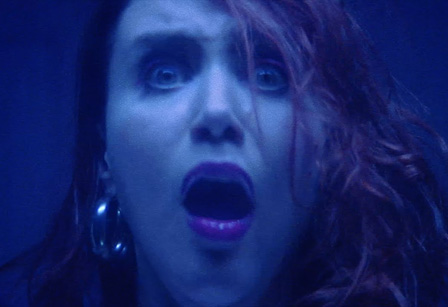 ~~~~~
Time to peep the rapture, dearest readers! After exclusively streaming on the Shudder and AMC+ online services for the last five months, the ambitious retro sci-fi film REVEALER can be added to your home library as of today, Tuesday, November 15, courtesy RLJE Films and their prolific line of Shudder-branded content. You may have to look a bit carefully to find the DVD of this thought-provoking entry in an apocalyptic vein from respected comics creators Tim Seeley and Michael Moreci (Hack/Slash, Revival) and Champaign's Shatterglass Films (THE POOKA, SLICE), however, for it may be squeezed out of focus with the rash of horror titles also appearing on disc this week such as PEARL, THE INVITATION, SLAYERS, HATCHING, R.I.P.D. 2, and JEEPERS CREEPERS REBORN.
In fact, it has been a bit tough to learn the details of this release before today. E-tailers are certainly listing REVEALER for sale, but the product description has been very lacking across the board. (It's also a bit disheartening to realize there is no Blu-ray being offered even though today's other Shudder/RLJE release, ALLEGORIA, is making its physical media debut on both formats.) If one squints a bit at the low-resolution back cover art posted at Deep Discounts, one learns the disc is actually packed with extras. They include an actors' commentary track, writers' commentary track, production commentary track, "Peep Show Prayers: The Making of 'Revealer'," "Dark All Day: The Full Dance Sequence," a gag reel, a visual effects breakdown, and "Saints & Sinners: A Video Essay" by entertainment writer Jessica Scott of Dread Central and Slash Film. That's a pretty good value at a $27.97 suggested retail price.
~~~~~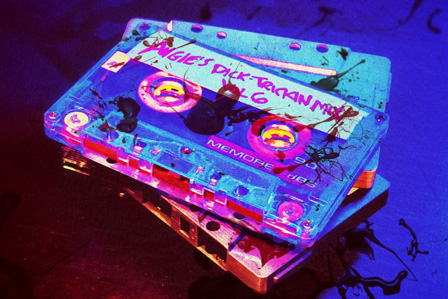 ~~~~~
Given how commercial releases of the movies of Champaign, Urbana, and the cities beyond usually pan out, we're happy that REVEALER has earned a respectable berth all around. Prior to its bow on Shudder on Thursday, June 23, the film received its world premiere at the Fantaspoa Film Festival in Brazil and United States premiere at Panic Fest in Kansas City, Missouri, both in April, after which it has only been shown publicly on occasion. REVEALER is directed and edited by Shatterglass co-founder Luke Boyce, written by Seeley and Moreci, produced by Shatterglass' Brett Hays as well as Sarah Sharp and Robert Patrick Stern of The Line Film Company in Chicago and Aaron B. Koontz of Paper Street Pictures in Austin, Texas, and stars Caito Aase, Shaina Schrooten, Bishop Stevens, Phil Bogdan, and Buzz Leer. Turncoat Pictures of Chicago provided effects work on the film, which runs 86 minutes and is unrated.
Fans of REVEALER have a couple of tokens they can collect. There is a one-shot comic book tie-in with several cover variants by Seeley, Moreci, Koontz, and friends, Revealer #1 from Vault Comics, that you can order through ComiXology on Amazon. There is also a single in the Eighties hair metal style called "Saint & Sinner" by Atlant '87 with a B-side of music by the film's composer, Alex Cuervo, that is available through Apple Music and other services as well as on a gnarly cassette sold by Burning Witches Records in the United Kingdom. Maybe we will eventually see merchandise with Shudder's key artwork, rendered by Scottish illustrator Brian Taylor, which depicts the terse pole dancer Angie (Aase) and hyper-religious protestor Sally (Schrooten) who find themselves trapped in an adult bookstore during a neon-drenched cataclysmic event in Chicago and must team up in order to survive very strange things.
Of course, for those of you who consider DVDs so 2002 and Blu-rays so 2012, the floodgates have now opened wherein you can stream REVEALER on a number of services like Redbox, Vudu, YouTube, Roku, Sling TV, and Amazon Prime Video. A single Google search will pull up the entire list for you. On the other hand, given the location and decade the film is set in, a collector's VHS of REVEALER that is so 1987 would be quite welcome and a nice thematic fit. Anyone?
~ Jason Pankoke
[Updated 11/17/22, 1 a.m. CST]
~~~~~
~~~~~