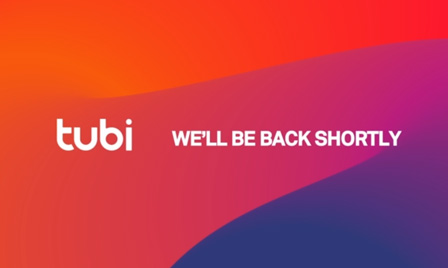 ~~~~~
Now that Roger Ebert's Film Festival is past and free time will open up for many of you once the final exams and graduation ceremonies take place at the University of Illinois, what is a film lover to do? You can choose wisely from the summer break's box office contenders at local theaters. You could scroll and pick aimlessly from the streaming services. You can stare and stare again at the spines in your video collection on the shelf. You might ask for suggestions from family, colleagues, and other film lovers. Or, you should enlist the guidance of C-U Blogfidential to look into the selections of "Ebertfest" that now run two decades deep, brush up on the cinema directly involving your friends and neighbors, and take a blind dive into what was once a wild world of independent and underground flicks that could spin your head, upset your gut, or inexplicably touch your heart, often all in the space of the same running time.
Lucky for you, we've revived our hit list of AVOD (ad-supported video on demand) titles available on Tubi to flesh out our three specialty categories and, as we now know, there is a lot more relevant material up there in 2023 than when we first looked closely (or so we thought) in 2020. Our compilation is pretty thorough and doesn't cover the additional movies at other services that might apply, but Tubi licenses a fair amount that will give you a good idea of what Ebertfest programs at the Virginia Theatre in Champaign are like, CUBlog and C-U Confidential tend to cover in order to exemplify the worth of homegrown media, and MICRO-FILM used to champion in the broader sense of non-Hollywood production. If you don't mind 30- or 60-second breaks in your films every 10-ish minutes or need to keep your discretionary spending in check, Tubi is a convenient and easy platform to use.
We do have a few notes to share. Most importantly, for those of you who choose to "look at it later," it's now common knowledge that streaming services will ditch content without warning. Several Ebertfest movies we listed previously are no longer available on Tubi, as an example, because their placeholder pages tell us so. (We already cautioned you last week about Vinegar Syndrome's rights to the UI student-made picture SHOT expiring shortly and what that most likely means.) In particular with Ebertfest, we trod lightly on links to silent films since Tubi allows public domain copies that look awful as well as altered or "restored" editions provided by sources outside of the restoration specialists. We cheated in our MICRO-FILM section and linked to a film on YouTube, the creature feature CARNIVORE, because we wanted to represent every issue we published with titles that are readily available. And finally, there are handy links placed throughout the directory that will allow you to return to the top in a flash.
If you happen to find a Tubi offering on your own that fits our criteria, let us know by writing cuconfidential@gmail.com. We may add it within the first few weeks after this posting or hold the suggestion for when we might assemble an update in the future. Otherwise, put together your best fest today and have fun!
~ Jason Pankoke
p.s. Why the headline? Our first attempt, we identified 29 films. As of today, we've confirmed almost 90.
p.s.2 We included it for the sake of completion, but whomever provided the shoddy HOOP DREAMS transfer to Tubi should be booted out of the arena. We presume it came from a company or non-theatrical distributor involved with the documentary along the way that isn't Kartemquin Films. We also wouldn't blame you one bit if you beelined directly to the Criterion Collection to view it.
p.s.3 Yes, we know which corporation owns Tubi. This is about as far away from the noxious on-air talent and backstage manipulators in their national "news" division as you can get under their umbrella. Come for the arts and entertainment, stay to support the film producers, small studios, and niche distributors who aren't bound in blood to a conglomerate. They need streaming revenue to do what they do, too.
Jump to "Ebertfest" films • Jump to MICRO-FILM movies
~~~~~
Local, Locally-Filmed, and Locally-Focused Productions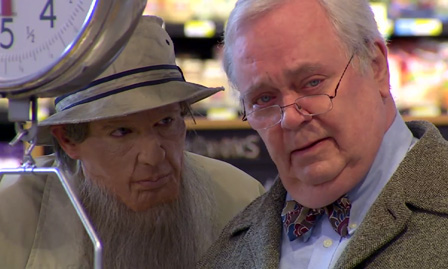 ACT YOUR AGE (Dreamscape Cinema) Back to Top
~~~~~
ACT YOUR AGE (2011)
[C-U] An out-of-work young actor with no respect for the elderly makes himself into an old man to get a part in a play. When research requires him to spend a week at a nursing home, he is forced to review his life choices.
ALL THE QUEEN'S HORSES (2018)
[Dixon] The luxury-loving Rita Crundwell, who perpetrated the biggest municipal fraud in U.S. history and stole $53 million from Illinois taxpayers, is exposed.
THE BABE (1992)
[Danville/Hollywood] Drinking hard and playing harder, Babe Ruth rose above his hideous childhood to dominate baseball and rescue it from the brink of extinction.
BAD COMPANY (2018)
[C-U/Rantoul] Troubled teens going through a boot camp program become the country's only hope of stopping terrorists targeting a nuclear power plant.
BEFORE 'I DO' (2018)
[Springfield] Three people tangled in a web of passion, lust, unrealized dreams, and lies make a vow that they will take each other's burning secrets to the grave.
BEYOND THE BASEMENT DOOR (2012)
[BloNo] A researcher makes a deal to survive cancer by not venturing down into his basement for three days, despite all he sees and hears.
THE COLLEGE TOUR (2020)
Episode 1.5: "University of Illinois at Urbana-Champaign"
[C-U] These 11 students arrived at UIUC with incredible power in them – to succeed and change the world.
~~~~~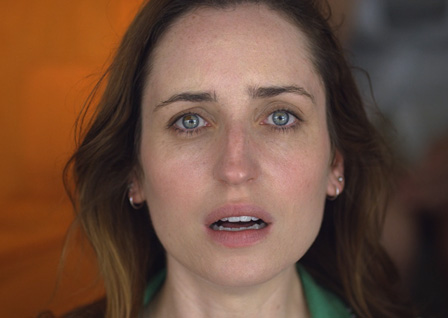 CONSUMED (Mister Lister Films) Back to Top
~~~~~
CONSUMED (2017)
[C-U] A mother's concern when her son develops a mysterious illness inspires her to investigate the controversial world of genetically modified organisms.
C.O.R.N.: A FIELD OF SCREAMS (2021)
[C-U] Two teenagers who get stranded in rural America make friends with the residents before being overrun by a cult that embalms and stuffs human beings.
DISCONNECT (2011)
[C-U] A distraught college student finds a phone that enables her to talk to her deceased mother in the past. Instead of a heart attack, she learns that her mother was murdered.
DISPOSABLE (2015)
[C-U] A troubled young woman who keeps moving from foster home to foster home seeks vigilante revenge for adopted kids who have been murdered.
THE DRUNK (2014)
[Terre Haute/C-U] When the alcoholic grandson of a legendary American socialist gets arrested for DUI, he must run for office to take a stand against political injustice, discovering himself along the way.
THE FARM (2011)
[Carbondale/C-U] In this apocalyptic thriller, two brothers live a secluded life on their farm, tending a deadly secret that will soon give rise to a nightmare.
FORENSIC FILES (2006)
Episode 10.28: "Wired for Disaster"
[Bloomington/Peoria] Who put a bomb in the home of a 29-year-old woman and killed her?
GOING ATTRACTIONS (2013)
[Gibson City] Nearly 5000 drive-ins once dotted the nation from big cities to small towns, but today less than 400 remain. In a nation that loves cars and movies, why haven't they survived?
~~~~~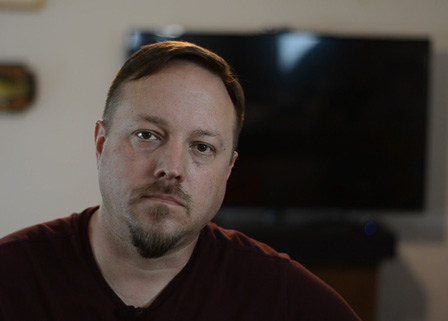 HOLES IN THE SKY (Deskpop Entertainment) Back to Top
~~~~~
HOLES IN THE SKY: THE SEAN MILLER STORY (2022)
[Springfield] A shoot detailing the 2013 alien abduction of Sean Miller turns into a life-changing experience for everyone involved as events spiral out of control.
HOOP DREAMS (1994)
[Chicago/C-U] One of the highest grossing documentaries in United States history, this multi-award-winning, Oscar-nominated film tells the inspiring true story of Chicago students who dream of becoming pro basketball players.
HOOVEY (2015)
[BloNo] When a basketball player collapses on the court and undergoes risky surgery to remove a lethal brain tumor, his will and faith meet the ultimate test.
IT CAME FROM SOMEWHERE (2022)
[Farmer City/Naperville] When a flying saucer crashes on Earth and unleashes a deadly creature, it's up to a group of teenagers and the pilots to find the creature.
JUMP IN (2014)
[Springfield] Troy Alexander returns to her roots, armed with a plan, to pass the bar and start her own practice. She's content and love is a distraction until her friends stumble upon Malik Bond, a middle school math teacher.
LIFE ITSELF (2014)
[Chicago/C-U; REFF '14] This documentary explores the life and legacy of film critic Roger Ebert, who rose to become one of the most influential voices in American culture.
MY DOG THE SPACE TRAVELER (2014)
[Monticello/C-U] A boy must get his dysfunctional family and his closest friends to help him save his pet dog and the world when his dog gets lost in a space portal.
SHOT (1973)
[C-U] Tasked with taking down a local drug kingpin, a detective duo enlists a low-level pusher and his girlfriend to go undercover to avoid prison.
THE SHOWDOWN (2009)
[Springfield] A U.S. marshal tries to reunite with his family and keep them together in a small Texas town where he is up against constant threats to their lives.
STRANGE INHERITANCE (2015)
Episode 1.2: "The Hoarder & the Actors"
[Lincoln] A million-dollar farm is left to two obscure former actors by a hoarder who only ever watched them on TV.
WITH HONORS (1994)
[C-U/Hollywood] A homeless man holds a stuffy Ivy League student's misplaced graduate thesis hostage in return for room and board – one page for every day.
~~~~~
Selections of Roger Ebert's Film Festival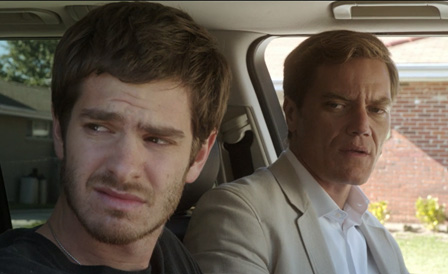 99 HOMES (Broad Green Pictures) Back to Top
~~~~~
99 HOMES (2015)
[REFF '15] A newly laid-off construction worker and single dad is forced to take a job working for the real-estate broker who heartlessly evicted his family.
AFTER DARK, MY SWEET (1990)
[REFF '05] After he escapes from a mental hospital, a former boxer works for a widow. When she asks him to get involved in a kidnapping, he has second thoughts.
AMERICAN FOLK (2018)
[REFF '23] Stranded in California in the immediate wake of 9/11, two strangers and fellow folk musicians go on a cross-country road trip back to New York.
BARAKA (1992)
[REFF '09] This breathtaking, 70mm, transcendent global tour explores the sights and sounds of the human condition through the wonders of a world without words.
BAYOU MAHARAJAH (2013)
[REFF '14] This doc captures the story of New Orleans piano legend James Booker, a black, gay, one-eyed, musical genius who inspired countless.
BERNIE (2011)
[REFF '13] When a lovable mortician in a Texas town gets involved with a rich, nasty widow, she tightens her grip and steers him on a course toward a murder rap.
BIG FAN (2009)
[REFF '12] A parking garage attendant, who lives for New York Giants football, struggles to deal with the fallout when he gets beaten up by his favorite player.
BLANCANIEVES (2012)
[REFF '13] The Spanish Snow White from the beginning of the last century has a lot of art in the arena and her new friends are seven dwarf bullfighters.
UN CHIEN ANDALOU (1929)
[REFF '00] The stark, dream-like sequences in this 1929 seminal short film, including slicing open a woman's eye, introduced the world to Surrealism in cinema.
~~~~~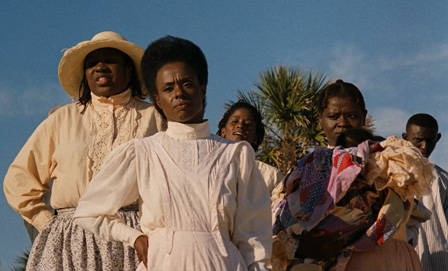 DAUGHTERS OF THE DUST (Cohen Media Group) Back to Top
~~~~~
DAUGHTERS OF THE DUST (1991)
[REFF '18] At the dawn of the 20th century, a multi-generational family in the Gullah community on the Sea Islands off of South Carolina struggle to maintain their cultural heritage and folklore.
DÉJÀ-VU (1998)
[REFF '00] A female business owner in Los Angeles falls in love instantly with a British man, except he is married and she is engaged to her business partner.
DELIRIOUS (2006)
[REFF '08] A paparazzi hires a homeless kid as his assistant.
DE-LOVELY (2003)
[REFF '17] As the toast of Broadway, Cole Porter, reflects upon his life, a stage musical in the making helps capture his meteoric career and relationships.
DEPARTURES (2008)
[REFF '10] Foreign Language Oscar-winner about a recently unemployed cellist musician who ends up taking a job preparing the dead for their funerals.
EVERYONE SAYS I LOVE YOU (1996)
[REFF '01] While on a trip to Venice, Italy, with her lonely father, a young woman sets him up with a beautiful woman living in a troubled marriage.
GATES OF HEAVEN (1978)
[REFF '04] Errol Morris' first documentary examines the devotions, emotions, and obsessions felt by animal lovers amid the threat of a pet cemetery relocation.
GILBERT (2017)
[REFF '22] This documentary provides a funny and poignant portrait of the life of one of comedy's most iconic figures: Gilbert Gottfried.
GHOST WORLD (2001)
[REFF '22] Based on the well-known comic, two high school students take a hard look at the world they wryly observe and decide what they really want, altering their friendship forever.
HAIR (1979)
[REFF '17] With exuberance, inventiveness and humor, Treat Williams and Beverly D'Angelo lead a cast of future stars in this film of one of Broadway's most popular musical phenomena of all time.
~~~~~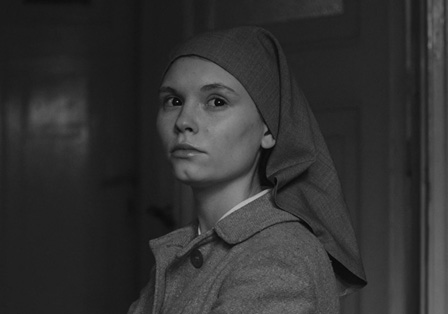 IDA (Music Box Films) Back to Top
~~~~~
IDA (2013)
[REFF '15] A novice nun about to take her vows uncovers a family secret dating back to the German occupation and begins to question her long-held beliefs.
JESUS' SON (2000)
[REFF '01] Based on the acclaimed book by Denis Johnson, a man high on drugs and alcohol careens through life and makes his way toward recovery and redemption.
KUMARE (2011)
[REFF '13] Filmmaker Vikram Gandhi poses as an enlightened guru from the East, forging deep connections with various people before revealing his true identity.
LEAVES OF GRASS (2010)
[REFF '11] An Ivy League professor returns home where his twin brother, a small-time pot grower, entangles him in a mad scheme to take down a local drug lord.
ME AND YOU AND EVERYONE WE KNOW (2005)
[REFF '05] An eccentric video artist and a lonely shoe salesman begin a tentative romance in this offbeat ensemble film about people searching for connection.
NOT YET BEGUN TO FIGHT (2013)
[REFF '13] A Vietnam vet brings five injured men who served in Iraq and Afghanistan to the rivers of Montana to learn how to fish, and discuss their journey.
NOTHING BUT THE TRUTH (2008)
[REFF '09] In Washington, D.C., a female reporter faces a possible jail sentence for outing a CIA agent and refusing to reveal her source.
PANIC (2000)
[REFF '01] On the surface, Alex is a normal man with a wife, a son, and a steady job. But Alex has a secret life no one knows about: he's a contract killer.
A PIGEON SAT ON A BRANCH REFLECTING ON EXISTENCE (2015)
[REFF '15] Meet Sam and Jonathan, a team of novelty salesmen, who want to understand the human condition in this darkly funny, absurdist tale.
ROMANCE & CIGARETTES (2007)
[REFF '08] In this romantic musical comedy, a husband's life unravels as he pursues a relationship with a younger woman and reflects on his life choices.
THE SECRET OF ROAN INISH (1995)
[REFF '05] Imaginative young Fiona escapes life in a scenic Irish fishing village by setting out for mysterious and often fantastical adventures.
~~~~~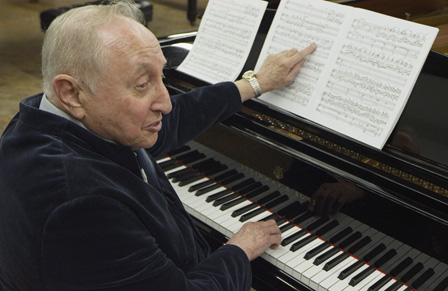 SEYMOUR: AN INTRODUCTION (Sundance Selects) Back to Top
~~~~~
SEYMOUR: AN INTRODUCTION (2014)
[REFF '15] Acclaimed concert pianist and composer-turned-teacher Seymour Bernstein shares his passion for music and his philosophy for living a happy life.
SHORT TERM 12 (2012)
[REFF '14] Grace, a young supervisor at a foster care facility for at-risk teenagers, takes on the crises of two new residents while going through her own.
SIREN OF THE TROPICS (1927)
[REFF '22] Legendary Josephine Baker stars in this silent film as a woman who falls for the man who saved her life and finds out he's engaged to someone else.
SITA SINGS THE BLUES (2008)
[REFF '09] Two women having troubles with their men, separated by several centuries, find their stories coming together in this animated comedy-drama from artist and animator Nina Paley.
A SMALL ACT (2010)
[REFF '11] A testament to the rippling effect of a single act of kindness, A SMALL ACT follows a rural Kenyan student-turned-Harvard-grad as he tracks down the woman whose sponsorship changed his life.
SUCH A LONG JOURNEY (1998)
[REFF '01] An upstanding father in Bombay tries to lead a virtuous life, while the world he thinks he knows begins to crumble all around him.
TERRI (2011)
[REFF '12] A small-town teen dealing with weight issues and bullying at school finds a ray of light when one of the school principals notices his struggles.
THEY CALL US MONSTERS (2016)
[REFF '17] Meet Juan, Jarad, and Antonio, all in their teens, all facing decades in prison. This doc examines how minors are regarded in the justice system.
TRUCKER (2008)
[REFF '10] A hard-drinking long-distance trucker sees her life of fun love and independence at risk when her ill ex-boyfriend leaves their young son at her door.
VINCENT: A LIFE IN COLOR (2010)
[REFF '10] Vincent twirls on Chicago's many bridges, performing fashion shows for passing tour boats.
WHAT'S COOKING? (2000)
[REFF '03] This heartwarming drama focuses on the tensions and Thanksgiving traditions of four families of varying ethnicities in Los Angeles.
~~~~~
Films written about in MICRO-FILM and Micro-Scope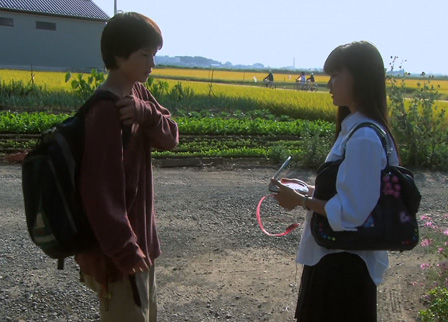 ALL ABOUT LILY CHOU-CHOU (Film Movement Classics) Back to Top
~~~~~
ALL ABOUT LILY CHOU-CHOU (2002)
[MF 6] A haunting look at teens in Japan whose lives go in different, and sometimes disturbing, directions as they find meaning in a musician's songs.
THE BLAIR WITCH PROJECT (1999)
[M-S 1.1/1.2, MF 7] A trio of filmmakers trek to uncover an urban legend, which becomes an excursion into heart-stopping terror, in the original "found footage" horror.
BOWLING FOR COLUMBINE (2002)
[MF 6] This documentary examines gun violence in the U.S. in relation to other countries, including the specific events that led to the Columbine massacre.
CARNIVORE (2000)
[MF 3, 5; Sandwich/St. Charles] A government experiment goes totally wrong as a creature confined in a hidden lab inside an abandoned house escapes. Afterwards, some teens show up to have a little fun in the house.
CECIL B. DEMENTED (2000)
[MF 3] Guerrilla moviemakers kidnap a movie goddess (Melanie Griffith) and force her to star in their underground movie.
COLOR-BLINDED (1998)
[MF 2] When a black woman in an insecure interracial relationship wakes up white one morning, she tests the true feelings of her unknowing boyfriend.
FIRECRACKER (2005)
[MF 7, 8 (unpublished)] Abused by his brother and his religious zealot mother, a young boy in small town Kansas copes by befriending a carnival freak show's main attraction.
G-MEN FROM HELL (2000)
[MF 4] To save themselves from their doomed fate, a pair of murdered federal agents return to Earth as do-gooders operating their own detective agency.
HEAVY METAL PARKING LOT (1986)
[MF 6] This bootleg cult fave from the VHS era, about a Maryland stadium parking lot where Judas Priest is appearing fans are gathering, is now digitally restored and uncut.
HENRY: PORTRAIT OF A SERIAL KILLER (1990)
[MF 5; Chicago] After recruiting a partner in crime, an angry, violent drifter begins a killing spree that grows increasingly gruesome and risky as time goes on.
~~~~~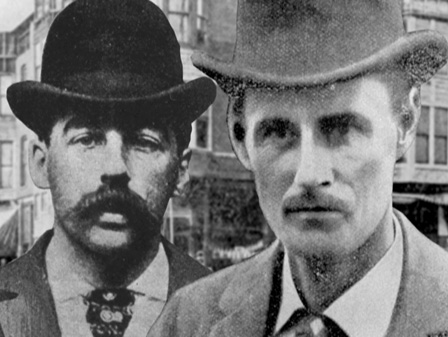 H.H. HOLMES (Waterfront Productions) Back to Top
~~~~~
H. H. HOLMES: AMERICA'S FIRST SERIAL KILLER (2004)
[MF 7; Chicago] This doc traces the horrors of 19th-century serial killer Herman Webster Mudgett, who operated a twisted Chicago hotel for his intended victims.
HOME MOVIE (2008)
[MF 8 (unpublished)] When the Poe family moves to a house deep in the woods, the twins begin exhibiting increasingly bizarre behavior, all captured on the family camera.
I WAS A TEENAGE SERIAL KILLER (1992)
MARY JANE'S NOT A VIRGIN ANYMORE (1996)
[MF 7] This double feature is a showcase of punk-spirited DIY films from the 1990s.
THE MAN FROM ELYSIAN FIELDS (2001)
[MF 5] A failed novelist's inability to pay the bills and support his wife leads him to work at an escort service where he gets involved with a rich woman.
PLASTER CASTER (2001)
[MF 4; Chicago] An artist-turned-groupie tells her incredible story with help from some of the famous rockers whose "members" she immortalized in plaster.
REFLECTIONS OF EVIL (2002)
[MF 6] A teen who died of a PCP overdose in the 1970s searches from beyond the grave in the 1990s for her obese brother dying from sugar intolerance.
RUNNING TIME (1997)
[M-S 1.3/1.4, MF 1] After serving a five-year sentence, an ex-con launches a full-scale heist to steal mob money from the prison that just released him.
THE ST. FRANCISVILLE EXPERIMENT (2000)
[MF 3] This is the found footage of what happened to a crew investigating the unspeakably horrific Louisiana LaLaurie Murders inside an abandoned plantation home.
THIS OLD CUB (2004)
[MF 7; Chicago] A personal look at Hall-of-Fame third baseman, broadcaster, and Chicago Cubs legend Ron Santo and his lifelong battle with type 1 juvenile diabetes.
TROMEO & JULIET (1999)
[MF 3] Young filmmaker, Tromeo, falls in love with Juliet, the daughter of his former partner, who tried to steal away his pornographic movie business.
WAMEGO: MAKING MOVIES ANYWHERE (2002)
[MF 7] The special 20th anniversary of this award-winning doc reveals the making of indie classic "Firecracker" and cult director Steve Balderson's process.
All screen captures and descriptions accessed at Tubi. Descriptions have been lightly edited for grammar, punctuation, and length.
[Updated 5/26/23, 6 p.m. CST]