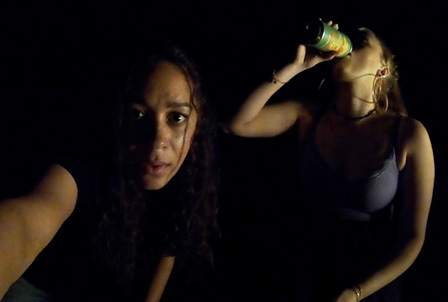 ~~~~~
Hark! Halloween arrives early as the Illinois heartland continues to percolate with feature film activity. In the latest example to emerge, a local legend wreaks havoc among a mix of film students and townsfolk in HUNTING FOR THE HAG, the first feature-length production from Into the Night Motion Pictures of Normal, and the neon-lit Normal Theater will host its premiere on Friday, May 12, with doors opening at 6 p.m. Several participants are set to attend, such as director and co-writer Paul A. Brooks and actresses Jasmine Williams, Sierra Renfro, and Alexa Maris, who will sit down for a question-and-answer session with Dr. Eric Wesselmann of Illinois State University after the film plays at 7 p.m. Into the Night promises fun and "Hag Swag" aplenty followed by a nightcap at The Coffeehouse & Deli, located a few blocks away from the Normal, where you can perk up while mingling with the wranglers of HAG.
When C-U Blogfidential last talked to Brooks in August 2021, his team was about to visit the Pontiac area for a week-long shoot. "The entire process took about two years from start to finish," he tells us in anticipation of the premiere, "so I'm excited to finally show the film in my hometown." Also appearing at the Normal are makeup artist Aleah Kraft, who will fly in from Los Angeles like Renfro, Maris, and Williams, and other crew members from the area such as actors Steve Christopher and Thomas A. Jackson. "The film has evolved from the time Sierra and I first wrote it," explains Brooks. "I don't want to give too much away but, technically, the movie isn't found footage … there's some twists and turns that I hope the audience will appreciate because it comes out of nowhere." Considering the elusive entity at the film's core, we should expect nothing less than a thicket of surprises and thrills.
Brooks and co-producer Seth Chromick relied on their personal connections and familiarity with central Illinois resources to pull together a HAG hunting party. "I met Jasmine through my job in Los Angeles. I was interviewing her and trying to help launch her acting career," Brooks remembers. "Meeting Sierra is a fun story. We spotted each other at the Egyptian Theatre in Hollywood. Both of us were new in town and just kind of awkwardly standing there, so we started chatting!" Their eventual co-star also first encountered Brooks in a social setting, as West Coast creatives are wont to do. "We were at a New Year's Eve party and connected through that," remembers Maris. "I was super stoked about the idea of heading to Illinois and filming a horror film. I was so honored to even be considered for the movie!"
~~~~~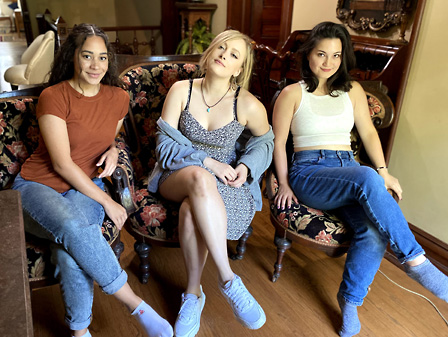 ~~~~~
Williams, who has appeared in a number of short films and episodes of television series like S.W.A.T., NOT DEAD YET, and CHICAGO P.D., took the lead role in HAG. "I play 'Tara Cordell,' a film student making a documentary about the local legend of the Hawthorne Hag," she describes to CUBlog. "Tara is naturally curious, which is fantastic because we get to learn a lot about the Hag and its legend, but also a lot about the other girls and their relationships with each other." "Beth" and "Candy," portrayed respectively by Maris and Renfro, tag along for Tara's shoot. "While curious, I think that Tara is naturally a little skeptical, so she finds herself agreeing to be placed in some risky positions," adds Williams. "Tara wants the best film possible, so she's willing to go to extreme lengths to capture the truth."
It could easily be argued that Into the Night pushed its own boundaries while making HAG on property owned by Brooks' relatives and in the forests adjacent to Pontiac. "First off, filming a feature in seven days during the hottest month of summer in Illinois would make most people nervous," exclaims Renfro, whose credits include THE LAST EXORCIST with Danny Trejo and the debut episode of a previous Brooks endeavor filmed in California, GHOST GIRLS. "However, that experience was incredibly magical and inspiring," she qualifies. "A group of artists coming together to make a story come to life under those circumstances takes individuals who are incredibly passionate, talented, and dedicated to their crafts."
Given that Renfro had a direct hand in developing HAG as a co-writer and assistant director as well as performing on screen, nothing should have surprised her … except for the cuteness. "One night, we had to hike out pretty deep into some wilderness," she shares. "We heard some meowing and saw a little friendly black cat with a scar across his face. He emerged from the darkness under a full moon and felt like our little witchy good luck charm. We named him 'Olly,' in reference to a character in the movie. He followed us everywhere, snuggled on cast members' laps in between takes, and let us love on him." Of course, Renfro won't let the cat out of the bag as to what actually happened in those woods, other than to remember that she'd rather forget all the insufferable insects on the scene.
~~~~~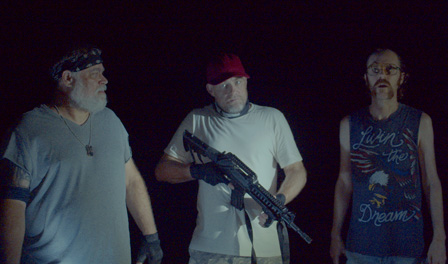 ~~~~~
Ultimately, everyone pulled their weight and survived the Hag, the guise of which has also been a closely-guarded secret. "I did help out here and there on days where my character wasn't being filmed," says Maris, who is just getting started in the film industry with a pair of shorts and the feature REBORN on her resume. "Jasmine reminded me that I had a GoPro attached to me so I technically also 'manned' a camera!" Fellow cast member Christopher offers praise to how well HAG has jelled. "[Paul's] vast experiences in central Illinois, Los Angeles, et cetera, allowed him to do this," he explains. "Since he was acting as well as directing [and handling several other jobs on the set] he needed to know the personalities would all mesh, though we hadn't worked together before." And thus, a new Midwestern rural horror was born out of creativity and determination.
Based in Peoria, Christopher has become a staple in Midwest-made indies. BAKING UP LOVE, FINDING VIRGINIA, THE SHOWDOWN, and COLLEGE DEBTS are some that CUBlog has covered previously, and recent regional fare that placed the actor in scary situations include TRICK AND TREATS, 13 DAYS TILL X-MAS, and STORY OF THE YEAR. "Besides loving the horror genre in general and the benefit of filming close to home [on projects like HAG]," continues Christopher, "I simply love these guys and the teams they pull together! [For instance] I met Jason [Huls] and Paul at a McDonald's after reaching out to them about their first film, LATE AFTERNOON OF THE LIVING DEAD, filmed in Decatur. They invited me and my daughter to join them for a BATTLESTAR GALACTICA fan film [and it's] been awesomeness on several projects [with them] since then, so say we all!"
Brooks' focus on frights and the fantastic in his various projects date at least as far back as LATE AFTERNOON, the micro-budget horror comedy directed by Huls that made its debut across town at the Castle Theater of Bloomington in 2007. "You can be more creative within those genres," says Brooks about his gravitation towards that which is the antithesis of, well, normal. "There's less limitations and less formula. I want to just get weird with it. And, horror is really hot right now, especially found-footage and experimental." Outside of commercial work for hire, his media output has clearly prepared him for imminent HAG glory: the aforementioned GHOST GIRLS reality show, several narrative shorts like BELOW DECKS and Huls' BEYOND THE BASEMENT DOOR, the podcast B-Movie Mania, and a myriad of interview, review, and unboxing videos shared to YouTube. He digs the stuff.
~~~~~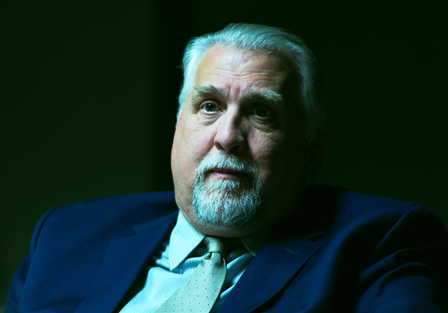 ~~~~~
No matter the thematic category, films are tweaked between the wrap of production and when a locked edit is shown for the first time at a film festival or public screening to hone their effectiveness. HAG is no exception. Apart from finessing the footage and visual effects when their funding allowed, Brooks and Chromick used the time to add value in the service of improving the storytelling. "[We] went out to Los Angeles last year [with cameraman Andre Welsh] to shoot with Daniel Roebuck and it ended up changing the feel of the film and making it a bigger, more complex story," says Brooks, who connected with the well-known actor through a mutual friend in Christopher. "I'm really glad we did that." Roebuck's many screen credits include several Rob Zombie epics like THE MUNSTERS and 3 FROM HELL; in HAG, his "John Davidson" character "shows up to help in more of a legal capacity," teases the director.
With the initial behind-the-scenes needs of HAG now in check, Brooks and the Into the Night faithful can soak up the Haggy glory for a bit at the Normal before they tackle the rest of the story. "I'm excited to find a good home for HAG and get it out there to a much wider audience," states Brooks, whose previous works have essentially been self-releases. Formal distribution is a rite of passage for film creators as well as a business necessity to cover costs and pave the way for what comes next. "I'm going to stay put for now [in Normal] and keep making movies," he concludes. "It took me fifteen years to direct my first feature and now I really want to keep that ball rolling!" Having found a willing accomplice in Chromick, who has "nine or ten different movie ideas" tacked to his own refrigerator door, Brooks clearly feels comfortable again in the cornfields after a half-decade living and working in California.
"Bringing it on home" might therefore be the subliminal message to take away from HUNTING FOR THE HAG, especially as Brooks' "film family" congregates from near and far to present their horrifying tale in Bloomington-Normal. "The premiere at the historic Normal Theater will actually be the first time I'm seeing the full film [and] it'll be such a treat to experience it live with the audience," admits Williams, who also hails from the Midwest and is relishing the return trip. "I'm most excited to be with everyone again," she says. "Los Angeles is so big that even those of us in L.A. find it hard to see each other … we bonded so much during filming and I can't wait to see everyone's sweet faces. I also have some family members in Illinois that I'm thrilled to hug!" In that respect and more, HAG is already huge for all involved.
You might want to click here and snag your HAG tickets early if you plan on attending tomorrow night. The Normal Theater is at 209 North St., Normal, and The Coffeehouse at 114 E. Beaufort St., Normal.
~ Jason Pankoke
p.s. Pass it on: #BeCarefulWhatYouHuntFor2023 #HugsForHag2023 #LovinOnOlly2023
All images are courtesy Into the Night Motion Pictures.
~~~~~