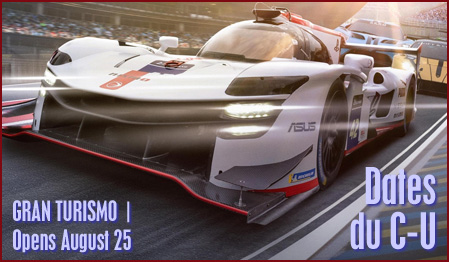 Our movie and media Calendar appears every Friday/Saturday on C-U Blogfidential and caters to the downstate region anchored by Champaign-Urbana, Illinois, USA.
~~~~~
MILESTONES | Happy Birthday to You!
8/30: John Oak Dalton (screenwriter, REEL MONSTERS, Vision Films, Marina del Rey, CA)
FIELD REPORT DU HQ | From Wherever It May Be Said
Want to hear about more stupid crap that is far worse in its implications than the stupid crap we shared in last week's Report? Well then, dearest readers, you've come to the right Calendar.
What gets our goat at present is the dangerous and blatant overreach that some quarters of our American society are constantly attempting in order to suppress or silence others. The efforts come in all shapes and sizes and the perpetrators can ascribe to any party or belief system, although the strongest push by far is clearly coming from one side of the aisle with a vengeance. I'm sure that many of you caught the news of discord in tiny Marion, Kansas, where a police raid on the assets of the weekly Marion County Record was conducted on shaky grounds and almost forced the newspaper to stop publishing. Editor Eric Meyer, the co-owner of the Record with his 98-year-old mother Joan, who passed away the day after the police also raided her home, is a former professor of journalism at the University of Illinois in Urbana and clearly knows the protections afforded the press by state and national laws. A few days after the August 11 incident, a Marion County attorney declared the search warrant, executed by the newly-hired police chief Gideon Cody, was based on insufficient evidence of alleged wrongdoing by Meyer or his staff members. Their materials have since been returned and a drive of data, illegally copied from a Record computer by Cody's department, was ordered to be destroyed. Don't they look excited?
As a one-time layout designer some 20 years ago at a weekly alternative paper that was published in the heart of Champaign, I bore witness behind the scenes to how my coworkers on the content front had to navigate issues brought up every now and then by community members, political figures, business leaders, or other local organizations about something appearing in our pages. Nobody gets everything right despite the best efforts made and it is an art form to make amends while holding one's ground as a passionate and independent collective voice, yet it was rare to see my friends work through headaches that weren't brought on by the standard stresses of the free press: deadlines, late submissions, tech issues, uncooperative sources, cash flow compromises, and so on. To my knowledge, The Octopus never suffered anything as full-scale and dramatic as a raid by law enforcement – being bum rushed by new ownership on short notice is a different kind of raid, to be honest, so we'll tuck that one away for later scrutiny – and bully for Eric Meyer as he stayed collected and did the needful things to protect his publication. Hopefully, they will be compensated and justice served in memory of Joan Meyer, who still worked in limited capacity and had been with the Record since the 1960s. An honorable record, indeed.
Don't forget that select shows at select theaters near us will cost only $4.00 on Sunday, August 27, as part of National Cinema Day sponsored by the Cinema Foundation, the National Association of Theater Owners, and others. The searchable database on the home page of the NCD website tells us the AMC Champaign 13, the Phoenix Savoy 16 + IMAX, the AMC Classic Decatur 10, the AMC Starplex Normal 14, and the Marcus Bloomington Cinema + IMAX are participating. You may want to go directly to the source to confirm your favorite venue is in on the deal, though; we found the Avon Theatre of Decatur is promoting $4 NCD tickets on Facebook even though they did not appear in a search result.
CONFIDENTIAL ALMANAC | Dates in Film Culture History
15 Years Ago … Thursday, August 28, 2008: In a fresh effort to provide timely film news in a portable format in between their regular C-U Confidential issues, Paper Opteryx of Champaign introduces The CineMicroGraph, a copy-shop title named after the act of filming life through a microscope. Numerous topics are touched upon in its 12 pages including the beginnings of both Champaign Movie Makers and Shatterglass Studios. After a shorter second issue, designed to double as a bulletin to be posted around town on message boards, CMG would be cancelled due to costs and a lack of community response. As reported on 8/23/08 at CUBlog. [R]
25 Years Ago … Week of Monday, August 24, 1998: University of Illinois alumna Melissa Fanella, a double major in English literature and rhetoric/creative writing, opens Caffe Paradiso at the corner of Lincoln Avenue and Nevada Street in Urbana during the first week of fall semester at her alma mater. Intimate and artistically decorated to affect a European feel, her shop sells an array of coffee and specialty drinks as well as pastries, soups, and sandwiches. The space is shared with a new satellite location of That's Rentertainment, which eventually moves one storefront over to allow the popular hangout and study spot to triple its seating capacity. Named after CINEMA PARADISO, the famous Italian coming-of-age drama, this Paradiso becomes a go-to location for nascent self-publisher Jason Pankoke to pour over content for the long-gestating debut issue of MICRO-FILM magazine. [R]
LOCAL FILMS & EVENTS | Support Your Media Storytellers
@ Krannert Center for the Performing Arts, UIUC, Urbana, IL
Theatrical costume and prop sale (8/26, 8 a.m.-2 p.m.)
NOW PLAYING | Champaign-Urbana Area
@ AMC Champaign 13, Champaign, IL
GRAN TURISMO, THE HILL, RETRIBUTION, WARRIOR KING (animation; English dub), BARBIE, BLUE BEETLE, HAUNTED MANSION, THE LAST VOYAGE OF THE DEMETER*, THE LITTLE MERMAID (sing-a-long edition), MEG 2: THE TRENCH, MISSION: IMPOSSIBLE – DEAD RECKONING, PART ONE*, OPPENHEIMER, STRAYS, THE SUPER MARIO BROS. MOVIE (animation), TALK TO ME*, TEENAGE MUTANT NINJA TURTLES: MUTANT MAYHEM (animation) (8/25 on), CORALINE (animated) (8/28-8/29, 7 p.m.), SONIC THE HEDGEHOG 2 (8/30, 12 p.m.), BOTTOMS, THE EQUALIZER 3, NO MORE BETS (in Mandarin with English sub) (8/31 on) *single screenings daily
@ Phoenix Savoy 16 + IMAX, Savoy, IL
GOLDA, GRAN TURISMO, THE HILL, JURASSIC PARK (2023 re-release, 3-D), RETRIBUTION, BARBIE, BLUE BEETLE, HAUNTED MANSION, THE LITTLE MERMAID (sing-a-long edition), MEG 2: THE TRENCH, MISSION: IMPOSSIBLE – DEAD RECKONING, PART ONE, OLDBOY (2003; re-release), OPPENHEIMER, STRAYS, THE SUPER MARIO BROS. MOVIE (animation), TALK TO ME, TEENAGE MUTANT NINJA TURTLES: MUTANT MAYHEM (animation) (8/25), RENÉE FLEMING'S CITIES THAT SING: PARIS (concert film) (8/26, 7 p.m.), SPACEBALLS (8/27, 3, 5 & 7 p.m.; 8/30, 7 p.m.), AMERICAN GRAFFITI 50th anniversary (8/27, 4 & 7 p.m.; 8/30, 7 p.m.), THE EQUALIZER 3 (8/31 on)
@ Redbox (streaming), Champaign-Urbana, IL
HAUNTING OF THE QUEEN MARY, MEG 2: THE TRENCH, MEGALODON FRENZY, PUPPY LOVE, more! (8/22 on) Online rentals
@ The Virginia Theatre, Champaign, IL
No movies this week!
Events featuring locally produced movies are marked with an asterisk (*). Additional "Now Playing" and "Coming Soon" listings appear after the jump!
~~~~~
NOW PLAYING | The Cities Beyond
@ The Avon Theater, Decatur, IL
THEATER CAMP, BARBIE, BLUE BEETLE (8/25-8/27)
@ The Fischer Theatre, Danville, IL
ELVIS (8/25, 7 p.m.; 8/26, 2 & 7 p.m.)
@ The Harvest Moon Twin Drive-in, Gibson City, IL
THE ROCKY HORROR PICTURE SHOW (Screen 1), STRAYS (Screen 2) (8/25-8/26)
@ The Little Lorraine, Hoopeston, IL
Private parties and "Family Movie Packs"
@ The Normal Theater, Normal, IL
THE GREATEST SHOWMAN (8/25-8/27), KILLER KLOWNS FROM OUTER SPACE (8/25), THE GREATEST SHOW ON EARTH (8/26-8/27)
@ The Onarga Theatre, Onarga, IL
GRAN TURISMO (8/25-8/27)
@ The Princess Theatre, Leroy, IL
INDIANA JONES AND THE DIAL OF DESTINY (8/25-8/27)
@ The Route 66 Drive-in Theater, Springfield, IL
BLUE BEETLE, BARBIE (Screen 1), STRAYS, THE LAST VOYAGE OF THE DEMETER (Screen 2) (8/25-8/26)
NOW PLAYING | Midwest
@ Gene Siskel Film Center, SAIC, Chicago, IL
Midwest Film Festival presents "Women and Gender Non-Conforming Filmmaker Night" (8/28, 6:30 p.m.)
For detailed and curated listings of Chicago-area film presentations and related events, please visit the fine folks at Cine-File and subscribe to their definitive "Cine-List" weekly blast.
COMING SOON | Area-wide Events
9/9
Dark History and Horror Convention
@ The Orpheum Theater, Champaign, IL, 11 a.m.-8 p.m.
9/12
Streaming release: FINAL SUMMER*
+ Cardinal XD, Burbank, CA
9/13-9/17
30th Chicago Underground Film Festival, Chicago, IL
9/16
FIELDS OF GOLD* Midwest premiere
@ Lincoln Square Theatre, Decatur, IL, 7 p.m.
9/21-10/8
41st Reeling: The Chicago LGBTQ+ International Film Festival, Chicago, IL
9/23
Route 66 Film Festival presents "Get Your Flicks on Route 66" showcase
@ Hoogland Center for the Arts, Springfield, IL, 10 a.m.-5 p.m., free
9/26
DVD release: GEORGE HARRISON: A BEATLE IN BENTON, ILLINOIS* 60th anniversary edition
+ MVD Visual, Pottstown, PA
10/5-10/15
32nd Heartland International Film Festival, Indianapolis, IN
10/2
SPIDER-MAN: INTO THE SPIDER-VERSE Live in Concert
@ State Farm Center, UIUC, Urbana, IL, 7 p.m.
10/11-10/22
59th Chicago International Film Festival, Chicago, IL
10/28
Small Press Fest 2023
@ Lincoln Square Mall, Urbana, IL, 11 a.m.-4 p.m.
11/3-11/3
22nd Route 66 Film Festival, Springfield, IL (virtual)
11/9-11/19
32nd Whitaker St Louis International Film Festival, St. Louis, MO
12/2
Krampusnacht Freeky Film Festival*
@ Phoenix Savoy 16 + IMAX, Savoy, IL
COMMUNITY & CAMPUS SERIES | Champaign-Urbana area
Illini Radio Group presents "Rewind 92.5 Movie Series"/"Mix 94.5 Throwback Thursdays"*
@ The Virginia Theatre, Champaign, IL, 7 p.m.
9/28: I WANNA DANCE WITH SOMEBODY* "sing-a-long" edition; 10/5: THE ROCKY HORROR PICTURE SHOW; 11/16: PLANES, TRAINS AND AUTOMOBILES*, 12/21: DIE HARD
Illinois Public Media presents "The Arthouse Experience Film Series"
@ The Virginia Theatre, Champaign, IL, 7 p.m.
9/15: GREENER PASTURES; 10/6: ROSENCRANZ AND GUILDENSTERN ARE DEAD; 12/1: SYNECDOCHE, NEW YORK
The News-Gazette Film Series
@ The Virginia Theatre, Champaign, IL, 1 & 7 p.m.
9/16: THE MALTESE FALCON; 10/14: NORTH BY NORTHWEST; 11/25: NATIONAL LAMPOON'S CHRISTMAS VACATION; 12/2: IT'S A WONDERFUL LIFE
~~~~~
Compiled by Jason Pankoke.
~~~~~
"Calendar du C-U"
© 2023 Jason Pankoke/C-U Blogfidential