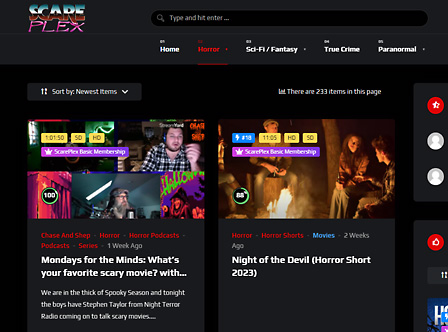 ~~~~~
Before the bell chimes at midnight at the close of both October and Halloween, we'd like to sneak in a viewing suggestion that is not like all the others from entertainment websites whose headlines have been screaming "view these horror movies and thank us later" all month long. This also serves as an extension of our Report from last week's Calendar, wherein we talked about the seasonal content being recorded and shared by our friends and neighbors, and will be of interest to storytellers and genre content makers looking for a new online home with the potential for broad reach and an active customer base.
Scareplex went live in August and is the effort of Springfield-area writer and film director Ash Hamilton who, along with his behind-the-scenes team and fellow like-minded creators, is attempting to better control his own fortunes in the marketplace. The service is testing a model for presenting and promoting niche material that encourages monetized views at price points that won't gouge users and will funnel royalties directly back to artists. "We offer complete transparency with a[n] 80/20 model, with 80% in favor of the filmmaker," Hamilton told Horror Society when Scareplex launched. To that end, earnings for the producers and licensors look to be heavily dependent on viewership, and the service is designed to cover multiple bases in the spirit of treating everyone with fairness while delivering the goods.
One can skim what's available on Scareplex without joining, although one needs to join to watch anything, and there is a decent-sized mix to sift through at the outset: creaky public domain fare, splashy Eurohorror and gritty American independent releases from the Fifties through Seventies, recognizable movies from the Eighties on, and most significant to our discussion, a fair amount of contemporary low-budget cinema as well as horror, true crime, and paranormal podcasts and programs. Customers can choose from a free tier as well as the "Basic" tier for $1.95 per month that allows access to everything apart from video-on-demand titles, the rental prices for which are set by the filmmakers themselves.
~~~~~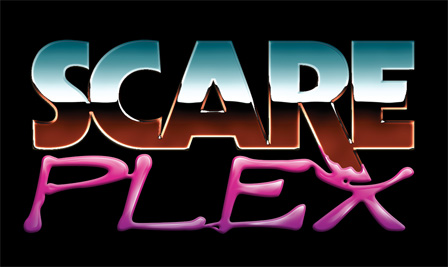 ~~~~~
Since the content on Scareplex is organized by subgenre and not era, you'll have to pay a bit of attention to the dates following film titles in order to find the modern indies, although their thumbnails and trailers are a pretty definite giveaway. (At the beginning, Scareplex isn't plagued by an excessive glut of generic frights as on a Tubi, thank goodness.) Both new and older material feels like it is hand-picked. We can recognize a fair amount of the vintage films as ones that have been restored and re-released in recent times by Vinegar Syndrome, Severin Films, Shout Factory, Kino Lorber, and other smaller labels; hopefully, it is those companies' prints that are being leased to show here. As for the future masters of horror in attendance, the potential for Scareplex to be their alternate online home is a good one.
Your humble editor created a "free" tier log-in to poke about. Apart from the visual heaviness of the home page design, the interface is very clean. Videos feature the expected playback options, credits blocks and trailers appear below the viewer, and recommended viewing results and user chats are available in a right-hand column. Advertising inserts will drop down over part of the image during play, but they only last a few seconds at a time without interrupting the program and presumably don't appear in the paid tier. Depending on how Scareplex is maintained and curated as it grows, the indies could be separated from the oldies through tags, menus, or spotlights so as to draw more attention to them. The catalog is understandably small at the outset, compared to the deep troughs of titles offered by the larger and much more established streaming services, but it's also not overwhelming for newbies to navigate manually.
One key advantage for Scareplex is that Hamilton is a bona fide horror fan and regular guy amongst the living as opposed to an automaton in a suit working up high. We've made mention in the past of his genre news and review site Horror-fix as well as his filmmaking endeavors, including the upcoming anthology F'D: TALES FROM THE END TIMES that is in post-production. Clearly, he gravitates towards friendships with boots-on-the-ground makers and voices who function independently of the Hollywood and Indiewood status quo; you can hear it in his podcast interviews including with Champaign/Chicago native Hart D. Fisher (THE GARBAGE MAN) who has been successfully running his own showcase for extreme genre content for more than a decade with American Horrors, a pair of 24/7 streaming channels. Hamilton is poised to work hard in order to connect talent and material with Scareplex as well.
If you like what you see while looking at Scareplex without being signed in, then it will be worth it to you as a consumer and a supporter of movie craftspeople who tell their strange and bloody stories without a cash infusion from the industry at large. What you see "as is" is what you'll get upon becoming a user and hopefully the selection will engage you. Ye Ed definitely found things to watch and always takes note of the local film culture quota, which in this case includes Hamilton's own alien abduction tale, HOLES IN THE SKY, a bunch of recent episodes and shorts from Chase & Shep, and a grimy-looking historical shocker made in Springfield and called POOR HOUSE that he'd never heard of before. As a filmmaker, it never hurts to check out a possibility, even if the benefits are yet to be known from a startup, and there's only one way to learn if Scareplex is a distribution option for your future horror hit that will jive.
~ Jason Pankoke
~~~~~