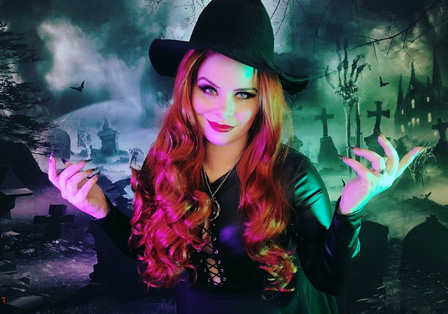 ~~~~~
Oh, the shudder. We don't know about you, dearest creatures, but the uncanny mixture of auburn hues and autumn breezes cutting through the leftover green, a rush of warm spring-like weather, and the waning moments of Halloween having expired a week ago already are leaving us feeling a bit displaced at the moment. This is accentuated even more by the fact that C-U Blogfidential wasn't prepared this year to hand out treats for your eyeballs and brainwaves as far as highlighting the darker corners of our cinematic arts. However, if you dare to read further, we may still have a few goodies left over to share.
A couple of years ago, we gave you the rundown on several micro-budget horror projects that were painting various corners of Illinois all shades of screen-blood red, and the signs are telling us to once again investigate the scary that is not of this C-U. While composing our Scareplex piece from last week, the socials teased us relentlessly with mentions of familiar names and their newest creations oozing through the mass of likes, loves, laughs, and spoopy nonsense embracing the season. Even more so, we paid attention to the different ways in which each group planned to introduce their film frights to the world as, let's face it, competition is fierce when it comes to being represented and released along traditional lines or on commercial platforms. How did these folks shepherd their work to the people, then?
~~~~~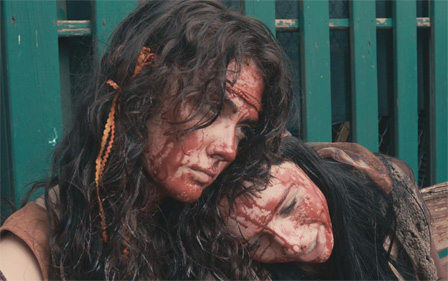 ~~~~~
We'll start with our hyper-productive bunch from the Chicago area, Acrostar Films, who've taken kindly to shooting their pictures downstate over the last three years and it's become a kind of road trip lifestyle. Director/writer S. J. Herman and producer Ann Myrna gave their fans a first look at ATTACK OF THE CORN ZOMBIES for free all day on October 31 via YouTube, an adventure in which atomic era parents and their hippie kids must contend with friends and neighbors who've been affected by a mysterious "special ingredient" added to the corn harvested for a local festival. A whole crop of regular Acro-stars appears in ATTACK such as Magdalena Conway, Jake Yanko, Mia Katz, Paige Bourne, Hope Hefner, Joe Rosing, Beth Metcalf, co-director Ashley Hefner, and the in-demand cult actress Lynn Lowry. Photographed in the game communities of Farmer City and Dewey, the flick is undemanding fun and filled with goopy gore gags, forbidden love, sunken-eyed undead, and a faded grindhouse film look.
Presumably, ATTACK will follow the lead of Acrostar's previous UFO invasion comedy, IT CAME FROM SOMEWHERE, and Gothic love story, DESPERATE SOULS, by landing either on Amazon Prime for paid streaming, Tubi for ad-supported streaming, or collectible physical media. A sequel called THEY CAME BACK FROM SOMEWHERE was shot in the same region over the summer with a larger cast and more intergalactic melodrama, while a gritty tale of unhealthy co-dependence named DISREMEMBERED was set to wrap on Wednesday, November 8, under the direction of SOULS actress Angel Nichole Bradford. Also, a fundraising campaign has just launched for SORORITY BABES, a proof-of-concept short that will lead into a full-length thriller to be made next year. Join this group to keep up with all the Acro-tivity.
~~~~~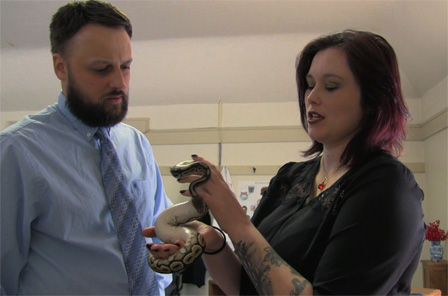 ~~~~~
Also premiering on YouTube in time for Halloween, GRAVEYARD STORIES 3 is an anthology from the Indiana filmmakers James Ian Mair and James Stevenson of Moonlight Films who have been unleashing ultra-low-budget fare for more than a decade. In the wraparound story, a pair of friends played by Katie Millikan and Jonah Fish check out a rogue VHS cassette and are lulled by the on-screen witch hostess Belladonna (Mel Heflin) into watching three yarns of terror – a late-night run goes awry in one segment, a man confesses to an impulsive murder spree in the next, and scientific goals clash with bureaucratic purse strings in the last – as weird forces converge on their apartment. Patti Danner, Deron Morgan, Autumn Hall, Tara Bixler, Jed Brian, Bri Karaszia, and Jim O'Shea lead a cast that is stacked with returning Moonlight-ers, and appearing in the concluding "Eye of the Serpent" story is George Stover, a popular casting choice for horror indies due in part to his involvement in the seminal "backyard cinema" of the late Don Dohler such as THE ALIEN FACTOR (1978) and NIGHTBEAST (1982).
Brian, who is based in southern Illinois and talked with us about his own feature, UNLISTED OWNER, has pursued a sideline by appearing in films for other producers including THEY SEE YOU, 13 SLAYS TILL X-MAS, and another new Moonlight release that was recently issued on Blu-ray by SRS Cinema of New York, FLESH EATERS. The label carries several more from Moonlight including THE MAKER OF MONSTERS, BLOOD COVE 1 and 2, and FANGS, the latter also with Brian. Even more mayhem by Moonlight resides on their YouTube channel; look closely and you'll find further Stover as well as Troma Films' irascible figurehead, Lloyd Kaufman, among the vampires, demons, slashers, mummies, and whatever else lurks within all those graveyard stories that you can enjoy in full and for free.
~~~~~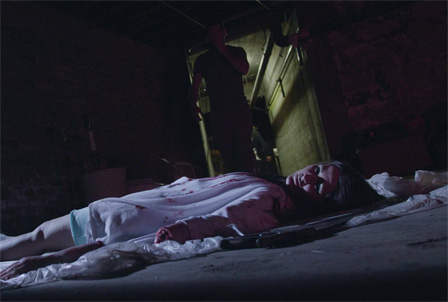 ~~~~~
We made mention in our previous piece from 2021 of a serial killer procedural, TORTURE THE FLESH, that was in progress from the crew at Cheevies Film Productions in northeast Illinois. Gauging from content available on the group's YouTube channel, this effort probably is not completed as of yet although producers Derek Braasch and Nina Trader are keeping busy. They have filmed sci-fi/horror shorts for the most recent lo-fi anthology flicks from SOV veterans Phil Herman (JACKER) and Joel D. Wynkoop (DIRTY COP NO DONUT) as well as collaborated with F. James Arnold of 477 Film Productions on GREG, JON & ME, a drama set in 1977 about two boys who want badly to see the Steve Miller Band. Catching our attention for the purposes of this survey is MUTILATION MASSACRE, a short that was several years in the making and, lo and behold, coming very soon to a theater near us.
Genre boutique label Severin Films has recently taken to sponsoring cult cinema events at the Normal Theater in league with Dr. Eric Wesselmann of Illinois State University, and the "extreme horror" program tonight, Saturday, November 11, will pair MASSACRE with a sleazy 1981 shocker, NIGHTMARE. The suburban Chicago bloodletter involves a woman played by Pamela Bender who is hunted down and tied to a tree by an unnamed man (Joe DeBartolo) tangential to her secret and sordid past. Needless to say, he wants a full confessional and she just wants to get out of there alive. It's a nasty little piece that takes full advantage of its 20-minute run time to unnerve viewers. You can preview it here on YouTube in the safety and comfort of your home, or avoid any reveals by watching this concept teaser that has no footage or scenes from the final production, while the hardy can head to downtown Normal for Severin's academic shriek show that begins at 7 p.m., um, sharp. Writer-director Braasch plans to be in attendance to discuss MASSACRE on stage and all things Cheevies with fans after the house lights go up.
Plenty of additional fear flicks are available on the respective channels of Cheevies Film Productions, Moonlight Films, and Acrostar Films if you happen to dig what they're doing, and the ultimate lesson may be there is no absolutely wrong answer on how to get one's film in front of one's fans as long as the methodology clicks. From self-release to national distribution, from a niche portal like Scareplex to the vastness of Amazon, the multitude of choices are as daunting as they are potentially viable. On our end, CUBlog has a few more horror movie morsels for your digestion over the next week or so before we finally allow the darkness to dissipate in anticipation of that bright and sparkly holiday season just ahead. Be on the lookout for our next posts on Ten Wing Films' THAT DAMNED YELLOW RAINCOAT, Gray Sky Pictures' THE WOODMEN, and a few more freaky films that were filmed much closer to the C-U.
~ Jason Pankoke
p.s. At the last minute, we learned the aforementioned FLESH EATERS will premiere tonight at 8 p.m. Central time on the YouTube channel Kings of Horror as a free stream. Click here to check it out!
~~~~~