"If You're Going to Shoot, Shoot … Don't Talk"
An interview with Alaric Rocha of MERRY CHRISTMAS!
by Jason Pankoke
Those of you who've trolled C-U Blogfidential at least a few times understand that its intended reach extends well beyond Champaign-Urbana, although I wonder if filmmakers from other downstate cities – or even Chicago, St. Louis, and Indianapolis – might dismiss it as "not about them." One friend of CUBlog has suggested I launch a portal site under a name bluntly referencing the geographic area that I service. From a business perspective, it's a valid consideration, although I've published this local coverage under "C-U" something-or-other for long enough that I'm not so willing to ditch this "confidential" identity. CUBlog is based in C-U, after all, and the outlying neighbors are always welcome to join us on virtual and literal common ground.
Alaric Rocha did just that in 2004, when he staged a C-U screening of his made-in-Decatur, Lewis Carroll-by-MTV rock fantasia STOP ALICE at the now-defunct Verde Gallery. I presume he booked this show in addition to a formal premiere in the Soy Capital around the same time; what self-respecting filmmaker wouldn't make every effort to play his or her work outside of their everyday digs? My curious observation here is that Alaric willingly did something that I've rarely seen other downstate Illinois artistes do – show their cinema in a downstate Illinois city other than their own. Is everybody so wrapped up in their personal Big Pictures that striking up an audience or community across the immediate region is too much of a bother?
Even though Alaric migrated to Champaign County soon afterwards, he obviously keeps an eye out for potential resources that will help him make the best Blue Bassoon Pictures possible, regardless of location. The recent comedy MERRY CHRISTMAS! drew personnel from Chicago, Danville, Decatur, and Bloomington-Normal, even though he shot exclusively in Champaign and Urbana, while the upcoming short FLIGHT 1071 will involve some location shooting in Indiana. It's nice to see Alaric keeping it real by keeping it regional.
Please join us in humming a little tune for bassoon, won't you?
Read on, MacDuff…
Jason Pankoke: It's our pleasure to talk shop with you for the fourth-ever original interview for C-U Blogfidential! The holiday season wrapped a few months ago, yet we should begin by heralding MERRY CHRISTMAS! since that is the title of your most recent completed project. How did things go for you at the movie's mid-December premiere on campus?
Alaric Rocha: I thought the showing went very well. There was a fair turnout, and not just people who were involved with the film. Thanks to everyone who helped promote [the show]! I was especially happy with the turnout [considering] the location and time. It was difficult to find a venue that cost within reason and had a decent time slot to offer. Savoy 16 will show your movie, but only at 10 a.m. on Saturday. At Boardman's Art Theatre, it depends on what else is showing, and the Virginia Theatre is very expensive. But Lincoln Hall (on the University of Illinois campus) is a nice space and, if you get the word out soon enough, you can get a decent time.
JP: The university is a bounty of potential resources if you know where to look and whom to ask. I'm sure that, because they are an academic institution, it's probably not the greatest protocol for them to aggressively pimp resources to the public for commercial purposes. You can sometimes partner with schools or on-campus groups to the benefit of all involved; otherwise, rentals can be arranged on space availability.
XMAS! is your first "made in Champaign-Urbana" film, I believe. Because I've visited the Soy Capital enough, I didn't have any problem picking out several Decatur backgrounds from your prior film, STOP ALICE. Has the switch in neighborhoods aided or abetted your filmmaking efforts, or has it been business as usual?
AR: I would say business as usual. Whatever the script calls for is what I look for. Story comes first. I don't find a location and then try to write a script that'll utilize that location, or actor, or special effect. I was lucky with XMAS! [in] that my own home worked for most of the shoots.
I recently did a trailer for a horror movie that took place on a camping trip. The best location for that was my parents' home in Decatur. Their backyard is nice and forested when you look one direction [as if] you're out in the woods. Turn around, and there's the house with power outlets, heating, and warm food that my Mom made! So, whatever the script calls for, that's where I go.
Champaign-Urbana is more used to films being made in the area, so getting permission and explaining what I want to do in bars, restaurants, etc., is a little easier. However, every time I've explained what I want to do, everyone has been excited to help. In Decatur, a family let my crew invade two floors of their house for three days! Of course, I've never had a budget to shoot too far from home, so that does limit my script ideas. I can't write something that takes place in the mountains or near the ocean.
JP: It also looks like you were able to draw talent and crew from both Decatur and Champaign-Urbana for XMAS! Several of your key assistants and your Director of Photography are/were from C-U at the time XMAS! was produced. How did you go about gathering together your personnel, once you settled in the area and then settled upon a script?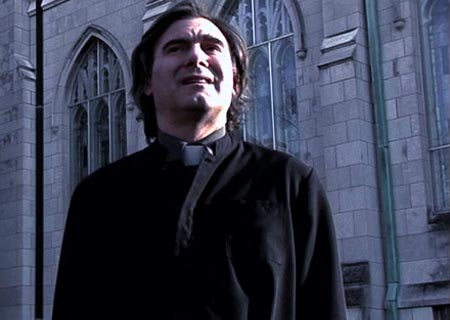 AR: I met Mike Trippiedi at Prairie Production Group where I work [in Champaign]. Mike had many connections to the local talent. Leila Ramagopal was in STOP ALICE – I found her through Parkland College where I posted a casting call – and she introduced me to James Schirmer, who was also a Parkland student and, during [the making of] XMAS!, a student in Bloomington. Leila also introduced me to John Dowers, who worked with her on [the Danville independent film] SHOW.
My crew was made up of people I knew through Dreamscape Cinema productions that I helped out on; the trick to getting a complete cast and crew together is posting ads on the Internet at Craigslist.com, MySpace.com, etc., and around town [such as] in the newspaper. This way, you open up your circle of contacts, too. Working on other filmmakers' projects is excellent, though; you really get to know the people, learn if you can rely on them, see what they can do.
JP: It's great that you were able to include Mike as the well-meaning pastor with an unfortunate case of the sniffles. He's been a filmmaker for many years, of course, even though it's been a few since his last project. He also published what probably was the first independent Champaign-Urbana movie publication, Backyard Cinema, to which CUBlog and MICRO-FILM are spiritual descendents.
AR: Mike is definitely a good person to know and an asset to the area.
JP: Right on! As for the result, I think that XMAS! is easily your strongest narrative to date. It's not as elaborate an experiment as STOP ALICE, but its sum merit is a direct outgrowth of you understanding how the characters would act and react, given their absurd scenario. I'm curious as to what inspired the story and how you decided to use the time-shift sequencing that you did…
AR: To tell the story of how I got the idea for XMAS!, I must tell the ending. I feel the movie makes its fullest effect when you don't know the ending so, readers, be aware of that before continuing…
I love the fall, and every year I'm inspired to shoot something during that time. You may remember [back in 2005, when] I tried to start a Halloween film festival – complete with prize money – in order to appease my fall movie urges! However, the plan fell through and it was too late to start my own fall movie. So, I decided to do a winter scary movie.
The first thought that comes to mind is an axe-wielding, killer Santa Claus. However, I thought it might be refreshing if Santa was the hero rather than the villain. So, I had my ending!
I then came up with the assassins. I was thinking of them [in terms of a situation in] Sergio Leone's THE GOOD, THE BAD, AND THE UGLY, where Blondie (Clint Eastwood) knows the name on the grave and Tuco (Eli Wallach) knows the name of the cemetery. [In my movie] one assassin knows what house the engagement ring is in and the other knows in which present to look for it. This idea was still in [the final version of] XMAS! but not as prevalent as I originally thought. As I tried to develop the story that way, I kept adding other characters that were also after the ring. It turned into a darker IT'S A MAD, MAD, MAD, MAD WORLD. Many of the characters I added came from a movie I made in college called AS FLAMES SHOT FROM THEIR EYES, so I used that to help me develop and give these characters more depth.
Sometimes, I like to look to classic movies for character names. I decided on "George Bailey" [the iconic Jimmy Stewart everyman from Frank Capra's IT'S A WONDERFUL LIFE], and then got the idea to use the name "coincidence" even more in the script. All the other characters came from WONDERFUL LIFE and the Alistair Sim and Reginald Owen versions of A CHRISTMAS CAROL.
JP: I'm glad you brought up MAD, MAD WORLD as an influence, because that makes perfect sense and addresses the gulf between how the great entertainers in that movie (Sid Caesar, Phil Silvers, Milton Berle, etc.) carried it while so many contemporary ensemble films seem populated with "types" instead of fleshed-out personalities. At the least, XMAS! draws relatively distinct characters – if broadly so – with whom viewers can empathize when not chuckling along to their bumbling.
AR: Thank you! I actually felt bad for [lead actor] Greg Wolf because his George Bailey was the only character that didn't have an outright, obvious personality to latch on to. I knew exactly what I was looking for in every other character, but George was more of a means to bring them all together. "Bess Carver" [played by Cara Maurizi] was even more so, almost like a prop for George.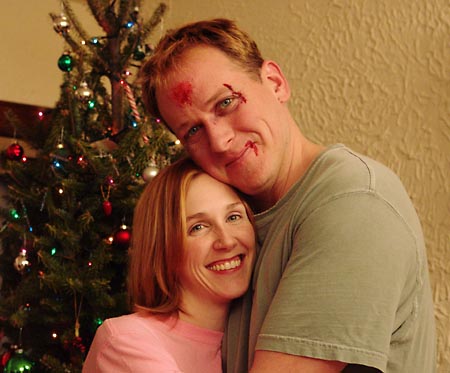 I'm not sure when I decided to tell the story non-linear, [probably] very early on. The idea of opening the movie with everyone standing off with each other appealed to me. I wanted to draw the audience in by starting with George and his past, then the guns at his temples, then all the other characters, and hopefully keep the audience on the edge and wondering what the story is behind each of them. If I told the story chronologically, we would not have been on edge because we wouldn't be curious about the characters since we haven't met them yet. The ring really isn't enough to carry the story either; it's more of a MacGuffin. Of course, I have to admit that the non-linear style and a lot [other aspects] of the movie were also inspired by Quentin Tarantino.
In the end, I think the movie's goal was to spread a little Christmas spirit to those "scrooges" out there! If I may say so, I still get tingly when Santa appears at the end.
JP: I think that XMAS! accomplishes this. In fact, the humor is often dependent on when each character's "reveal" happens. I'm sure it was a trick to make sure that the audience became privy to the details before the punch line, not afterwards, but also to not blatantly slam home every character nuance and risk detail overload.
We've talked before about how you felt the need to trim down XMAS!, which I believe clocked in at around 50 minutes at one point. This, as many editors, directors, and film critics know, often comes at the expense of character development. What were your greatest challenges in shaping its final form?
AR: I think it was the assassins and Bess who lost most of their character development. I had a lot of sibling rivalry going on between the two brothers and more slapstick kind of humor. I think this all still came across, but not so obviously. I took some of the lines of dialogue from these scenes I cut and just added them [back in] almost as background noise. Bess had a flashback intended to show us why George loved her so much, trying to reel in the audience emotionally. However, I decided it was enough just to know George wanted to marry her. We didn't need to know why or to be convinced. The story wasn't about them so much.
Every character lost a little bit of development but, for a short, I learned it's important to tell just enough. Audiences deserve more credit. You don't have to keep hitting them over the head with the same idea to make it clear. Terry Gilliam is one of my heroes; he believes that obstacles should be embraced and not feared. He said, "I often feel my ideas are mediocre until reality intrudes and improves them." The classic example is the coconuts bit in MONTY PYTHON AND THE HOLY GRAIL. They couldn't afford horses, so…
In my case, reality meant that 50 minutes is too long for a short movie; 30 minutes is even stretching it. But, rather than fighting for the 50 minutes, I was happy to see what I could do to shorten the movie and it came out much better, of course!
JP: I think that there's an unfortunate stigma regarding run times of movies, given marketplace considerations outside the Internet, which often encroach upon an editor's decision-making – especially if money-wranglers are hanging over said editor's shoulder.
It sounds like you were actually gunning for the final run time that made the best sense for XMAS! itself.
AR: Yes, it is frustrating that 25 to 60 minutes is a "bad" length for a "short." I like to think the movie should be as long as it needs to be to tell the story. However, in most cases, I found that making it shorter is better.
JP: One last thing I'd like to touch upon with XMAS! is its production quality. The look of the photography is very pleasing and much more consistent than in STOP ALICE, while the music cues feel appropriate and you obviously have a good understanding on how to handle graphics and titles, from your font selections to that "blowing snow" wipe seen throughout the film. I'd like to find out what base equipment you used to shoot XMAS! as well as to finish post-production, and how you've learned the technical part of your trade.
AR: Thank you. I think a big part of it is having a crew that has even some experience; many on XMAS! had a lot of experience. I was training everyone on everything with STOP ALICE and most of my prior movies. Anything I make now, I have decided that I will need a more serious budget to hire at least some professionals or I will make very, very short films that I can take my time on and control everything myself.
The equipment makes a big difference as well. We used a Panasonic DVX100 for XMAS! and a Canon XL2 for mop-up shots. I was told to never buy a camera because they continue to improve too fast. I bought my XL2 less than a year ago, and I'm already wondering about trading it in for a High-Definition camera. HD equals higher resolution, which allows for a better film transfer, the ability to do green-screen techniques, and more!
The XL2 and DVX100 were a step up from what I once had, with the 24p mode emulating what a real film camera does by capturing 24 single image frames per second rather than 60 frames interlaced as in other cameras. The native 16:9 widescreen ratio also made [my footage] feel more like a movie. Looking at the two back-to-back, you can really see a difference.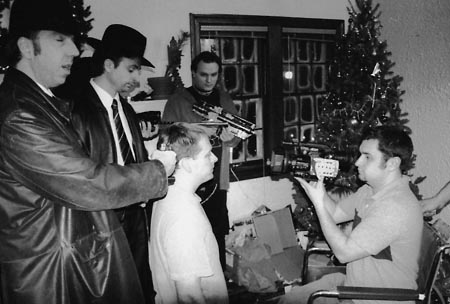 The color correction in Final Cut Pro 5 is very helpful and something I had [available for] XMAS! as opposed to the FCP2 I was using. It allows you to have great control over the brightness and the darks. You can make very specific adjustments to particular colors [and] change the tone of the scene – [adding] more blue, desaturation, warmth, etc. – which you can do in earlier versions of FCP but not with as much control and ease.
The rest is from simple things I've known from the beginning but only now have started to take seriously [such as] using a tripod. THE LAST PIZZA has a shot in the beginning as the car pulls up; it was up high and I didn't have a tripod tall enough, so I was lazy and put it on my shoulder rather than getting a table!
JP: Interested readers can check out the XMAS! DVD available for rental at That's Rentertainment in Campustown. Among other things, the disc features the aforementioned AS FLAMES SHOT FROM THEIR EYES, which I just had to watch from the title alone. That's a very strange little movie, Alaric. [Laughs.] However, I did like its non-sequitur, loony-bin nature and found interesting the prototypes of whom we know as assassins "Tupper" and "Jorkin" in XMAS!
AR: AS FLAMES was definitely just for fun! It was my senior year [in college] and my friends and I just wanted to get together and make a movie. We wrote the script by writing three lines of dialogue independently of each other and then drawing the lines out of a hat.
JP: I like it when filmmakers challenge themselves. Even if the challenge itself seems very cut-and-dried, it's a whole other ballgame to translate that into something interesting to watch. Now, at the college or high school that you attended, did you have opportunities to learn video-making in the classroom or did you just "make stuff" on the side?
AR: My brother and I did some stop-motion animation when we were in middle school and high school, using a camera my Dad had from the college he worked at. My brother actually got me going. He was more interested in movie-making [at the time, and] I was into the music. He continued to do more stop-motion than effects and now goes to school in California for 3D animation.
In college, there were only two or three film studies courses. The only training I got was in London. When I came back, I started a movie-making club at my school, Lawrence University, and made some movies with my brother like THE LAST PIZZA over the summers (in North Platte, Nebraska!). As far as I know, they did not continue the club and have not done much to move into film, although Jeffrey Jones (FERRIS BUELLER'S DAY OFF) and Campbell Scott (MUSIC AND LYRICS) both went to LU!
JP: Well, I guess you'll have to work those alumni connections once you start approaching "name" actors to star in your movies!
I wanted to go this direction because, as evidenced by some of the Blue Bassoon screeners I looked at, you've made what could be termed "educational videos" and have also taught high school and college-level classes on filmmaking. What is your personal interest in doing this, and has your parents' careers in higher education influenced you in taking this direction?
AR: I think I first became interested in teaching movie-making because it was so hard for me to teach myself without anyone guiding me – and, of course, the money! Bob Doyle at Panico Films was a real mentor to me and Club Panico, now a part of the London Film School, was really his baby. I try to emulate my teaching style and syllabus after what I did in that course. I've also found that my intense passion and joy for movie-making and movie-watching really seeps through into my teaching and makes my students happy and excited. It's really a place where I can be myself and get paid to be myself!
As far as making educational videos, I'd have to admit that is just one of the things I do to make money in this field [along with] commercials, corporate videos, etc. I try to make all the videos entertaining like the one you saw, which was more of a music video in a way.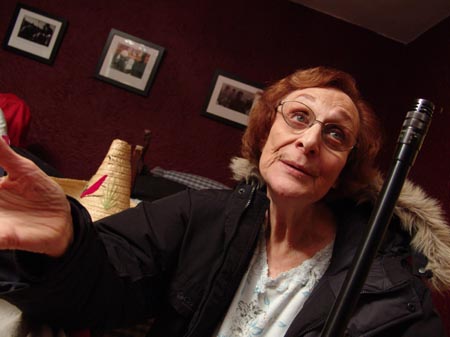 JP: On the other hand, I know you've been searching for your own opportunities on others' narrative projects, and not just locally. What are you looking to do and hoping to learn in this capacity?
AR: I've been advised by friends that in order to further my career, I need to work on bigger-budget productions. I'm also interested in DPing some projects so I can have the fun of just filming and not organizing! Plus, networking and trying to give back and help some other filmmakers.
I've been looking around to do a music video for my demo reel, which I enjoy because of my background. They can be nice little projects and I feel it's still a genre with lots of room for growth. Michel Gondry and Jonathan Glazer are two music-video (and movie) directors who I admire for their different approaches rather than just advertising the bands, which you see so often.
JP: Let's talk a bit about the Tripod Films trailers, which involved the use of your parents' backyard as you mentioned before, and the creative challenge you had in whipping those up right quick for the Chicago-area producers, Michael and Jeff Wolinski and Shaun Fox…
AR: That was a lot of fun! They just gave me the synopses of their scripts and I wrote about three different ideas for the trailers per script. We mixed and matched and came up with the ones you saw. After watching some of their other films [including DRAWING BLOOD and WITCHCRAFT 13] I felt I knew the style they were going for – gore and sex! So, I put that in whenever I could. Making them was a lot of fun since it allowed me to take full advantage of the XL2 and FCP in the ways I mentioned earlier. Since they are nice and small, I was also able to take my time and really control everything – lighting and shots – without a huge crew and days of shooting. I'd like to do more small stuff like this.
JP: One project that you partook in last year, which also provided you with a direct look at the making of a local movie outside of your own, was shooting behind-the-scenes footage for Mark Roberts' WELCOME TO TOLONO, based on his original play. What was this experience like?
AR: I actually find it difficult doing documentaries. They seem counterintuitive to me, going out and filming as much as you can and then sorting it out later rather than having a word-for-word script and filming just what you need. However, while filming and doing interviews for TOLONO, things really seemed to fall into place and I had lots of ideas. I'm still working on the project, though.
JP: How much direction did they give you, and what ideas do you have as far as piecing the material together? I've heard that Mark was really interested in capturing the quaint small-town aura of Tolono, at least for exterior material that will presumably bridge the church basement scenes in the feature…
AR: I was given pretty much free reign on the documentary. The only guidance was that they wanted it more on the town, not the movie. So, I'm going to start with some history of the town, introduce the people and then move into the movie itself and its effect on the town. It won't be a behind-the-scenes kind of movie. Mark said it was important to him to have [TOLONO] filmed in the real town, and wanted everything to be and feel real.
JP: Were you present for any of the actual TOLONO filming?
AR: Yes, I was there whenever I could. I started as an assistant cameraman (AC) and then moved to the documentary when Sam Ambler took over AC. I'll admit that I have not been on too many big-budget sets [although] this was probably the most professional. Most of us were still beginners and just excited to be making a real movie. That had to be my biggest impression, all these actors and filmmakers who were just excited to have the chance to make a feature movie with a real crew and decent budget.
JP: Considering the pre-filming hoopla, we can only wonder what kind of fever pitch we'll have in the coming months when Mark's third original play, Parasite Drag, and TOLONO both premiere in C-U. I'd think you'd agree that we can also hope this interest is a harbinger of good things to come for local movie-makers and their future projects, and that "the locals" will consider these activities worth their interest and time.
AR: Yes, I agree. I am currently contemplating my future as a filmmaker. Should I continue here, or move on to Chicago or grad school? I have some ideas for features I'd like to do that would work well here.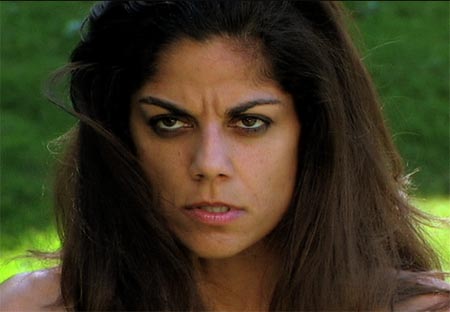 JP: We should probably talk about your next movie, then, a dreamlike short called FLIGHT 1071. You're currently in the pre-production stage and obviously not one to let time go to waste…
AR: I've had my "airplane movie" in mind for some time now. However, I haven't moved ahead with it for two reasons, the first being the practical – it has scenes in an airport and on an airplane. I decided to just ask around a bit and see if it were possible to film in a local airport. I also asked around about the cost of building a set for the airplane scenes, thinking maybe I'd film the movie when I had enough money to have the set built.
McGuire Scenic, Inc., of Indianapolis called me back, ready to prepare a quote, but also mentioned they had an inside connection to the Indy airport [meaning they could help] get me on a DC-10 during a maintenance check! We are still working through the red tape, of course, but once I found out that I could film on a plane – and Willard Airport [in south Champaign] is more than willing to let me film there [for other scenes in the script] – I felt I had to move forward! [An exhibit at the Grissom Air Museum near Peru, Indiana, has since been selected for shooting the "on board" scenes. – ed.]
The second reason I've been waiting to film this project is that it is a serious subject matter. In the documentary HEARTS OF DARKNESS about the making of APOCALYPSE NOW, Francis Ford Coppola said that the most fearful thing for a filmmaker is to come off as being pretentious and with a serious subject matter, if it's not "perfect," then the film will come of as being pretentious [as well]. The first movie I made was a drama, and it was bad and pretentious! (It was my first one, though.)
This story [for FLIGHT 1071] could easily turn sour, corny, silly, obnoxious, etc. However, I feel I've got the script just right. We're filming on High-Definition and I'm collecting a good crew. I think I'm ready to move forward with this "serious" project. If it comes out bad, at least it was only a short!
JP: That is true. However, I'm sure that it is in your best interest to make the most fantabulous movie possible with each new project, so good luck to you and your "flight crew" on this one!
It does beg the question as you proclaim FLIGHT 1071 a "serious" project … what about Pilly?
AR: Fitting Pilly into my new "serious" project? Hmmm … I suppose he could be a plane pillow!
["Pilly," a repurposed pillow with Bauhausian facial features, starred in three early Alaric Rocha shorts that comprise something called "The Pillogy." Don't say you didn't see that one coming. – ed.]
JP: Excellent! I'm sure he'd appreciate the gesture. Anyway…
I presume that "Blue Bassoon Pictures" has been your company name since before I met you at the STOP ALICE show in downtown Champaign a few years ago. How did you settle on this unusual choice?
AR: The Blue Bassoon title came about from [an early short called] PANDORA'S BOX. It was based on a dream I had where there was a mysterious book and on it was the imprint of a blue bassoon.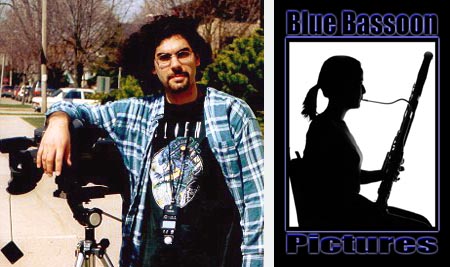 JP: That instrument is now imprinted on each of your productions as a classy black-and-blue logo. Ultimately, what do you hope audiences will experience every time they see an Alaric Rocha movie trail behind that bassoon?
AR: Alfred Hitchcock said, "Some people make slice-of-life movies, I make slice-of-cake movies." I like that!
My goal is to provoke an emotional reaction, whether it's to make people scream, laugh, or cry. One of my happiest moments was when I was watching one of my scary movies with two ladies on either side and they both jumped and grabbed onto me – "Ahhhh!!!!" That was great.
I put most of my efforts into the script. Too many movies rely on special effects or cheap gore. Even if I make a horror movie, I try to think about story intellectually. I also try to think intellectually about the cinematography. The style of shot can be scarier than a bad shot of blood pouring out of someone's eyes! Look at THE HAUNTING (1963) – no blood, but creepy as hell!
I have to admit, at this point I feel like I'm still searching for "my voice." Terry Gilliam is into imagination and childhood, Woody Allen is into relationships and sex, Michel Gondry is into rejection, etc. I don't feel like I've settled on an idea I feel strongly enough about to devote my movies to. Not that I think one should devote every movie to a single idea, but I think it takes more than one movie to solidify.
F I V E & O U T
Tell us, Alexander "The Axe" Marcelino:
• What you've made:
VISUAL COUNTERPOINT
THE LAST PIZZA
PILLOW TALK
PANDORA'S BOX
HELLEVATOR
PART IV
EYES
   video art installation
37th ANNUAL GREAT MID-WESTERN TRIVIA CONTEST
   documentary
THE CUP THAT SMELLED
THE STORY OF MEGAN
COLD STORY
GRANDPA ROCHA
IN THE NIGHT IN THE DARK
STOP ALICE
CIRCLE DRIVE
I THINK YOU'RE FUCKING STUPID!
MERRY CHRISTMAS!

Also –
Commercials for Richland Community College, Decatur, IL
International Harmony Video series for University of Illinois
   at Urbana-Champaign
• Which do you like best – film, video, or digital:
I think each has their place. Film is the ultimate, of course, but I wouldn't have so many movies under my belt if it wasn't for Digital Video! The new HD and 24p technology is a big help, too. However, I've shot on DV 60i and people ask "Wow, was that 24p?" I shot MERRY CHRISTMAS! on SD 24p and people (including filmmakers!) asked "Wow, did you shoot on HD?" Plus, plenty of very successful movies have been shot on smaller video/DV cameras. I think it just comes down to story! Whether or not you want to use film, video, or digital is an artistic choice.
• Where is your geographical preference – Decatur, Champaign-Urbana, the UIUC campus, or beyond city limits:
All have their attributes for filming locations. I like Decatur for its industrial sites. Champaign-Urbana has some nice downtown areas, and business owners have all been extremely supportive and helpful in letting us work [in their establishments]. UIUC also has some beautiful locations with the unique architecture of its buildings. I want to try shooting in Chicago, but I'm nervous about more rules and people being stricter about filming.
• Who or what interests you in the realm of contemporary filmmaking:
Terry Gilliam (TIDELAND) and Michel Gondry (THE SCIENCE OF SLEEP) are my favorite contemporary directors at this time. I believe in many of the same things Gilliam does about filmmaking (and life in general), such as seeing the world through the eyes of a child and the importance of imagination. Not only that, but its power to keep us alive. For his filmmaking technique, I like his philosophy that obstacles are opportunities, not problems.

I feel Gondry has similar ideas as Gilliam and will continue on in that style. I also admire both of these directors because they use classic filmmaking techniques and do not rely completely on CG. I much prefer the look of [Gilliam's] TIME BANDITS and THE ADVENTURES OF BARON MUNCHAUSEN to the LORD OF THE RINGS trilogy. Don't throw anything at me, though. I still love LOTR!
• Apart from your own movies, the one underappreciated gem that you think people should bend over backwards to check out is:
My top five movies are CASABLANCA, CINEMA PARADISO, SCENT OF A WOMAN, THE THIRD MAN, and THE GODFATHER. Of those, I suppose THE THIRD MAN is the most unknown. Another hidden gem would be ERÉNDIRA, a bizarre and interesting Mexican film from 1983. Oh! THE PICTURE OF DORIAN GRAY from 1945. George Sanders is great in that and the actual portrait used in the movie, the one of Dorian's evil aging soul, is in the Art Institute of Chicago. It was painted by Ivan Albright.
Interview conducted January-March 2007 via e-mail.
All MERRY CHRISTMAS! photos courtesy of
Alaric Rocha/Blue Bassoon Pictures.
Web Source: Blue Bassoon Pictures [http://www.bluebassoon.net/]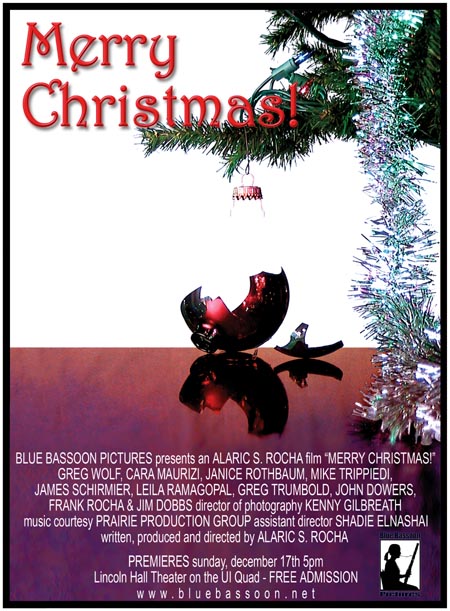 CUBlog Interview No.4 © 2007 Jason Pankoke