At long last, the first peek at Dreamscape Cinema's new series STILETTOS has found its way to the Internet, taking a dialogue-free look at the scheming of Chelsea Simone (played by Nia Gregory, below right), a mob boss' daughter allegedly doing business in a college town away from the well worn, big city turf. Along for the ride are sharp-tongued Brianne (Christiana Forsberg, below left) and inquisitive Ashley (Sierra Peters, below) who seems to be the one not like the others, but why? We'll have the answers once Dreamscape serves up the Webisodes and related faux documentation, such as this abbreviated site featuring the preview.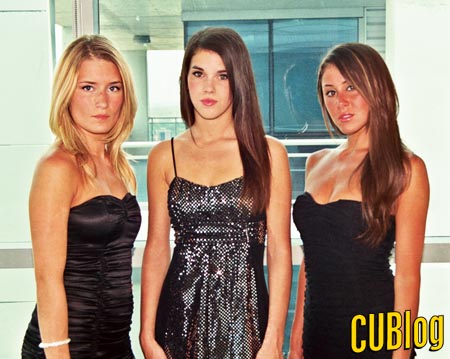 Director and producer Robin Christian, who filmed the entire story during summer 2009 with dozens of volunteers as well as interns from the University of Illinois and Parkland College, tells C-U Blogfidential that STILETTOS will be made available on several hosting sites to be announced soon. We've also received covert hints that Christian's prior project, the feature thriller DISPOSABLE starring Skye Peters as a foster home teen plagued by murderous scam artists, will be completed soon while another Dreamscape effort may go before the cameras later this year.
Per the usual, we'll tell you what we know when we know it … unless Chelsea's people pay a visit to the Secret MICRO-FILM Headquarters and strongly suggest otherwise, if you know what we mean.
~ Jason Pankoke