Why do the intrepid cub reporters stare so quizzically at the evidence produced by our lovely young explorer?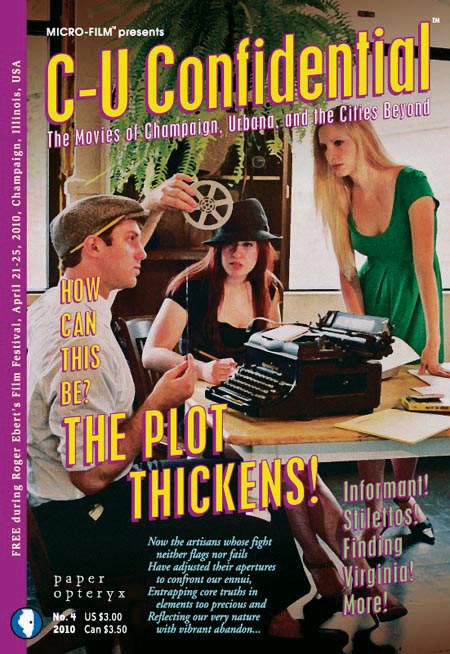 We trust that there is no mystery as to why you, dear readers, will seek out the answers ensconced within the next unbelievable issue of C-U Confidential! Be among the first to get your copy tonight, Tuesday, April 20, for FREE during the final show of the New Art Film Festival at the Art Theater in downtown Champaign. You can then expect to find complementary stashes on the merch table in the East Lobby of the Virginia Theatre during the twelfth annual Roger Ebert's Film Festival beginning tomorrow, Wednesday, April 21, as well as at drop spots all across Champaign, Urbana, and the cities beyond!
Once you have finished pondering the quandary faced by Julie McCormick, Thomas Nicol, and Laura McQueen on the cover, you will encounter never-before-seen stills from the set of the student lab production STILETTOS and a review of Steven Soderbergh's THE INFORMANT! as well as an excerpt from our Chicago indie film column "A Knife in a Gun Fight" by Michelle Kaffko and an exclusive print-only article about Pounded Pavement Productions' feature FINDING VIRGINIA, directed by Thomas C. Card and filmed in Decatur. We also take a roll call of downstate Illinois film activity, reprint five key postings from C-U Blogfidential, and go back in time to look at the early décor of the Secret MICRO-FILM Headquarters!
Finally, we formally announce in CUZine 4 the upcoming fall publication of C-U Confidential '99, but you will have to read the former to get the scoop on the latter! See you 'round the C-U this week and make sure to come back shortly as we resume regular posting on CUBlog!
~ Jason Pankoke
p.s. It was real important that we reel in advertising from the following: The Art Theater, Bachelor Pad Magazine, Central Illinois Film Commission, Champaign Movie Makers, Illini Film & Video, Jason Lindsey Photography, Kill Vampire Lincoln Productions, Michael Wiese Books, Predestined Arts & Entertainment, Roselawn Productions, Route 66 Film Festival, Shatterglass Studios, Sleepy Creek Vineyards, and That's Rentertainment/Parasol. We cannot unspool the Confidential that we do autonomously!
[Updated 4/20/16, 8:40 p.m. CST]