From July 1, 2007:
Article in Champaign newspaper The Daily Illini previewing the impending production of the "80's throwback action movie about a homeless vigilante/superhero," THE TRANSIENT, produced by Chris Lukeman and Anne Shivers.
~~~~~
Editor's note: Okay, so I've been a little slow … not just in posting the article link above, but in general reporting about "the new one" from the core UIUC students and alumni responsible for THE UNIVERSITY OF ILLINOIS VS. A MUMMY. At some point I'll lay down original C-U Blogfidential coverage of the flick, including a colorful gallery of exclusive on-set photos, but for now I'll rely on the DI coverage to divulge the basics and encourage area talent to contact Mr. Lukeman if interested in helping as extras or additional crew during the remainder of the shoot. In fact, to entice your participation – and otherwise prove that THE TRANSIENT is indeed loose – let's take a sneak peek at our heroes, the Transient (Dave Ruthenberg) and Steve (Blake Stubbs), in hot pursuit of the resurrected vampire Abraham Lincoln: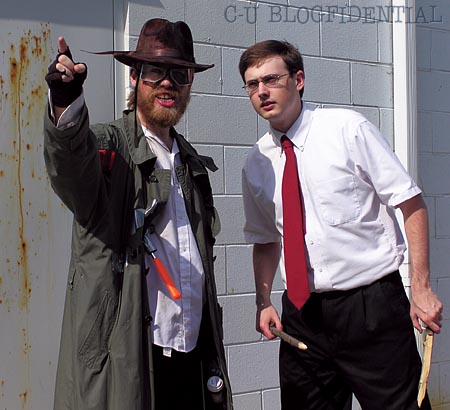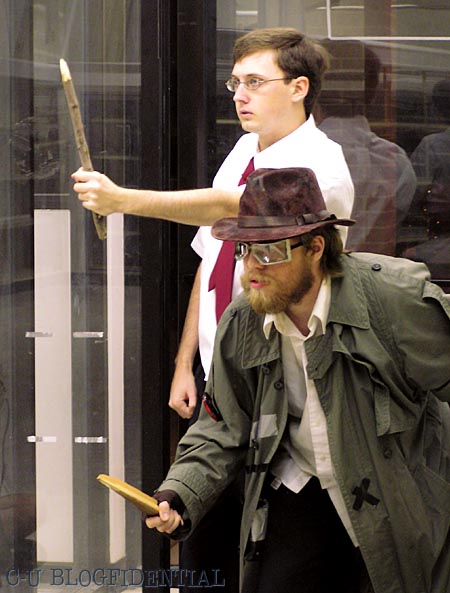 Although it might look questionable at first glance, these oddball buddies do possess the wherewithal to kick Eighties-era ass. A procession of lowlife boyfriends, street punks, and vampires will talk to the hand of the Transient, according to the draft of the script I've read, and it sure as heck will leave a few extra marks on the sidewalks of Champaign-Urbana. I will say that the attention to costuming for this project is a few steps above the average student film, which leads me to announce an impromptu contest! The first five readers who can e-mail your editor right now and tell me the name of the actor and movie that inspired Mr. Stubbs' wardrobe will receive a free copy of C-U Confidential #1 (see item: 4/15/07) through the mail. Good luck!
~ Jason Pankoke