Since we've decided that C-U Blogfidential is all about the new and the improved, we're continuing the very slow revamp of our editorial content (launched with "C-U Biz-en-scène") by introducing what hopefully will become a staple – the "Images of the Week" feature! On Fridays we'll post visuals relevant to the movies of Champaign, Urbana, and the cities beyond. They could be movie stills, behind-the-scenes shots, glamorous portraits from a premiere, colorful pieces of advertising, or even something a little more full-motion! Such is the case with today's main attraction, a manic preview for the fabled Issue 4 of the C-U townie opus WEREWOLF CEMETERY, directed by our man Jason Butler and finally premiering tonight, Friday, August 13 (of course!), 11 p.m., in the beer garden of Mike 'n' Molly's in downtown Champaign (of course, of course!). Take a gander, y'all:
Everybody who's been sensing a "kitchen sink" quality to WC4 has trusted their gut instincts well; JB stated in a Facebook post last week that this episode would run two hours, making it the longest of the bunch as far as we know. Certainly that implies a "more monsters, more mayhem, more mythology" tactic on JB's part to fill such a lengthy run time, but it also meant opportunity aplenty for a whole new gang of Brainsmartians to jump into the lycanthropic pool with the regular cast members such as Steve Ucherek, Annie Fitzgerald, Bill Turner, Barney Joyce, and Dr. Erik Martin. Somehow, this damn fool squeezed past security time and again to get on the set, such as with the 1978 Ditchtown prologue filmed in JB's brother's garage: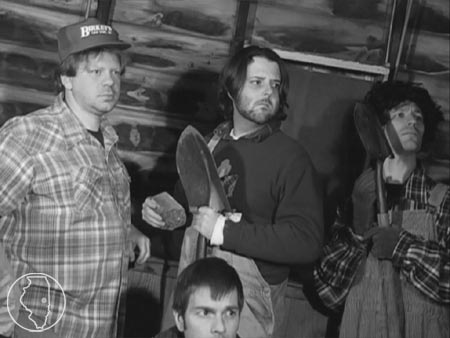 On the set of the indie RETURN IN RED a few years ago, I was mussed up real good with Ben Nye "dirt" make-up. In the scenario above, all it took was cheap beer and stuffy humidity to get me into character. Well, those and the trucker hat. Ca-caw!!!
~ Jason Pankoke