I'd like to talk up a pair of publications that I recently worked on, both of which coincidentally hit the streets two weeks ago. One revels in cinema of the most obscure standing while the other shimmys with glee in its celebration of an atomic culture gone by.
Second pleasure first, I was asked by local "retro" connoiseur Jason Croft to design the debut issue of Bachelor Pad Magazine. This quarterly will usher into print the interests of Croft's similarly-named Web site and radio program – primarily, all things invoking the Fifties and Sixties "bachelor lifestyle" including Hi-Fi lounge music, pattern-dependent threads, gorgeously buxom pin-ups, and fancy drinky-drinks meant to be sipped with sophistication, not chugged like a hooligan. Go right here for all your ordering information needs or pick up the real deal at Exile on Main Street, Furniture Lounge, or Skins-n-Tins Drum Shop in downtown Champaign. The next issue is scheduled for a December release.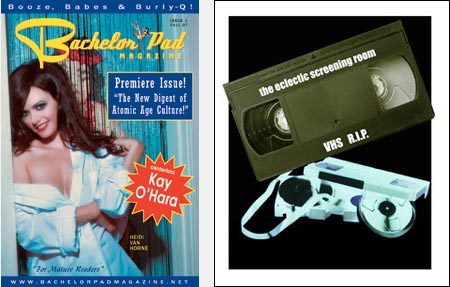 Elsewhere, I contributed photos and text for The Eclectic Screening Room, a Toronto-based zine that attempts to answer (in the new issue 19) the burning question, "Is VHS really dead?" For the average point-of-purchase consumer, the response is pretty obvious, but for those whom research and rummage are part and parcel to unearthing the strange and forgotten, VHS cassettes might still be worth a rewind. My contribution recalls the mass eviction of half-inch from the shelves of That's Rentertainment in 2005. Contact editor Greg Woods for ordering info at this site; rumor has it that each copy includes a bonus mystery VHS tape. Get 'em while they last!
~ Jason Pankoke